Room to grow
Having developed an understanding of the rewards businesses can achieve by having an efficient and productive workplace, Space Solutions is ideally placed to offer total property solutions that assist with the often-complicated issue of change within a company.
Formed in January 1997 from the evolution of a traditional architectural business, Space Solutions works almost entirely within the commercial property sector, providing solutions to many challenges firms face with the provision and use of their workspace. The business operates out of five main Scottish locations: Aberdeen, Dundee, Edinburgh, Livingston and Glasgow.
"We recognised from the outset that there was a gap in the market for a company that could design a commercial property solution and deliver the subsequent project to a required cost, incorporating all the elements of design, refurbishment and fit out," reveals managing director Steve Judge. "We plan, manage and execute the whole project, whilst taking care of all associated logistics such as choosing furniture and fittings and planning and managing the relocation from another location. Our services are designed to accommodate total change – from a complete new build to a consolidation exercise. It really is a one-stop service for every property problem."
Steve recognises that Space Solutions' success is partly due to the fluidity of the oil and gas sector: "It is extremely well suited to our agile business because there's a great deal of fluidity and dynamism in the energy sector. The industry is project-driven in nature which creates a lot of change, which in turn leads to a need for project teams or divisions to be set up quickly sometimes in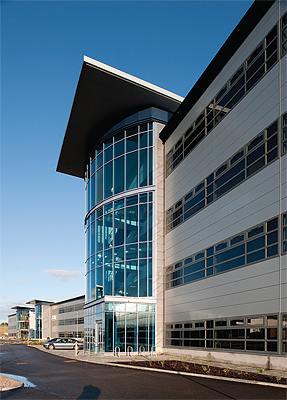 existing locations, sometimes requiring identification of and the move to a new location. We have developed a great deal of expertise in this area possessing the ability to mobilise rapidly to meet tight project deadlines."
What stands Space Solutions head and shoulders above its peers is the ability to solve a challenge in its entirety. "Our broad suite of professional property services under one roof distinguishes us, giving us the ability to take a project from its inception to completion," Steve confirms. "We employ people to work with clients on a strategic level to make informed decisions, from front-end consultants to the operatives who will install the desks and workstations. Our skill is not just in offering a spatial solution but a solution that takes into account the needs of both the employer and employee.
"We take care of the logistical headaches which often can stifle a business planning for growth such as an expansion. We have many clients who feared a move to a new location would be disruptive and costly but were left delighted when we were able to facilitate all the elements in a smooth, cost-effective way. Our aptitude for providing a suite of services from under one roof brings great efficiency and economic advantages. Combine this with the fact we are workplace specialists and our clients can focus on their business with the confidence of knowing we will bring the project to fruition in a seamless fashion. Sometimes we work with clients that employ many hundreds of people, such as major oil companies, and when you have any collection of people on that scale, even modest fluctuations in headcount can result in change that could impact a significant numbers of people. Essentially, when there's change, there's a need for a company like us to be involved to accommodate that change in a manner that avoids disruption."
Its proficiency in taking care of clients' businesses has allowed Space Solutions to forge enduring, successful partnerships, working with numerous oil companies, such as Marathon Oil, Maersk Oil and ConocoPhillips, as well as emerging independent companies. "When small operators come onto the oil and gas scene, they often become a player overnight, so we have to be flexible in accommodating those clients," Steve comments. "We also work with the major service companies that deliver projects on behalf of the oil companies, which is where a lot of the flux occurs; service companies, including Amec, Aker Solutions and Wood Group; and drilling contractors like Stena Drilling and Transocean."
Continuing, Steve discusses the relevance of Space Solutions' activities to those in the oil and gas market, and how it has responded to the market's increasing interest in the environment: "We aim to continually evolve our services to ensure we are providing value that is appropriate for clients. This entails examining how to add value through providing sustainability advice and strategies for reducing operating costs in properties. We're also actively involved in recycling when working on projects; if we're delivering a contract on-site and an associated relocation, we'll take products that would otherwise be disposed of and segregate that waste for reuse or recycling. We all have a responsibility to reduce the quantity of waste that is sent to landfill and it is our experience that clients are increasingly committed to this and other corporate social responsibility factors associated with sustainability."
Another way in which Space Solutions responds to industry needs relates to its ability to help clients save money. "Particularly relevant in the current economic climate is our engagement with clients on a strategic level," Steve notes. "We grew our revenue by 28 per cent in the last financial year in no small part by working with clients faced with consolidating and downsizing. Our workplace performance specialism helps clients sweat property assets harder, as well as increase occupant capacity and utilisation of property assets. For example, clients can sublet space that we prove is unneeded. At present, companies are beating a path to our door to speak to our workplace consultants about reducing accommodation related overheads."
Elaborating on the work Space Solutions has completed recently, Steve reports: "We've been involved with a wholesale refurbishment project for Marathon Oil in Aberdeen, which has been conducted in a multiple phase fashion in order to be sympathetic to its operational needs. We have carried out a huge amount of work with TAQA, who recently acquired Shell assets in the North Sea and who have therefore only recently established a site in Aberdeen. They have experienced rapid growth in a short period, which is always a challenge to accommodate.
"We're reaching the end of a major project with Stena Drilling, which has invested heavily in enhancing its shore-based accommodation within Aberdeen to accommodate its growing operations. Currently we're on-site with BG Group as a result of an acquisition of additional space and because the Group aims to consolidate its operations across new and existing buildings, we're upgrading and modifying the legacy space it already possessed in preparation for this."
Clearly the business is in high demand, though Steve is cautious about anticipating ambitious growth this year. "Much of the momentum that carried us to a high level of growth last year was gathered pre-recession, so the volume of enquiries from the market has reduced slightly in recent months. However, we're starting to see an increase in enquiries, which we believe reflects the stable oil price and the fact companies are considering their exploration and production activities for the future.
"Looking ahead, our objective is to establish operational bases in the north of England and London. Additionally, although this would have to be driven by client demand, we are considering the scope for expanding the remit of our work into Europe. In the interim period, we are focussed on ensuring we're profitable and successful in our current markets, against a background of difficult economic times."
Space Solutions
Services: Designing and implementing efficient workplaces