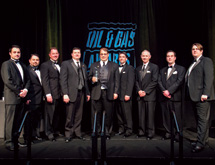 Spartans are legendary Greek warriors, known for their skill and steadfast strength. Having been founded just four years ago, Spartan Engineering Inc. is still in its legend-building phase, but the expertise of the company's industry veterans reflects its namesake's skill, and the state-of-the-art technology employed by the company are in complete alignment with the Greek Spartans' strength. Instead of blazing trails for Greece through warfare, Spartan Engineering is helping its oil, gas and energy customers move forward in their markets with its comprehensive services.
Based in Tulsa, Okla., Spartan Engineering delivers all facets of engineering for mainline Pipeline and facility projects, including design, procurement, construction management, route selection, survey, mapping and startup services. The company was established in 2009 by President Wayne Lagorin, who has worked in the oil fields since his pre-college days in the late 1970s. But he is not the only one with extensive experience in this industry – combined, the Spartan Engineering team has more than 237 years of engineering experience.
"Most of our people have worked together for the past 20 years at other companies," Director of Business Development Don Hochhalter explains. "It's great to have that continuity and such a tremendous level of expertise to serve a great client base that continues to grow."
In fact, it is the expertise and level of service offered by Spartan Engineering that enables it to grow quickly along with its client base. Hochhalter notes that Spartan Engineering has doubled its revenue and number of employees in the past year, and was named the Engineering Company of the Year for the Rocky Mountain region at the 2012 Oil & Gas Awards. In addition to serving the upstream, midstream and downstream sectors of the petroleum industry, Spartan Engineering also works in the wind generation and fiber communication markets.
"We are a full-service engineering company, and all of our services are targeted to the oil and gas industry," Hochhalter says.
'Fabulous' Growth
From four offices in Oklahoma, Colorado and North Dakota, Spartan Engineering is working with clients in those states as well as in Wyoming, Montana, Texas and Oklahoma on pipeline and facility projects. It also is licensed in two provinces in Canada and is pursuing opportunities in the Middle East and Russia.
It is wrapping up work on a 1,100-mile NGL pipeline that stretches from North Dakota and Montana to Texas, and it is involved in two engineering, procurement and construction projects for compression stations in the Bakken Shale. Hochhalter notes Spartan Engineering is doing a "tremendous amount of work" for a major client in Wyoming and Oklahoma.
"Our growth has really been fabulous, and we can attribute that to a few things," he says. "Our technology is fantastic – we have a great level of technology for a smaller company. We have an excellent process group, our instrument and electrical group is really outstanding and we offer civil, structural and mechanical and electrical engineering services. We have several people with 30-plus years of experience, and combined with the latest and greatest technology, that is a lot of expertise in-house."