Accommodating the market
The most recent project completed by Specialist Services is the engineering procurement, construction and load-out of 58-man offshore living quarters on schedule, on budget and within the specified weight requirements.
This project had a number of key factors that dictated its design and made it one of the Specialist Services' most challenging projects to date.


A stringent weight restriction of 750 tonnes maximum for a single lift was specified by the client and the company was able to meet this criterion by utilising its experience of design and fabrication through using a stressed skin structural design and lightweight materials such as GRP bathroom modules, aluminium helideck and fire divisions. As the accommodation will be located on a process platform, the external bulkheads were required to be a combination of J30 (jet fire) and H60 (hydrocarbon) fire ratings with blast characteristics. Specialist Services' extensive knowledge of fire and blast divisions has allowed for the successful use of the latest lightweight bulkhead systems integrating a stressed skin design, thus providing a protective barrier for those living and working within the module.
The living quarters comprising of four levels – offices, bedrooms, recreation area, gymnasium, galley, dining room, infirmary, laundry, mosque, electrical distribution room, as well as TER and control room – was designed internally using marine quality, and aesthetically pleasing finishes for furnishings and fittings in order to provide a comfortable working and living environment. Load out of the building was undertaken successfully at the end of May 2008, making up the first leg of a 5000-mile trip where the module then became an integral part of the CPP deck that was fabricated in Batam while the finished topsides are located in the North Belut Oil Field, Indonesia. Kitted out with the latest fire and gas safety warning and extinguishing systems, all external fittings such as HVAC equipment and lighting were also required in order to be Zone 2 compliant, as the accommodation was to be placed in a potentially hazardous area.
Commenting on the project, Colin Forster, project director, said: "We at Specialist Services are pleased that the project was completed successfully – on time and to budget – and that the quality and finishing details surpassed the client's expectations. The module, which was destined for Indonesian waters, has been fitted out to the latest IMO requirements.
"Specialist Services has a unique position as a designer and fabricator of topside modules because, in addition to overall fabrication, we also manufacture the majority of the components that go into the construction of these buildings. These include fire and blast doors, windows, bulkheads, wet units and furniture, all of which are certified by third parties. We are committed to providing safe and comfortable living environments for oilfield operating personnel around the world and are proud of our reputation in the market for excellent products. This has been a very successful project for us and we look forward to working once again, with both the owner and client in the future."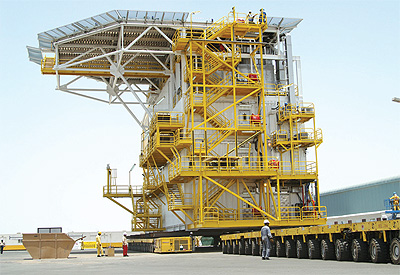 Founded only in 1982, Specialist Services is already well established as one of the foremost engineering and fabrication companies in the UAE. With manufacturing facilities in Abu Dhabi and Dubai as well as a highly skilled workforce, Specialist Services is capable of handling all aspects of a project, from planning and design to manufacture and installation. The business focuses on niche activities within various principal markets, including marine, oilfield, power and telecommunications. Specialist Services supplies its accommodation products to companies around the world; located on a major shipping route, it has an expanding base of international clients in the US, Europe, Africa, the Middle East and Asia.
Offering an extensive range of products and services, which include the detailed design, manufacture, outfitting, repair, installation and testing of specialist housing and living quarters for people, products and equipment, the ever-expanding market provides Specialist Services with the opportunity to grow its business and attract new customers. Among its range of offshore products, it offers various types of doors, walls and units, including blast doors and walls, sliding and swing doors, as well as firewalls and prefabricated bathroom units. In addition to these products, the company is also ideally suited to provide clients with a complete range of services for the offshore industry – offshore contracts include full turnkey projects, repairs and modification, detailed design and engineering. The company also provides accommodation modules ranging in size from full offshore platforms with a capacity for 100 to 200 people, to individual modules designed for one or two people.
Built with the harsh environment of an oilfield in mind, Specialist Services' buildings are of the highest standard suitable to the conditions they will be subjected to. The key to the success of these projects is build quality; Specialist Services' staff has a thorough knowledge and understanding of the safety rules and regulations relating to the offshore oil industry, which in turn results in products that boast the highest quality. The organisation's well-trained and highly qualified engineers and modern manufacturing facility mean it is in the best situation to provide cost effective services and the construction methods conform to the specifications set by Safety of life at Sea (SOLAS) 1974 regulations, which were implemented by various standards organisations such as the American Bureau of Shipping (ABS), Lloyds, Det Norske Veritas and Bureau Veritas. The company's health safety and environmental (HSE) policy has the objective of preventing all accidents, near misses, property loss, industrial health related illness and to minimise environmental damage that may be caused as a result of Specialist Services' projects.
Working in an ever-expanding industry, Specialist Services is constantly looking at opportunities to grow and lead, guaranteeing it is consistently providing its customers with the highest quality and best value. This satisfaction combined with commitment to quality only further signifies that the business is able to develop and increase its success in the future, rather than comfortably resting on its laurels.
Specialist Services
Products: Accommodation modules