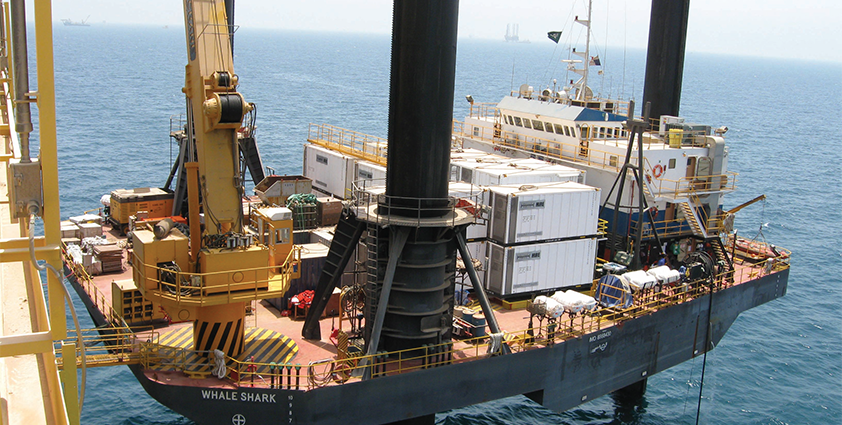 Modular solutions
"The key to Specialist Services' success is its ability to design, engineer and manufacture a complete product range that not only complies with all of the relevant international standards and certifications for all regions of the world, but also offers logistic and operational advantages to clients through modularisation," says Chris Ridley, sales and marketing director at Specialist Services.
Since European Oil and Gas last featured Specialist Services in July 2009, the business has continued to expand its reputation based around these key strengths. The company was originally founded in 1982 and in little under 30 years has become a truly global supplier, delivering its expertise in fabrication to customers in industries worldwide.
Based in the Middle East, Specialist Services specialises in designing and manufacturing various types of accommodation for demanding environments, as Chris explains: "Today Specialist Services provides design, engineering, manufacture and fabrication expertise in the marine, oil field, power and telecommunications markets. Our core product and service provision includes offshore living quarters and technical buildings (including all related doors, windows, and blast walls), offshore and onshore modular building solutions such as well head buildings and control rooms, a large international hire fleet for offshore accommodation and office buildings, as well as significant well test and process manufacturing capability. This includes but is not limited to the provision of fully certified pressure vessels, separators, surge tanks, burner booms and a variety of skid-mounted applications."
As mentioned, the business presently has manufacturing facilities in Abu Dhabi and Dubai and these sites, combined with a highly skilled workforce, enable Specialist Services to handle every aspect of a project. "We currently have one fabrication yard in Abu Dhabi and three in Dubai, with a further one million square feet set aside for development over the next few years," says Chris. "Alongside this we also have a hire fleet storage service and maintenance facility in Aberdeen, with a similar facility being established in Singapore.
"At our sites we have a complete in-house manufacturing capability where we are able to produce many of our key components, including GRP wet rooms, A60 doors and windows and certified wall systems," he continues. "Having this ability means that we have very strict quality and delivery controls during all of our projects."
Maintaining this high quality typifies Specialist Services' approach to its operations, particularly as the business is more often than not constructing equipment to be used in some of the harshest environments worldwide. The company understands that the key to the success of any project is simple – provide innovative and effective solutions coupled with build quality and disciplined manufacturing and project management. To this end Specialist Services' staff have a thorough knowledge and understanding of the safety rules and regulations relating to the offshore oil industry, and strive to exceed all demands on all occasions.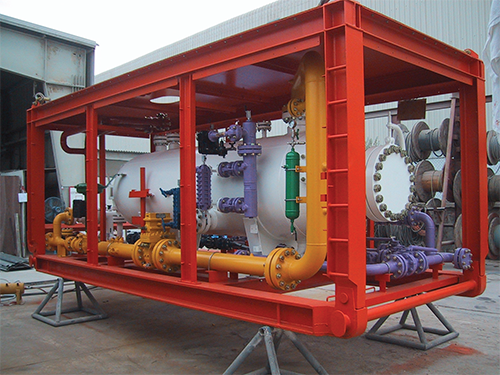 Elaborating, Chris explains some of the typical considerations when developing equipment for the oil and gas industry: "The offshore sector has a number of demands that must be met. These include compliance to varied international certification approvals, tough climatic and operating conditions, specific applications and functions required by clients which are developed through close customer interface and long term supply relationships. Of course, meeting these requirements and maintaining our high standards is vital, and we do this through detailed design and engineering together with constant review and conformity to international codes and practices.
"In all of this, planning is key in terms of understanding the clients' requirements and operational needs and defining a solution from our broad provision capability to meet those requirements. This detailed analysis and review ensures that we can then plan the manufacture and execution of the projects in a safe and timely manner."
Being able to meet such demanding requirements places Specialist Services at the top of many companies list of preferred suppliers, and accordingly, its reference list contains a large number of demanding, technical and varied projects. For example, when the company last featured in European Oil and Gas it had just completed one of its most challenging projects involving the engineering procurement, construction and load-out of a 58-man offshore living quarters on schedule, on budget and within the specified weight limit of 750 tonnes maximum.
The weight limit made this project particularly challenging, and meant that Specialist Services had to utilise all of its experience of design and fabrication using a stressed skin structural design alongside lightweight materials such as GRP bathroom modules, aluminium helideck and fire divisions. In this particular project the company was able to illustrate its extensive knowledge of fire and blast protective equipment by engineering the latest lightweight bulkhead systems integrating a stressed skin design.
More recently the business has been working on a number of other projects, as Chris illustrates: "We are currently working on a 168-man LQ (living quarters) for PTTEP Thailand in a yard in Indonesia, which involves the design, engineering, procurement and management of the LQ portion of the project as well as the supply of doors, windows, wet rooms and certified wall systems. We also have been working on a 150-man LQ for ONGC in India that has a similar specification to the previously mentioned project.
"However, alongside these two projects we currently have in excess of 160 A60 modular buildings under construction for a variety of international clients with firm enquiries for significant additional numbers for the last quarter of this year and the first quarter of next year. Alongside these accommodation projects we also have in excess of 35 well test package systems currently under construction for various clients."
From these few examples it is clear that Specialist Services' reputation in the industry is enabling it to maintain a steady and successful growth strategy, as Chris explains: "Specialist Services is actually in a period of growth, both in terms of our product development and our geographic footprint. When it comes to our products we continue to dominate the offshore modular building market but have now developed advanced well head building models to meet the world's most stringent certification requirements as well as a full range of NORSOK compliant products. We are also rapidly expanding our hire fleet of offshore modular buildings, which will be further enhanced through resource investment in Aberdeen and Singapore to support current customer demand.
"I think that the main challenge we will face in continuing to expand along these lines will be based around the correct management of our current growth," he says. "As we expand we need to ensure that we have the right personnel in place that are trained to reflect the high standards of operation that we are well known for."
Despite this challenge, as Chris concludes, he is confident that Specialist Services can continue to play a leading role in the offshore modular building market: "We have a very definite plan for growth that forms part of our day-to-day strategic objective planning. We are internationally focused and have already put in place the actions required to further develop our strategic operations in Europe and the Far East. For the next three to five years we aim to further grow our position in these markets in support of our current and future customer base."
Specialist Services
Products: Accommodation modules