Smooth operator
"The year 2012 marks the 30th anniversary of Specialist Services," highlights sales and marketing director, Chris Ridley.
"While in UK terms this may seem like an average lifespan for a company, if you consider that the United Arab Emirates, where the company itself operates from, was formed 40 years ago, it puts a whole new perspective on the length of time the business has been active within the Middle East.
What the company typically specialises in is fabrication support and the provision of design, engineering and construction services to the oil, gas and utilities markets: "Within its oil and gas division, Specialist Services is able to design, engineer and fabricate products that support anything from technical modules and VSD units for onshore application to electrical skid package systems," Chris continues. "As well as this it is also involved in putting together process and packaging systems, including metering skids, and has a drilling, testing and production division, in which it puts together solutions for customers involved in drilling activities, well testing and early production facilities.
"Specialist Services operates a large well testing division where it builds a vast range of well testing equipment, such as separators and surge tanks, and has production capabilities that allow it to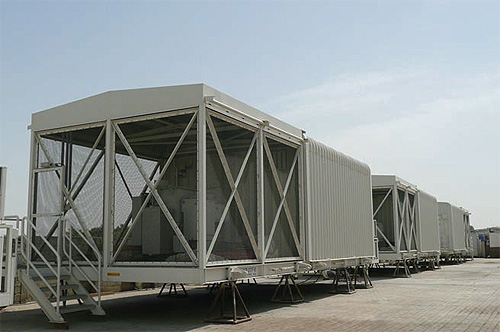 construct early production facilities for its oil and gas clients. In it's Offshore Contracts division the company has completed various contracts that has seen it fabricate and operatordeliver complete living quarters to customers the world over. Each of Specialist Services' product lines are built to international standards and have been delivered throughout the North Sea, Russia, the US, the Far East and into Africa.
"What the company has found in its lifetime is that the process it has to go through to get full and complete acceptance of a product within the oil and gas industry is often a long, robust one," Chris explains. "What the customer universally wants is an effective compliant product that will also achieve a reduction in down time by limiting component failures or problems. What this has shown Specialist Services is that a hugely important part of its service provision is the ability to respond rapidly to any customer concerns."
As Chris goes on to highlight, as part of its commitment to keeping its customers' operations running as smoothly as possible, Specialist Services has worked to develop a form of preventative maintenance software: "What this is, is essentially an asset checking system. It means that every product and model the company builds is checked for any potential faults that may occur during their lifetimes. This allows the company to provide its customers is a detailed breakdown of a products life performance, where a fault has occurred in the past and how many times such a fault has occurred.
"This makes for a very unique fault code analysis system that allows a customer to identify potential failures that may occur ahead of time. This makes the system more than just a preventative solution, rather it is a proactive measure of identifying potential issues that could be on the horizon. For those customers operating within tough environmental conditions, one of their core priorities is keeping their equipment running, particularly those items that form a part of a much larger process. This is essential to ensuring highly-efficient working conditions, and Specialist Services' preventative maintenance software helps to achieve this."
As a result of its business practices, its ability to bring innovative solutions to market and its forward thinking approach, Specialist Services has just come out of what it considers to be the best two years in the company's history, with 2012 forecasted to be another year of significant growth: "What the company has done as an organisation is develop both its regional and international presence significantly," Chris enthuses. "Rather than simply servicing a particular client in one country, the business has been far more effective by developing and supporting the global requirements of its customers.
"One of the primary objectives of the company is to be recognised as a total solutions provider and one of the ways it achieves this is through the people who make up Specialist Services. The organisation prides itself on having a high level of internal capability and this is provided, in part, by an experienced team of oil and gas professionals. These individuals know the industry inside and out, understand the equipment that the company fabricates and assist in providing added value to its customers' business through the solutions they provide."
The immediate future for Specialist Services revolves around developing its global manufacturing capabilities to enable it to deliver an internationally recognised product to all of its major oil and gas clients: "Looking at its oil and gas portfolio, one can see that the company operates in four or five global hubs. Therefore, the plan going forward involves ensuring it can roll out its services and support in such a way that a big player within the industry can one day leverage this global capacity," Chris reveals. "Internally, what Specialist Services is striving hard to do is continually improve, develop and adapt its own manufacturing processes to ensure it is always producing the highest quality internationally compliant products, at commercially aggressive prices, all for the ultimate benefit of the client. This is something that will remain the same, regardless of where the future may take the business."
Specialist Services
Services: Engineering and construction