Building the future
Headquartered in Dubai, Specialist Services Group is a leading manufacturer of Zone 1 offshore and accommodation modules for people and equipment in the oil and gas and utility industries. Last featured in Energy, Oil & Gas in 2015, over the subsequent two years the company has been through some significant changes, and Chris Ridley, Group Sales and Marketing Director was keen to highlight the key drivers behind the company's evolution: "We had a significant increase in the downstream sector, with large projects requiring production and process equipment, and clients'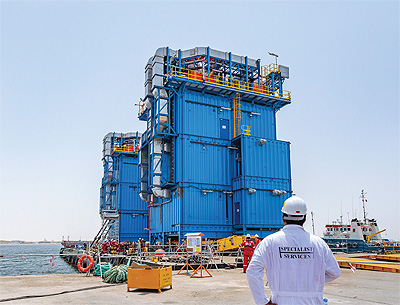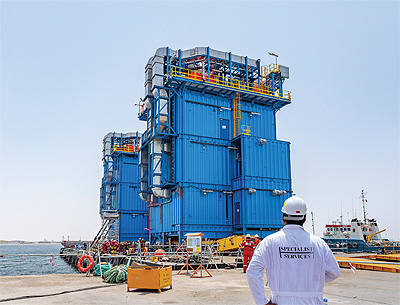 requests for the hire of modular buildings and refurbishment works was much higher than in previous years," he began. "We have also seen an increasing demand for blast resistant buildings, as well as early production facilities, pressure vessels, oil and gas metering skids, and trailer mounted packages.
"Based on these changes in demand, we have shifted our core products focus from standard modular buildings to customised modules, technical buildings and blast-resistant buildings, and we have added new products into our range. We also restructured our products and services categories, so we now provide Buildings for Sale and Hire, Drilling, Testing, Production and Process Packages, Facility Management Solutions, and Service."
This change of focus has enabled Specialist Services to better serve its customers, because as Chris explained, the company can now provide all required products in line with their project's specific requirements, as well as offshore refurbishment services in its state-of- the-art facilities. "In addition, within these projects we are also able to work with very tight schedules and challenging demands in many projects, while completing all projects on time and in line with client requirements."
In fact, when it comes to timely delivery, Specialist Services has developed a fast track method of modular construction for its buildings product range, and Chris gave a real-life example of how this is delivered on the ground: "On a recent project, we were challenged to deliver four large substation buildings of (L) 56m x (W) 12m x (H) 6m each. We managed to deliver the first two buildings in just ten weeks, including engineering, which brought a huge benefit to the client's ability to accelerate the start of the project."
In this example, the client was delighted with the speed of delivery that Specialist Services provided, and it is thanks to successful projects such as this that the organisation has established a reputation for excellence and reliability that is essential for its oil and gas clientele. They are facing some of the most challenging conditions possible, and as a result Specialist Services has to ensure that it offers solutions that can be trusted and relied upon at all times. To guarantee that their needs are met, Specialist Services has invested into its extensive manufacturing and engineering capabilities, as well as its widely-experienced team of staff. "Our facilities enable us to create high-quality products and services that are delivered in line with the relevant stringent industry certification and standards," Chris noted. "We have an international presence, which means we can serve our customers with innovative solutions wherever they are based in the world."
Another way that Specialist Services is able to serve its customers is by forming close business partnerships, which Chris credits as playing an important role in increasing the business' success. "In Saudi Arabia, we receive great support from SENDAN International Company for our buildings for sale and hire in the local market, and we also work in two joint ventures with RedGuard from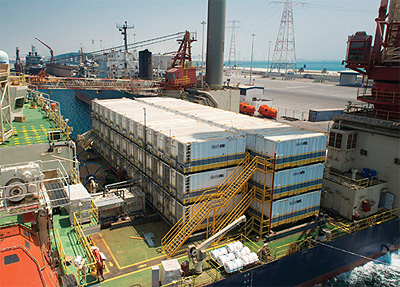 the US," he explained. "Our joint venture company, RedGuard Specialist Services, provides blast-resistant and ballistic-resistant modular buildings in the Middle East, Europe and South-East Asia, and our newest joint venture is called Specialist Services RedGuard, which is based in Houston, in the US. This joint venture company combines the best assets and talents of both parent companies and is focused on providing Zone 1 modular buildings, accommodation modules and customised modules to the offshore and drilling segments of the oil and gas industry in the Western Hemisphere, with particular focus on the US Gulf Coast. With support from RedGuard, this new JV is aimed to introduce our high-quality range of products to the North and South American markets.
"At the same time, we are seeing an increased demand for one-off, highly engineered solutions, where engineering is going to play a central role. These factors necessitated a strategic response, which resulted in the decision to set up a new company to enable Specialist Services to continue to deliver high quality engineering services at optimum efficiency. As a result, in September 2016, we established a new Group Company in Delhi NCR, India. The new company, Engineering Specialist Services Private Limited, is providing engineering services to our UAE team as an addition to Specialist Services' existing engineering capability."
Throughout the past two years Specialist Services has worked extremely hard to get closer to its vision of being the market leader and preferred supplier across its core product and service offerings. For next year, the company has no plans to slow down, and as Chris asserted, further expansion and growth is at the top of the agenda: "In 2018, our focus will be on further increasing our engineering proficiency leading to innovative, commercially competitive products, manufactured in efficient manufacturing facilities, close to the customer operations locations," he said, before concluding: "We will continue to expand our engineering resources, developing products that support our clients. Our key focus is to provide compliant products in short time frames. This ensures that our clients can extend their field operational life or reach first oil or gas in the quickest possible window, creating value and greater returns on their investments."
Specialist Services
Services: Global supplier of modular buildings and packaging solutions