Specialist Services Group
Delivering results
A global supplier of modular buildings and packaging solutions for the oil and gas and utility industries, Specialist Services Group has grown into an international, results orientated organisation over the last 32 years; with strong capabilities in design, engineering, manufacture, installation and support since its inception in Abu Dhabi, Dubai in 1982, the group of companies today is able to deliver a range of cost-effective, effectively engineered, internationally compliant applications that can meet the most challenging of client demands.
With its roots firmly placed in the Middle East, Specialist Services has been an active participant in developing the region's energy sector over the last 30 years. In fact, through helping major oil firms and leading oil service providers resolve operational, climate and geographical challenges, the business has honed its engineering innovation and fabrication excellence while also increasing its reputation as a superior service provider. Furthermore, Specialist Services is one of the few firms that can build IECEx certified products in the Middle East, while its engineering, manufacturing, products and solutions conform to ASME, ABS, USGC, DNV, IECEx and other codes/standards as recognised internationally.
Previously featured in European Oil & Gas Magazine in January 2014, the company has witnessed an upturn across all areas of the business over the last 12 months, with record work in hand, as Chris Ridley, group sales and marketing director discusses: "Our EPC business in particular has seen a huge increase in project awards, especially around our technical module product line, which has provided us with significant growth. We have also recently added nearly 200,000 square feet of additional waterfront fabrication facilities to our facility footprint to support this growth."
One such project was announced in August 24th, 2014, after Petrofac awarded Specialist Services a contract to provide Local Equipment Rooms (LER) and Local Control Rooms (LCR) buildings for the Upper Zakum 750 Island Surface Facility Project (EPC 2). In consortium with Daewoo Shipbuilding & Marine Engineering, Petrofac is contracted for the engineering, procurement, construction, transportation and commissioning of island surface facilities on four artificial islands alongside Zakum Development Company (ZADCO) for its UZ 750 field development project in Abu Dhabi. Petrofac has subcontracted to Specialist Services for the detailed design, engineering, fabrication, commissioning and load-out of 12 modules, eight of which will be LER buildings, while the remaining will be four LCR buildings; these will have a total weight of 8170 tonnes.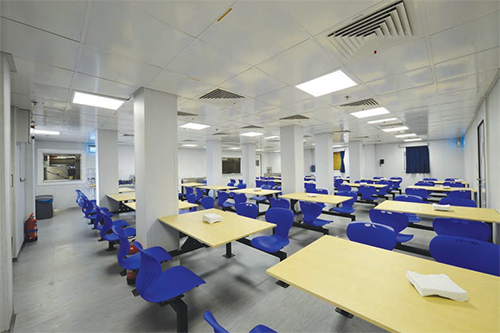 "This is a very large and demanding project that we are proud to have been selected to execute," says Chris. "Our unique capabilities, in terms of our in-house engineering, strong project management, in-house fabrication and ideally located waterfront facilities ensured we were viewed by Petrofac as the ideal partner to complete this complex project."
With a dedicated project management team in place for the execution of the project, the company's in-house, multi-disciplined engineering staff will use state-of-the-art software such as TEKLA to ensure accurate weights and detailed connections for the structural steel design. Moreover, the team will use PDMS software for the complete modelling of the structure as well as inter-disciplinary clash-checking. Due for completion in August 2016, these buildings will be fabricated and loaded out from the organisation's waterfront facility in Mussafah, Abu Dhabi.
This project follows the company's successful completion of the 48-module, 224 man accommodation extension project for Sea Trucks Group. Awarded in November 2013, the purpose of the project was to temporarily increase onboard accommodation and facilities on one of Sea Trucks' ASVs, which were deployed to support the installation of a topside on Russia's Arkutan-Dagi project. A highly challenging project from the start, with production schedule lowered to 16 weeks, the team worked around the clock without any incidents or accidents. The project was completed on time and all 48 units were dispatched within two days of completion to Jebel Ali Port for shipping. "Considering the limited time available for the production and installation of the accommodation units, Sea Trucks Group has demonstrated a confidence in Specialist Services' capabilities to deliver this project on time; a confidence that has been rewarded with an exceptional job and on-time completion," enthuses Chris.
Looking ahead, the group is setting the foundations for further growth with the appointment of Paul Duncan as managing director of Labtech in Aberdeen. Having spent three decades in a number of senior management positions, Paul Duncan's appointment represents an important milestone for Labtech within the group's corporate strategy, as Ian Rogers, Specialist Services Group CEO discussed: "Paul's extensive experience and oil and gas background will be pivotal in the next stage of growth for Labtech and the wider Specialist Services Group."
Focused on its vision of becoming the market leader and preferred supplier in all of Specialist Services Group's core business segments, the organisation will continue to successfully engineer, manufacture and deliver exceptional products that noticeably enhance oil and gas field developments, while protecting life and assets. For example, in April 2014 the company launched the new G4 Series – cutting edge modular units that provide significant performance enhancements; moreover, the G4 Global is the only module that has worldwide approvals from major certifying bodies. This product will be displayed at Specialist Services' stand (number 13485, hall 13) at ADIPEC 2014 in Abu Dhabi, from 10th to 13th November 2014. "We continue to run a large number of contracts throughout the Middle East region and have had significant growth across all of our business units in the last four years. We will have a relevant presence at the show this year and look forward to presenting our current and future products at the event," concludes Chris.
Specialist Services Group
Services: Modular solutions for oil and gas operational optimisation