Specialized Oilfield Products
Wired for success
Based in ICAD 1 within the Industrial City, Abu Dhabi, Specialized Oilfield Products (SOP) has developed a highly regarded reputation as the leading provider of wireline manufacturing equipment in the Middle East.
"Historically the company started as a joint venture with Lee Specialties from Canada during 2004 and by 2007 we became independent of that joint venture and are today wholly owned by three local partners," says general manager Bob Thubron. "We deal with local operating companies and international operating companies as well as service providers. Some of our biggest clients include customers like National Drilling Company here in Abu Dhabi, SC Oilfields in Brunei and a number of clients in Malaysia."
Formally known as Lee Specialties Middle East LLC, SOP today operates from its ICAD 1 facility that covers an area of 7500 square metres, which it has occupied since 2009. From this location SOP is able to deliver fully turnkey solutions in wireline equipment, with both standardised and bespoke solutions. "We have an in-house design team, which can tailor each product to the exact specification of the client. We also carry out 95 per cent of our manufacturing in-house with our own machine shop, fabrication facility and painting facility, which allows us to monitor the quality of the product much better then through sub-contracting," explains Bob. "Our strength is in our focus on client satisfaction, we endeavour to meet and exceed their expectations by supplying custom built equipment specific to the customer's own specification."
The company maintains a broad product range that is subdivided into four main areas comprising of custom wireline units, wireline masts, auxiliary equipment and depth/tension measuring systems. An example of the technology deployed from the SOP portfolio to support and add value to its client's operations is the Slickline Eddy Current Tester (SECT). "We have a fairly innovate wire testing device known as a SECT, which is a very good application for clients using slickline wire," Bob elaborates. "Currently when most operators and service companies utilise slickline wire they only have a finite number of hours before they have to scrap it and take new wire. Typically this is around 200 hours and this wire can be very expensive depending on the material used. The SECT that we have developed is designed to continuously monitor the condition of the wire and provide a graphical display that allows clients to know if the wire is in good condition regardless of how long it has run. This will allow operators to run te line for much longer than has previously been the case."
The SECT system is a compact, user friendly and highly functional application in flaw detection in slickline wire. The unit is able to detect hidden cracks in solid materials as well as other discontinuities in metals. An alarm will sound upon flaw detection and survey results are made easily available through the unit's colour LCD display and built-in USB printer cable and power cable, allowing results be saved and reviewed later. Probe options are available in sizes ranging from 0.092", 0.108" and 0.125" to 0.140".
In tandem to its standard equipment packages SOP is able to deliver bespoke solutions that often call for imaginative and out-of-the-box thinking. "One of the most challenging projects that we have undertaken was the production of some equipment for a local operating company called Zakum Development Company (ZADCO)," observes Bob. "The equipment had to be high specification with a lot of bespoke options added, but simultaneously it had to be very lightweight and able to be moved around by helicopter. That was a challenge that involved us using some unusual materials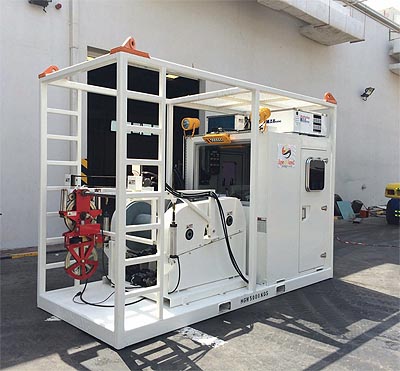 to make sure we had the weight limitations covered."
Specialized Oilfield Products is keen to demonstrate that it is a trusted solution provider, both through the world-class solutions that it delivers and through obtaining the industry standards that establish SOP as a trusted brand. "We are committed to operating to the highest levels of health and safety, environment and quality," says Bob. "As such we meet ISO 9001, ISO 14001 and occupational health OHSAS 18001 certification, and this is combined with a good pricing strategy resulting in a service that other service providers cannot offer."
Furthermore, during 2013 SOP was given accreditation by the UAE Ministry of Environment and Water to declare the company as environmentally suitable for operation in the ICAD region. "This was an important step for us because environmental concerns are on everybody's lips at the moment and these are often the hardest targets to achieve. So by gaining that award I feel that we have demonstrated our commitment to being environmentally friendly and that we walk the talk," notes Bob.
As the company transitions the rest of 2014 and looks to the greater future, it will continue to focus on delivering world-class solutions to its existing customers while preparing to make moves into new pastures over the coming years. "For the rest of this year we will be looking at consolidating our current markets and looking into entering the CIS and Russian markets with a view to achieving good penetration next year," concludes Bob "Over the next three to five years we will look to continue on a planned growth path by increasing the company's market share in our current markets and gaining new markets. Ultimately we will bring in some new products that will balance the manufacturing highs and lows that occur with our single product line as it is now."
Specialized Oilfield Products
Services: Wireline equipment manufacture