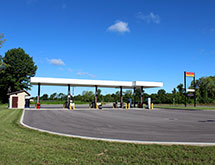 For Spence/Banks Oil Inc., being a small company does not mean being behind the times. "We know we have to stay in front of the tsunami of technology in order to not be drowned," says Jim Owen, president and owner of the Terre Haute, Ind.-based fuel and oil provider.
His father, Keith Owen Jr., founded Spence/Banks 35 years ago and today it consists of four divisions that service customers in a 120-mile radius around Terre Haute. One division transports gasoline and distillates "to convenience stores, municipalities, military bases and prisons," Jim Owen says.
Its second, the tank wagon division, provides heating oil to customers throughout the area, including construction sites, power plants and military bases. "We deliver our fuel to a bulk plant here in Terre Haute," he says. "From there, we are strictly a wholesale distributor."
Spence/Banks' third division is a commercial fleet fueling operation, which consists of three card locks in the Terre Haute area. "This is a franchise we are involved with called Pacific Pride," he says, noting that the company has a network nationwide with 1,500 locations. "We give our customers highly unique cards to access these locations throughout the nation to give them controls, convenience and credit to fuel their fleets."
The company's fourth division offers Citgo-brand lubricants to industrial and automotive sector customers, Owen notes.
All of Spence/Banks' operations offer high levels of client service. The company recently hired a customer service representative to further improve its service efforts. "Being a small company, we can be light and nimble as far as the transportation side goes and can respond to requests faster than many larger transportation companies," he adds.
Adding Advantages
Spence/Banks has invested in new technology that increases the efficiency of its delivery operations and makes it easier for customers to access its products. That includes pedestal touchscreen card readers backed with cloud technology from Fiscal Technologies at its three Pacific Pride commercial fueling franchise locations.
The card readers can verify whether cardholders have previously submitted the Indiana State ST-105 tax exemption forms, as those forms are scanned and housed in the cloud. The card readers then apply the exemption to the fuel transaction, Owen notes.
Previously, trucking companies that qualified for tax-exempt fuel were unable to use the Pacific Pride locations because they did not have this new technology and they are unattended. Owen worked with the State of Indiana officials for several years to have the program approved. "This makes it much more convenient for out-of-state tax-exempt companies to use our stations, which increases our sales," he adds.
Spence/Banks' transport tanker division's delivery trucks also added mobile fuel management software provided by IntelliFuel Systems Inc. to maintain driver logs and process bill of lading documents. "This technology will give us an advantage," Owen says.
Answering Demand
With Spence/Banks in its second generation of family leadership, Owen is pleased with the company. "We've developed good working relationships with suppliers," he says. "Being around as long as we have, we can establish stability for future customers we want to acquire."
He hopes to capitalize on Spence/Banks' recent investments by further increasing its physical footprint. The company also hopes to eventually extend its Pacific Pride franchise holdings beyond Terre Haute.
"We would like to increase our services by utilizing the assets we have," he says, citing night driving shifts as an example. "We want to retain the drivers we have and answer the demand for services that is out there."