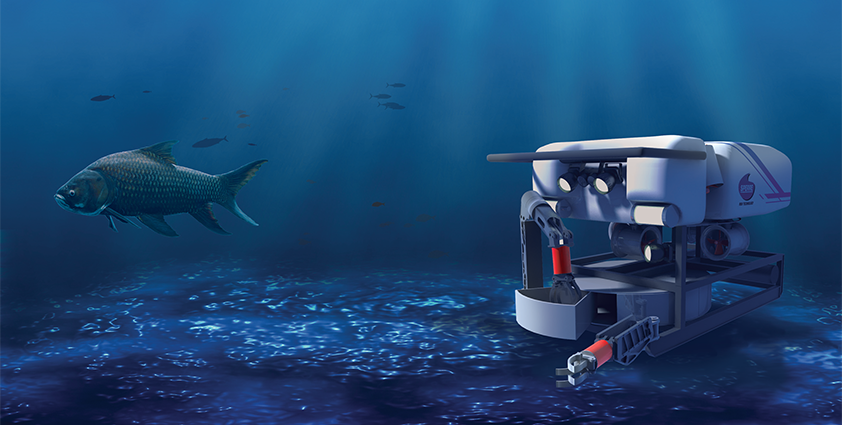 ROVing far and wide
Established in 1993, Sperre is a Norwegian technology and engineering firm that manufactures products within the subsea and remotely operated vehicles (ROV) systems sector.
It is a relatively small company but has worked with major operators like Statoil as well as a wide range of small and independent companies. Sperre is currently investing in an expansion of facilities that will make it able to take on a larger work scope for the subsea business and increase its capacity.
Situated in Notodden in the east of Norway, Sperre is 100 per cent owned by the company's director Thor Olav Sperre. The company has a total number of 14 employees pr. today. Vice president of marketing Wenche Haugerud highlights the company's activities: "Our main market is the offshore industry, delivering ROV products and services to companies in Norway and throughout the world."
The heart of the company's business is the ROV systems that it manufactures, supplies and operates for clients. Currently it counts several basic models amongst its portfolio: Sub-fighter 3000, Sub-fighter 4500, Sub-fighter 7500, Sub-fighter CROV 7500, Sub-fighter 10K, Sub-fighter 15K and Sub-fighter 30K. These units differ from one another in their available power and carrying capacity, with the Mini being the smallest and the 30K being the largest. Using these systems it offers clients a full range of ROV services such as inspections, searches, mapping and route survey, tunnel inspection, salvage operations, offshore and even marine archaeology.
The H-ROV is a recent addition to the company's ROV models and is a hybrid unit that allows for thrusters redirection. Wenche explains more about it: "Because it has been 15 years since the ROV range has changed, we thought it was time to do something new. The H-ROV is able to carry six times more surveillance and interface equipment to the site of operations and, crucially, is able to descend more than 4000 metres below the sea.
"Because it takes a long time to get up and down with these ROV systems in deep water, being able to carry all the tools you need with the extra capacity is a big advantage. Sometimes you also need more power to go forwards through currents, and to achieve this, the H-ROV is able to direct all of its thrusters in one direction."
The company continues to make full use of its traditional ROV designs. Recently, for example, it helped Statoil and FMC to tackle a challenge relating to the absence of three small gas plugs that were preventing the start up of the Vega oil wells in the North Sea. Not wanting to retrieve the modules requiring the plugs, Statoil hired Sperre to mount the plugs by using an ROV. The company completed this project successfully, resulting in a much cheaper, faster and environmentally friendly way of bringing the modules to the ocean's surface.
Wenche explains why Sperre stands out from its competitors in the industry: "Because we are a small company, we can be flexible and change quickly according to client demand. If the customer wants something done in a specific way, we can figure out a way to deliver their requirements even if that means making changes to our basic ROV units. Furthermore, we can do this at a low cost by tailoring the services to meet client finances. We are a niche company that takes on new challenges, and that puts us in a good position."
Though its facilities enable Sperre to manufacture its own products, the company also has close working relationships with suppliers that manufacture components for Sperre, including Notodden-based companies.
To increase its capabilities for the future, the company has committed to move into a new 100 million NOK subsea centre complex. This 8860 square metre facility will be the first of its kind in the region and will see other subsea industry companies sharing the space. The business also has a major project in the pipeline with Gaz de France (GDF) Norge, to which Sperre will supply a comprehensive ROV package including a Sub-fighter 15K unit, integrated control room, launch and recovery systems (LARS) and tether management system (TMS). This system, to be installed on GDF Norge's Gjøa field standby vessel, will also include a five-year service and maintenance contract.
With contracts in the pipeline, and with a new facility under development, the immediate and long-term prospects for Sperre look promising. Wenche concludes: "Over the next few years we are looking to increase our workforce to 25 people or more and look forward to the new subsea centre as a chance to expand our capabilities. By 2015 we will hopefully have a lot more companies and contracts on our books."
Sperre AS
Products: ROV systems and services