Simply the best
SPP Pumps was created in 1875 when a British engineer bought the patent rights of a pulsometer pump from an American, Thomas Hall.
This deal formed the foundation of the company as it is known today, and its century long experience has made it one of the predominant pump manufacturing companies in the oil and gas industry. Today the company mainly supplies five areas in the water, fire, oil and gas, autoprime, service and spares sectors.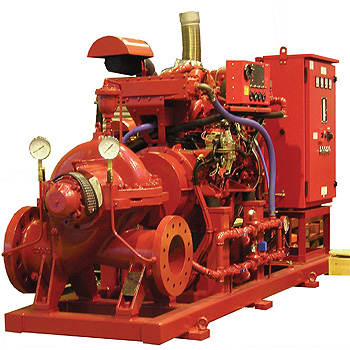 SPP ended 2008 on a high when it was crowned Manufacturer of the Year at the 2008 Pump Industry Awards – held in association with the BPMA (British Pump Manufacturers Association) and World Pumps magazine. The accolade is awarded to the pump manufacturer that achieves recognition from contractors or final end users of pump products for their services in areas such as technical expertise and advice, manufacturing and testing facilities, customisation of special needs, clarity of documentation, on-time delivery and customer service.
Having strengthened its position by focusing on the requirements of its market, SPP achieved recognition with this award as a world leader in the design and production of centrifugal pumps and fluid handling systems for a variety of applications across a wide range of industries.
Based in Coleford in the Forest of Dean, SPP Pumps has one of the best pump manufacturing and test centres in the UK. This has extensive machining and assembly facilities, together with a test bed, which can cope with a wide range of diesel and electric drivers. Continued investment keeps the plant up to date – for example a new horizontal machining centre has been installed specifically for the manufacture of horizontal split pump casings.
During 2008, at its Coleford Manufacturing Plant, SPP increased turnover per head by 50 per cent, reduced stock by ten per cent and reduced warranty costs as a percentage of turnover by 20 per cent.
All this has been achieved in a manufacturing environment where more than half of turnover is engineered to order. Many orders are bespoke packages with complex specifications and more than half the turnover is exported.
Also based at Coleford is one of SPP's UK service centres, with full equipment for pump repair and refurbishment. Worldwide SPP has manufacturing and repair workshops in France, the US, South Africa and Dubai and these are backed by the facilities of a parent company in India. A team of service engineers is available for site work worldwide.
The company recognises that awards such as this are an acknowledgement of a supreme effort on the part of its employees. SPP is made up of over 230 highly experienced staff members, but over the years the oil and gas industry as a whole has seen problems with obtaining these skilled workers. Bob Tichband, business manager – oil & gas at SPP Pumps, explained how SPP Pumps has coped with this: "In the current situation we are not in a better or worse situation than anybody else. Engineering is not the most popular vocation, so engineers are worth their weight in gold, but on the other hand there are not that many engineering companies for them to flit between. We recruit in a number of ways but our apprenticeship programme is key in this. We try to recruit people from within the industry if they're available and if not we bring in new people and train them up accordingly; there is no hard and fast rule to finding the engineers we need."
Bob continued: "We have been established in the oil and gas market for 30 years as part of our core business and we feel that we have a lot to offer in this sector. We have a lot of strengths as a company; we are very focused in the markets we are in, we have excellent products, a proven track record and an excellent team of people who are very experienced and knowledgeable. We pride ourselves on the service we are able to provide and the products we manufacture."
Bob concludes with some reflections on SPP's future: "I think that at the moment our oil and gas operations and our after-sales service are the two main areas that we will focus on. The after-sales service is not just limited to our products; it is a business in its own right. It will refurbish and service anybody's pumps and valves and we feel it is a good business aspect to have. But one of the main strengths of the company is that we have other strings to our bow. If one area is not doing so well, inevitably another one is – all of the business areas make a contribution to the company as a whole. We have quite aggressive growth targets that we will be pursuing and as a company I feel we are going from strength to strength. We will achieve our goals purely from the force of our team and the development of our products. We have good engineering and service support, we really know our market, our customers and the specifications we are dealing with, and that will ensure our future in this business."
SPP Pumps
Products: Pumps and associated equipment