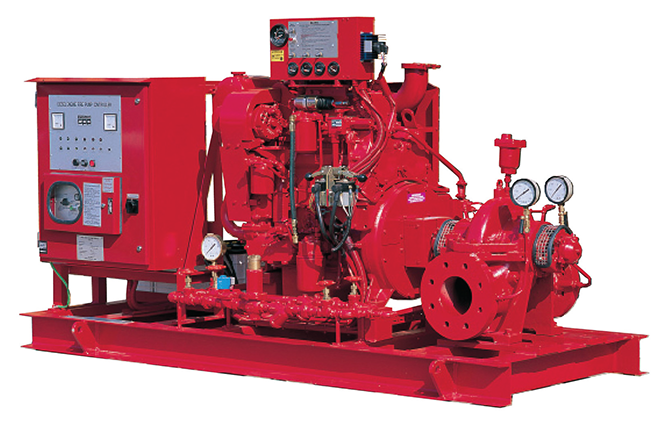 Pumping out results
"Without question the last year has been a particularly good 12 months for the company," states Bob Tichband, general manager of sales for SPP Pumps.
"In fact 2010 was a record year for orders from the oil and gas sector, an occurrence that has carried over into 2011, which to date has been another strong year for sales. Naturally there have been both high and low points this year given the financial uncertainty that remains throughout the world. However, SPP Pumps has managed to secure a number of very exciting projects that will be coming to fruition in the months ahead."
Founded in 1875, SPP Pumps as it is known today began life under the name of The Pulsometer Engineering Company. Almost 90 years after first commencing operations Pulsometer Engineering joined Sigmund Pumps of Gateshead, in turn creating one of the largest pump companies in Europe, one that would begin trading under its present moniker. Throughout its 130 plus year life SPP Pumps has been recognised as a leading manufacturer of centrifugal pumps and associated systems, and a global expert in the design, supply and servicing of pumps, pump packages and equipment.
Employing more than 300 people worldwide, the company's main R&D, manufacturing and test facilities are found in a modern, purpose built UK facility, while local sites operate in the US, France, South Africa, Singapore and Dubai. Committed to the ISO 9001-2000 goals of continual improvement for customer satisfaction, SPP pumps and systems have, and continue to be, installed in all the world's continents, providing valuable high integrity services for a range of diverse industries including oil and gas production, water and waste water treatment, power generation, construction, mines and large industrial plants.
"The North Sea, it is fair to say, remains an important region for the company and one that still plays host to its fair share of projects, several of which SPP Pumps will be involved with in the near future," Bob continues. "Meanwhile the company has also been turning more of its attention to the Chinese market, one that now represents a key focus for SPP Pumps. Over the last ten years the company has been having an increased success rate in this part of the world and its importance today is seen first hand in some of the significant upcoming undertakings that the company has landed."
SPP Pumps' product line within the oil and gas industry is very well established making it recognised as a leading designer and manufacturer of pumping equipment for both onshore and offshore applications. This reputation has been built up since 1970, when the company's pumps on the Argyll platform delivered the very first North Sea oil to come ashore. In the time since SPP Pumps has supplied its pumping equipment and solutions to many of the major international oil companies for a variety of applications from Azerbaijan to Zimbabwe, where in excess of 450 pumps have been installed on 70 different fields.
SPP Pumps is able to provide pump packages whatever the environmental conditions. Changes in rules and legislation, along with exploration in more environmentally challenging parts of the world, have seen a much greater need to offer equipment and pump packages that suit these special environmental conditions. The company's outstanding designs and engineering capabilities, huge flexibility, excellent mechanical and electrical packaging knowledge, coupled with ISO 9001 2000 certified quality systems, allow pumping solutions to be tailored to suit individual requirements.
Typical considerations the company needs to take onboard when dealing with individual customer requests include limiting noise levels, managing fire risks, dealing with the issue of hazardous area operations and ensuring minimal installation costs. Where ambient noise levels are of concern the company can supply acoustic enclosures to reduce equipment noise to acceptable levels. Likewise it can supply equipment to meet the designated area classifications, and for projects where environmental conditions or location dictate that minimal on-site installation works are preferred, SPP Pumps is able to offer fully packaged skids or pump houses incorporating multiple pump sets.
A fact that further emphasises how well regarded SPP Pumps is within the industry is its membership of the British Pump Manufacturers' Association (BPMA):
"Being a part of the BPMA really keeps the company up to speed with things like the latest industry regulations, new legislation and, importantly, the latest trends that are occurring in the marketplace. Understandably, being aware of all of this information is of incredible benefit to the company and it pays this back by remaining a very active member of the association," Bob says.
Even with the benefits that come from being a part of the BPMA, the company still faces a number of unique challenges in today's market that it has to overcome: "One thing you can safely say about the market over the past year is that there has been a marked increase in competition and this means companies like SPP Pumps have to differentiate themselves, in this case by highlighting the unrivalled quality of the products the company offers," Bob explains. "Another characteristic the company possesses is that as well as being a pump manufacturer it is also a specialist packager and this means it can offer a total solution, one that gives it a greater degree of flexibility and ability to respond."
Throughout the course of 2011 SPP Pumps has continued to recruit new employees, whilst at the same time expanding its product range to increase its presence in the oil and gas market: "The primary focus of the company is to continue to build upon the reputation it has already earned, using it to enter new regions thus expanding the reach of SPP Pumps even further. It really cannot be stressed strongly enough how committed SPP Pumps is to the oil and gas industry and in the years to come it will only work harder to maintain its position as a true expert in its field," Bob concludes.
SPP Pumps Limited
Products: Centrifugal pumps and associated systems