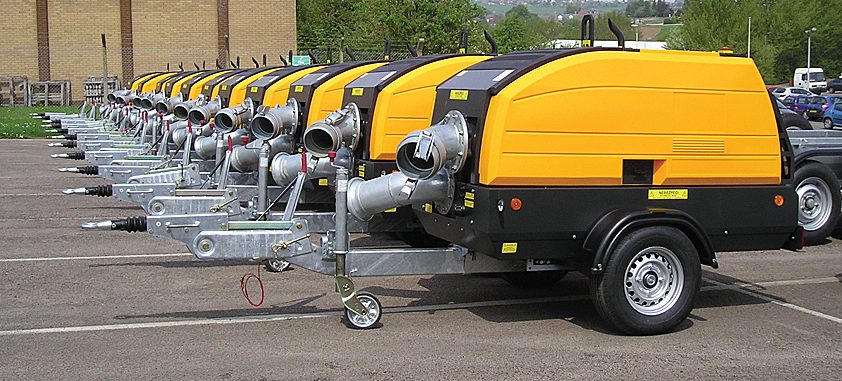 Pumped up
SPP Pumps' roots can be traced back more than 130 years to 1875 when the company was founded by a British engineer who brought the patent rights to the Pulsometer Pump from an American, Thomas Hall.
From those beginnings SPP has become a leading manufacturer of centrifugal pumps and associated systems, with services ranging from the design, supply and maintenance of pumps, pump packages and equipment for many applications and industries. These include the water, fire, oil and gas, autoprime, and service and spares sectors. Within the oil and gas industry SPP has built up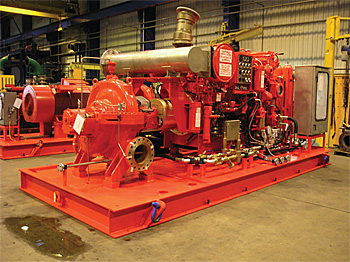 an enviable reputation ever since 1970 when the company's pumps on the Argyll platform delivered the very first North Sea oil to come ashore.
The company's main research and development, manufacturing and test facilities are located in a purpose built site in the UK, but it also maintains local sites in the US, France, South Africa, Singapore and Dubai, employing 300 personnel worldwide. Bob Tichband, business manager – oil and gas at SPP Pumps, highlights the key strengths of the company which have enabled this growth: "Certainly the quality of our staff in terms of expertise, attitude and enthusiasm is paramount to SPP. This is backed by years of experience in the pumping industry – in the oil and gas team alone we have over 200 years worth of combined experience. It is this expertise, together with our specific focus on certain markets, which enables us to be successful."
The diverse capabilities of the SPP product means the company supplies to a number of industries such as oil and gas, water and wastewater treatment, construction, power generation and large industrial facilities. Some of the main applications for the company's pumps and systems include water treatment and supply, sewage and wastewater treatment, fire protection, and mobile pumps for the rental sector. When considering key markets at present Bob comments: "SPP is continuing to focus on the oil and gas market, either through international engineering, procurement and construction (EPC) contractors or direct contracts with the end clients."
Across its global manufacturing facilities, SPP maintains the highest standards of manufacturing quality. The company's product range is split between pre-engineered standard products and fully customised equipment engineered and packaged to order. The extensive manufacturing capabilities of the UK site have specific assembly areas for the individual pump products and its machine shop is arranged in a cell layout with individual cells specialising in types, or ranges of components. Thorough testing, including witness testing, of all of SPP's range of pumps is performed at its own extensive in-house test facility. The main test area contains a 1.4 million litre test tank which has a depth of six metres. This is used to test pressures of up to 50 bar, flows up to 2000 l/s and various power levels including up to 800 kW at 6.6 kV, 400 kW at 415V and 400 kW at 60Hz. If required generators can be used for higher power or voltage levels.
Alongside its other pump systems, SPP has ukdeveloped specific pumping equipment for onshore and offshore applications within the oil and gas industry. Having supplied equipment to many major international oil companies, more than 450 SPP pumps have been installed on 70 fields around the world. These products include horizontal and vertical split case, vertical lineshaft and electro-submersible pumps to meet individual client requirements. Typical applications include main fire pump, firewater jockey pump, booster pump, seawater intake, seawater lift, cooling water and utilities.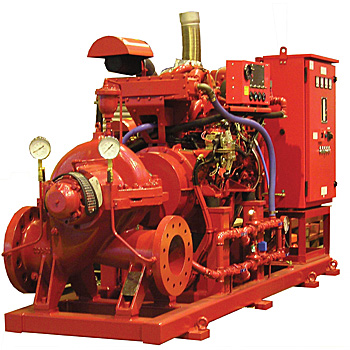 SPP's pump systems are designed to be tough and durable providing long-term reliability, with the capability to perform in harsh operational and environmental conditions where reliability is key. The company offers flexibility in design options and the choice of materials used in construction to suit the different operational circumstances. In addition, SPP maintains a team of field service engineers which offer support to SPP products on a global basis. Qualified in all health and safety aspects and with extensive experience working on both onshore and offshore installations, SPP's engineers can help with installation, commissioning, testing and remedial tasks.
Bob elaborates on the most recent additions to the SPP product portfolio: "We have developed a state-of-the-art remote monitoring system specifically for our fire pump products called FireEye. This system sends a communication from the pump every hour and in the event of any critical changes to the equipment, provides frequent monitoring data regarding the fire pump system's status. We believe that this product will add significant value for the end user and are excited about its future potential. In addition, SPP is increasingly being asked to provide bespoke training programmes for clients about the equipment they purchase. This is an area that we can excel in due to our personnel's in depth knowledge of all of the main package items including pumps, drivers and controllers. The programme can be delivered in the classroom, in a more hands-on approach with the equipment, or a combination of the two."
Despite the difficult economic conditions caused by the recession, SPP's shrewd business approach has enabled it to endure the downturn. "Like all manufacturing companies, we expected 2010 to be a tough year," explains Bob. "However, with our focus on certain key market sectors we have been able to counterbalance
downturns in certain markets with upturns in others. Certainly the oil and gas industry has provided us with a number of major opportunities this year. We have won major orders for both fire pumps and seawater lift pumps for projects in the Caspian Sea, South-East Asia. China, the Middle East and the North Sea during 2010."
Bearing this is mind he concludes with SPP's strategy for the future: "The oil and gas industry looks set to continue to provide a huge number of opportunities in the foreseeable future in terms of new products, spare parts, field service work and training. We also maintain a major presence in other markets, particularly the water and wastewater markets, which we expect to be buoyant in the next few years providing opportunities to grow the company further. As well as continuing to service our key businesses we will look at new markets or products as appropriate, and maintain our investment in our biggest asset, which is our staff. This will be through a combination of developing our existing team and bringing in new personnel where they can add value and support our move forwards."
SPP Pumps Ltd
Products: Centrifugal pumps and associated systems