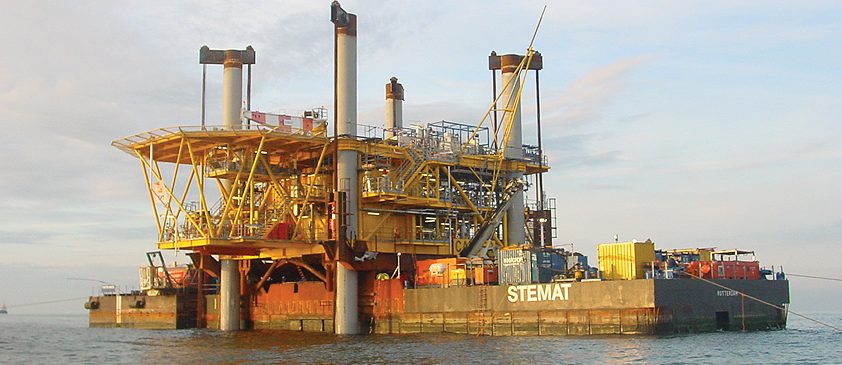 Foundation for success
SPT Offshore is a leading independent offshore contractor that specialises in the development and production of innovative suction pile foundations and self-installing platforms (SIPs), for use in offshore oil and gas developments and wind farms.
Based in the Netherlands, the business serves customers on a global basis, collaborating closely with many of the industry's leading contractors. Aside from its established self-installing and suction pile products, the company has recently developed an innovative suction anchor and is looking to move into the wind energy field.
Mark Riemers, managing director at the business elaborates further: "There is really no other company quite like SPT Offshore, in that we specialise completely in the development and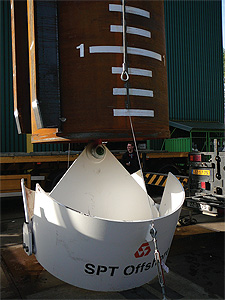 manufacture of self-installing structures and suction pile foundations. Many of our competitors are involved in this work, but conduct it more as a sideline to their other operations. We have developed our own, in-house concepts in these fields that really set us apart and allow us to offer considerable benefits to our customers."
The company's range of products includes self-installing platforms, suction pile clusters, suction piles, suction embedded anchors (SEA), and suction pile foundations. SPT has developed five proprietary self-installing platform concepts – unique designs that are installed without the use of heavy lift vessels or the need for pile driving, and are ideally suited to marginal field developments. "The platforms are either self-floating using their own buoyancy, or we use our own barge to float them," says Mark. "This is an extremely useful solution that means that we don't have to rely on anyone else to float or install our products, but can complete the whole operation quickly and smoothly by ourselves."
Mark explains more about the self-installation platform concept: "The barge installed platform concept uses a dum barge to transport and install the platform to the offshore site. It is particularly suited for the heavier decks, say from 1000 tonnes up to 5000 tonnes. Four legs are used to support the deck and each leg is founded on a single suction pile. Strand jacks are used to lower the legs and to lift the deck and our suction pumps are used to install the suction piles. The concept works in water depths up to 50 metres with some additional strengthening of the legs near the suction piles. The whole offshore installation operation takes no more than two days, so the weather dependency is quite small. We design for transport wave heights up to Hs of four metres and for installation wave heights up to Hs of 1.5 metres."
The advantages of the self-installation concept are easily apparent. The product offers significant cost and time savings in comparison with the more conventional heavy lift barge installed and piled platforms, and can be re-used. Mark elaborates: "The combination of the platform and suction piles works excellently together because you only need a pump to install them rather than heavy pile driving equipment. Also, the suction piles are versatile, easy to use and decommission, and simple to move to other locations when the field is depleted."


More recently, SPT has been developing an innovative anchor technology that is installed using a suction pile follower. "We are in the process of testing the SEA anchor, which is an umbrella anchor, in collaboration with Petrobras off the coast of Brazil," Mark comments. "Unique in its approach, the anchor is pushed into the soil using a suction pile, in a process that leaves a relatively small amount of steel behind. Once the anchor is pushed in at the required depth, the suction pile flow is reversed, detaching it and leaving the anchor behind. We see great potential for this solution as it provides a very effective anchor, and is up to 50 per cent cheaper than current suction pile technology."
Much of SPT's success is founded on the extensive experience within the business, which allows it to design, develop, test and market innovative solutions in-house. Its skilled and professional personnel includes project managers and engineers, geotechnical, structural and marine engineers, naval architects and experienced offshore installation crews. "We have our own extensive design department that develops all of our concepts totally in-house," says Mark. "Furthermore, we operate our own fabrication yard to manufacture the products and take care of the installation of the products. In doing this, we work closely with our clients carrying out FEED studies to develop solutions for their specific needs."
Considering the future, Mark can see the company's suction pile and self-installation concepts achieving much success in the offshore wind energy market: "We have developed a very competitive and innovative Self Installing Wind Turbine (SIWT) concept, which comprises a single piece installation including the foundation together with the wind turbine. The main benefits are acceleration of schedule (quick return of investment) and independency on special and expensive jack-up vessels. It is an extremely hot market at the moment and we are already receiving a great deal of interest from renewable energy companies.
"We have completed tests offshore of Hong Kong where for the foundation of the turbines of a large wind farm. Overall I predict excellent opportunities for all of our products and hope that we can continue to be successful in the coming years," he concludes.
SPT Offshore
Products: Suction pile foundations and self-installing platforms