Clean energy
On December 1st 2010, Royal Dutch Shell sold its downstream business in Finland and Sweden to leading Finnish energy company ST1.
This $640 million sale was part of Shell's strategy to concentrate more fully on upstream activities and primarily revolved around its Gothenburg oil refinery, but also included fuelling stations throughout the two countries. After the acquisition, ST1's portfolio included the Swedish refinery alongside six Finnish bioethanol plants and a total of 1200 fuel stations throughout Finland, Sweden, Norway and Poland.
The growth of ST1 has been founded on innovation and intelligent business. It began in 1996 when former Neste employee Mika Anttonen decided to trade fuel on his own terms with private dealers throughout Finland under the name Greenenergy Baltic. Over the course of ten years he built up a network of fuel stations throughout the country and (ST1 as a company started in 1997) became involved in a series of important acquisitions that served to bolster ST1's position in both Finland and Sweden.
Chairman of former Shell and current ST1 refinery in Gothenburg, Sven Eriksson, discusses the company's recent history further: "In 2006, ExxonMobil essentially sold its whole business in Finland to ST1. At the same time, Mika had also started building up a small network in Sweden but realised it would be difficult to grow organically in that country. In 2009 Statoil divested its Hydro business in Sweden because it had become too large and didn't meet competition law requirements, it created a 'remedy company' and put it on the market where it was bought by ST1 and is now called ST1 Sverige."
Following this rapid expansion the company started branching into Norway and Poland, and by 2009 had become big enough to rival the dominant commercial fuel operator in Scandinavia – Shell. When Shell decided to focus on larger markets elsewhere in the world, as well as on its upstream oil and gas production, it approached ST1 to strike a deal regarding its refinery and stations in Sweden and Finland. On December 1st 2010, ownership of the Gothenburg refinery and of 565 fuel stations passed into the hands of ST1.
As a semi-complex refinery it is capable of light crude handling, hydro treating and reforming of gasoline with a 78,000 barrels of crude oil per day output capacity. It also stands out as producing a niche diesel that is both resistant to freezing in Scandinavian winters as well as being a type of 'green diesel' that has been processed from renewable rather than fossil feedstock. Furthermore it makes use of technology that recovers waste energy produced at the refinery and uses it to heat over 70,000 houses and office blocks in the city of Gothenburg. This marks it out as the most energy efficient refinery in the world.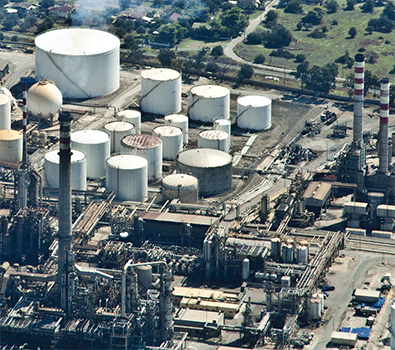 The passion of ST1 founder Mika Anttonen for innovative approaches to fuel is outlined by Sven: "Mika is not only an entrepreneur, he wants to do something useful with the money as well, particularly for future generations. That is why he has a burning interest in biofuels and green energy. In parallel with this, ST1 has been developing new technology together with the Finnish government for the small-scale production of bioethanol from waste products."
This production method, named Etanolix by the company, creates fully sustainable bioethanol from waste such as animal feed, fertiliser, household waste and even by-products from retailers such as bakeries and restaurants in locally situated Etanolix process units. Approximately 99.8 per cent of the post-dehydrated material can be delivered to local fuelling stations. When combined with the use of recycled energy in production as well as minimal transportation from source to end user, Etanolix bioethanol has a carbon footprint of ten grams of CO2 per kilogram of oil equivalent making it the most sustainable and efficient bioethanol for transport use in the market today.
"If you consider that the refinery was the first to produce green diesel, it fits fairly well into ST1's environmental passions," Sven comments. "The refinery also helps biofuels play a larger role in the company by introducing biofuel into both our diesel and gasoline pools. In Finland the company already has seven bioethanol plants in operation with a central plant; if something similar were to be set up in Sweden, the refinery would fit very well into the logistics of that operation and enable us to expand our portfolio of biofuels."
Being under ST1's banner has been equally beneficial to the refinery as well. Sven highlights the advantages it has suddenly gained from the changing of hands: "For the last ten years Shell did not have a lot of interest in its Swedish business. It was fairly clear in wanting to divest in both Sweden and Finland. Though we had made plenty of investment proposals for the refinery to make it more profitable, Shell did not show much interest. Under ST1 it is a completely different world. It is looking into our proposals – such as not exporting fuels out of the country, and replacing the fuel gases we are burning with natural gas and selling the fuel gas instead – with the potential to developing them."
The results of ST1's investment into the Gothenburg refinery stand by themselves, with both parties benefitting from one another's strengths. The doubling of fuel outlets for the company also means that it has the opportunity to implement its pursuit of green fuel on a larger scale than Mika may have imagined when he began the company 15 years ago.
The next few years for both ST1 and the Gothenburg refinery look bright. The company is already investing into a second generation of bioethanol production plants called Bionolix, which will be designed to produce and run on its own energy, whilst even more advanced concepts under the names of Cellunolix and Fiberix have been outlined for the future.
Focusing on the next four to five years, however, Sven looks forward to new and exciting prospects: "ST1 will look at simplifying the business process, going from big organisation to small and decentralised. Perhaps we will not be a spearhead in the market but follow others whilst also making it both cheaper and better. Shell was extremely environmentally conscious so this refinery has a lot of good policies in place alongside its good performance, and this will definitely continue under ST1. Along with the interest in our proposals, we find the future extremely exciting."
ST1 Refinery Gothenburg
Services: Fuel and energy