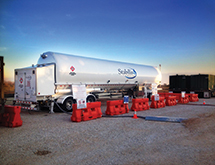 For operators working in the North American shale plays, costs and environmental impact are a constant concern. If either of those factors get out of control, a project – and possibly the company as a whole – is doomed. Stabilis Energy understands this, and that is why it has created a full-service LNG solution that allows customers to transition to LNG with confidence, as well as reduce their fuel costs and shrink their environmental footprints.
"We founded this company almost a year ago based on customer demand for LNG fuel and equipment in the oilfield," CFO and COO Jim Reddinger says. "We entered into a partnership with Flint Hills Resources, which is a large diesel refiner, in October 2013 to build up to five LNG liquefiers with them. And we purchased Encana's LNG business in April 2014 to enhance our nationwide presence and capabilities."
Based in Beaumont, Texas, Stabilis is one of the fastest-growing suppliers of LNG to the oilfield sector in North America, although it also serves the mining, rail, marine and other general industrial sectors. The company provides turnkey fuel solutions to help users of diesel and other crude-based fuels convert to LNG. Stabilis already offers LNG distribution and cryogenic equipment rental, and beginning in January 2015, its vertical integration will include LNG production.
"Our first LNG liquefaction facility is under construction and it will open in January 2015 in George West, Texas, to serve oilfield operations in the Eagle Ford shale," Reddinger says. "We already have a fleet of cryogenic equipment that is delivering fuel to potential plant customers in south Texas."
'Focus on the Eagle
Ford Shale'
The facility in George West is being built to produce LNG for high-horsepower oilfield fuel applications throughout the Eagle Ford Shale. Production capacity for the first plant will be 100,000 gallons per day, and Stabilis already is taking orders for LNG supply. The company plans to open LNG production facilities in all of the major North American shale plays. Facilities in the Permian Basin and Bakken Shale could start production as early as 2015 or 2016. These plants will produce as much as 250,000 LNG gallons per day.
"We are focused on serving the high-horsepower engine users who are operating in the oilfield," Reddinger says. "Our first plant is in George West, Texas, because of the extensive oilfield activity in the Eagle Ford Shale. But we also plan on developing a plant in West Texas because we are actively servicing customers in that area."
Stabilis is working to eliminate the challenges of implementing LNG by providing an end-to-end solution. By handling every part of the process from the production of LNG to onsite delivery services, the company makes it easy for customers to achieve the benefits of LNG – lower costs and a smaller environmental footprint. Stabilis plans to build LNG plants in the major shale plays across the country. It has its own cryogenic fleet to ensure on-time delivery, and monitors and manages the fuel requirements of every site so customers don't have to. Additionally, Stabilis designs the equipment and site plans to customers' needs, as well as installs, commissions and continuously maintains the equipment. The company also provides around-the-clock service.
"The fact that we're actually under construction with a liquefaction plant is huge," Reddinger says. "We are building the plant based on growing market demand. We have a history of servicing people who operate in the oil field, so we have good connectivity with the oil and gas sector. We know how to service them the way they need."
New Opportunities
In April, Stabilis's business was boosted even further with an agreement to purchase substantially all of the U.S.-based assets of Encana Natural Gas Inc. (ENGI). This will help Stabilis reach its goal of being the leading provider of LNG fuel solutions to high-horsepower operators in North America. ENGI possesses deep sector expertise and strong customer relationships that will help Stabilis become an LNG leader across multiple geographic areas and end markets.
Stabilis will add ENGI's staff and purchase its fleet of cryogenic rolling stock assets including storage and regasification trailers, mobile fueling units and related equipment. This means Stabilis will operate one of the largest cryogenic rolling stock fleets in North America across 20 states and multiple end markets, including oilfield, mining, rail, marine and general industrial.
"We are certainly interested in opportunities outside of the oil and gas sector, such as mining, rail and other industrial applications," Reddinger says. "There are other markets that are evolving rapidly, and we will look at those as the market allows.
"We have plans to build up to five plants now, but may build more depending on market demand," he says. "The second and third plants could be in North Dakota and West Texas. Other plant locations will depend on where we see right opportunities. Right now we are just focused on building our first plant, selling out the first plant, and providing great service to our customers."