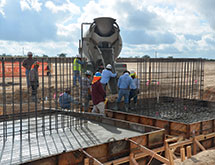 Stabilis Energy provides everything oil and gas companies need to get a liquefied natural gas (LNG) fueling program off the ground, and it is taking it one step further by opening its first production facility in George West, Texas. "We are proud to announce that our Eagle Ford LNG production facility is on schedule to begin producing 100,000 gallons per day in January 2015," COO and CFO Jim Reddinger says.
The Beaumont, Texas-based company says it offers customers a complete LNG solution, handling everything from fuel production and supply to cryogenic equipment rental and ongoing field service. "We have a cradle-to-grave offering," Reddinger says. In addition to its own production facility, Stabilis Energy sources fuel from third-party sources nationally and offers its services in all of the major North American shale plays.
Operating its own cryogenic transportation fleet, Stabilis Energy ensures that its oilfield, mining, marine, rail and industrial customers have LNG delivered on time for their high-horsepower engine fueling needs. The company delivers and installs LNG equipment to its customers' sites and then trains the customer on how to operate it safely and efficiently.
"Stabilis is in business to provide seamless LNG fuel solutions to our customers," Reddinger adds. "Our Eagle Ford shale location is the first step toward a complete network of North American LNG plants, and we're already delivering LNG fuel to oilfield customers to help them jumpstart their LNG programs."
Adapting Market
Many oilfield companies already understand the benefits of LNG fuel and have begun pilot programs to test the fuel for system-wide rollouts. "Conversion from diesel to LNG offers significant economic and environmental advantages," Reddinger says. "LNG is the ideal fuel for high-horsepower engines in the oilfield because it uses America's abundant and low-cost natural gas supplies to help fracturing and drilling operations save money and reduce their environmental footprint."
The use of LNG is accelerating in the oilfield despite transportation costs being relatively high due to the distance from existing LNG supply sources. "By building LNG production facilities in close proximity to major oilfield operations, Stabilis Energy can reduce transportation costs and make LNG a more attractive fuel option," Reddinger says. "Our investment in LNG production in the Eagle Ford shale has encouraged oilfield operators and contractors in the region to invest in their own LNG equipment and resources to get their dual fuel and dedicated natural gas fuel programs started."
Dual fuel (diesel and LNG) engine and dedicated natural gas engine technology has improved significantly over the past decade. Stabilis Energy maintains close relationships with engine manufacturers and dual fuel engine conversion kit providers to help its customers optimize their natural gas fuel usage.
"In addition to sourcing the LNG and providing the equipment and service required to run an LNG program, helping our customers optimize their natural gas engines and engine conversion kits is a critical part of our value proposition," Reddinger explains. "In the oilfield, the optimization of LNG fuel requires finding the right engine/conversion technology for your application; fine-tuning the engine/conversion kit settings for your application; and implementing a power management strategy that will maximize engine performance and LNG fuel consumption. The technology is available today to make LNG programs work in the oilfield."
LNG Production
Stabilis' LNG production facility will produce 100,000 gallons per day beginning in January 2015. Its location in George West, Texas is central to oilfield operations in the Eagle Ford Shale, making it convenient and cost-effective for customers across the basin. Stabilis is installing a standard C100N liquefaction plant from Chart Industries and OnQuest is providing turnkey engineering, procurement and construction services.
Stabilis announced a partnership with Flint Hills Resources in October 2013 to build up to five LNG production facilities that target domestic oilfield customers. Flint Hills is a leading refining, chemicals and biofuels company based in Wichita, Kan., and subsidiary of Koch Industries Inc.
The partnership has reserved production slots with Chart for an additional four LNG liquefaction facilities to allow for rapid development. The George West facility is the first under construction with two additional facilities being planned for in the Permian Basin (West Texas) and the Bakken Shale (North Dakota). Future facilities will be able to produce either 100,000 or 250,000 LNG gallons per day.
In the future, Stabilis Energy plans to be the leading provider of LNG for domestic consumption in high-horsepower engines, including oilfield applications and mining, rail, marine and industrial activities, Reddinger says. "Our plan is to demonstrate we can build, operate and sell the production of one plant and then move on to building others rapidly over the next several years," he adds.