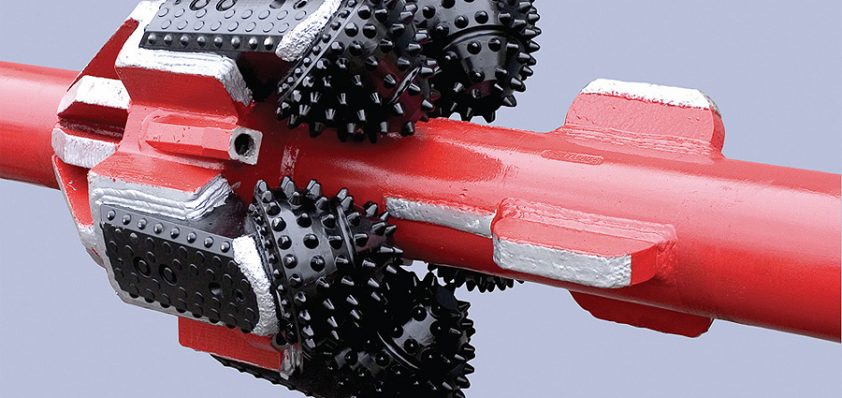 Well drilled
Just over a year ago, Rod Coffey acquired the remaining shares in Stable Services from his two business partners, becoming CEO of the organisation with a focus on further expansion and growth.
The company, which is becoming an emerging market-leader in the rental, manufacture and supply of drilling equipment, already has more than 25 years experience in the industry. This heritage and tradition, combined with the new management and an invigorated organisational and operational structure, will enable Stable to deliver a new generation of oilfield products and services to the industry in the coming years.
Rod elaborates on the changes in the company's organisation, and outlines his plans for moving the business forwards: "I joined Stable Services – a 29-year-old, privately owned service company
initially founded by two individuals – two and a half years ago as a 20 per cent shareholder with the aim of growing the business. Following a period of re-structuring, I bought both of the original founders' shares in December 2006, and focused heavily on improving and expanding the capabilities of the company. Since this time we have declared the trading assets of a rental company called Rig Services, which gives us the capabilities to manufacture, sell, service and rent drilling equipment. From this point forward, Stable is aiming to expand this area of business into the international market, and to improve its employee level.
"This industry relies on people, so employing the right team is essential to a successful business model," he continues. "We have been focusing on employing a number of high-profile names with a great deal of industry experience, because I believe that if you get the right people at the organisation then the work will follow and you will have the right staff to complete it effectively. The major factor in acquiring highly trained, competent staff has been our willingness to share out the spoils of our success, which gives everyone something to work towards."
Stable Services is rapidly becoming one of the markets leading suppliers and manufacturers of a vast range of innovative, state-of-the-art drilling technology for a number of applications. "We provide a great deal of equipment, both for rental and sales, with a particular emphasis on the bottom-hole assembly side of the business," Rod explains. "We have a broad range of different products available for sale and rental for drilling customers, such as hole openers, stabilisers and various drill pipe solutions. Additionally, we manufacture products at our machine shops in Aberdeen, Canada and Singapore, and have patented some specialised drilling equipment as a result of this."
Stable's portfolio of products includes drill collars, heavy weight drill pipes, stabilisers, hole openers, roller reamers, TVR non-rotating drill string stubs, EPDP products, and rotary tools, lift subs and pup joints. Its heavy weight drill pipe is manufactured from 4145H modified steel, is fully heat treated to meet and exceed the most demanding mechanical property requirements, and is available in options such as integral or friction welded, and full length internal plastic coating. The company's stabilisers are of the open, and full wrap designs, and feature options including an integral blade, and a welded blade. Furthermore, the TVR non-rotating drill string stubs are ideal for deviated oil wells, as they successfully minimise excessive rotary drill torque and vibration.
The scope of Stable Services' capabilities allows it to offer its clients a total product package: "Together with our sales, rental and manufacturing we also have a considerable repair and service facility," says Rod. "So, not only do we make the products, we take them back when there is a problem, repair them, and offer regular servicing, making us a true onestop- shop supplier."
The company counts many of the industry's leading players as its clients: "Stable provides services to a large majority of the major drilling contractors and oil companies, as well as big service companies such as Schlumberger and Baker Hughes," Rod explains. "Our business takes place on a global scale, and we are always looking to expand the range of services we provide, and the clients that we deal with."


To this end, in order to offer the best possible service, the business looks to work closely with its customers in developing individual solutions: "We do offer a number of bespoke services to customers, and one of the first tasks in any project is differentiating between our basic offering and the services they actually need," comments Rod. "We work with our clients to establish the exact service they require in order to create a mutual win-win situation between customer and supplier. Right now, the oil industry is particularly buoyant and a lot of companies are taking advantage of that situation, while we focus on working closely with a client to create a beneficial, long-term relationship. This will mean that at times when the market is not as lively, they'll remember the quality services Stable provides and stick with us."
Rod is confident that, with the current favourable market conditions and the possibilities for exploration still available, Stable can continue to grow: "The market is looking good at the moment, and I think this will continue in the medium term. There is at least another five years which we do not have to worry about, purely because the major players are renting rigs for up to $350,000 per day for a five-year period, so they are certainly going to be tied up with drilling for the remainder of these tenures. Also there are a lot of new finds and new fields coming online, so there is plenty out there.
"I am extremely confident that we have got a great team in place, and that we are in the areas we want to be now. I would like to see Stable Services growing into a worldwide service company that specialises in the supply, manufacture and rental of bottom-hole assembly in the coming years," he ends.
Stable Services
Service Sale, rental and manufacture of drilling equipment