Bulking up
Strategically located between Rotterdam, Antwerp and Ruhrgebiet, STANDIC BV, originally known as Gebroeders Broere (GB) has more than more than 50 years of experience in tank storage, as commercial director Paul Voogt begins:
"The terminal was built initially in 1958 by GB, which started as a bus transportation company in the South-western part of Holland many years before. After a substantial growth the company was constructing tanks for its own fuel usage; it became increasingly successful in tank storage in the ARA-region over the decades and was acquired by Pakhoed in 1989. Following a decade of operating under Paktank (a Pakhoed company), its parent company merged with Van Ommeren to create the new company, Vopak, in 1999. STANDIC was part of the Vopak group until 2007, when it was acquired by Hametha, a Dutch family owned company. One year earlier Hametha had already taken over a terminal from Petroplus in Dordrecht,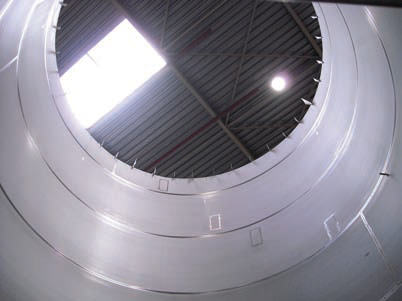 Haan Oil Storage, which is highly successful in the storage of various mineral oils
"Today, STANDIC focuses on the biofuels, chemicals and lubricants markets, while Haan Oil Storage focuses on the mineral oil market for bunker oil, heating oil and all grades of gas oils."
Having focused on the growing storage market for bio fuels since 2006, STANDIC turned its attentions to bio diesel a few years later; a strategic move that was a key driver in increasing capacity at the terminal. "We constructed a new tank pit in 2011, which is mainly focused on the bio diesel market and adds an extra 64,000 cubic metres of capacity to the terminal. Today we have close to 200,000 cubic metres of storage in STANDIC and are currently expanding this volume capacity with a further 43 tanks. This will amount to a further 36,000 cubic metres at STANDIC, which will be ready for operations as of the first quarter of 2015," says Paul.
Stemming from a significant increase in the number of tank trucks coming into the terminal as well as the number of ISO containers being imported to Europe, STANDIC's investments will further strengthen its foothold in the market as a well-located terminal with various tank sizes and 21 loading bays for tank trucks, tank containers and rail tank cars, as Paul highlights: "This increase in tank trucks coming was first noticed around three years ago, and has only increased since then, with more than 17,000 tank trucks handled per year. Our unique selling points, such as location and variety of tank sizes, means it is ideal for us to further increase the terminal into a more tank truck distributionbased business.
"Furthermore, with our 21 loading bays and a first-come-first-serve basis of providing to our customers, we have a quick handle on incoming trucks that many companies find attractive. In order to be proactive against the potential upcoming issue of congestion, we have ten more loading bays being constructed in the new tank pit at the moment."
With 194,500 cubic metre storage capacity in K1, K2 and K3, heatable MS and SS tanks, 120 storage tanks, as well as a broad spectrum of 15 tank sizes ranging from 156 cubic metres to 6600 cubic metres, STANDIC is fully prepared to be a partner to its customers and find solutions to their tank storage needs. Its terminal capacity includes 27 partly heatable tanks at tank pit one, 24 non heatable tanks at tank pit two, seven heatable tanks at tank pit three, 18 partly heatable tanks at tank pit four, 15 partly heatable tanks at tank pit five and nine ss/18 ms heatable tanks at tank pit six. In addition, STANDIC offers blending and nitrogen blanketing possibilities, short, dedicated lines from the tanks to the loading stations and short, dedicated lines from the jetties to the tanks.
However, despite the impressive range of tanks STANDIC has available to its customers, it is adding to its portfolio with tank pit seven, which will include 43 new tanks and a special focus on chemicals with tank truck loadings and unloadings. The tank capacity will be 36,000 cubic metres, with 20 stainless steel 500 cubic metre tanks, 17 stainless steel and mild steel 1000 cubic metre tanks, and six mild steel 1500 cubic metre tanks. All tanks will be heated and insulated, able to supply nitrogen and will have dedicated lines. Each tank will have its own dedicated tank line, a dedicated truck pump and its own dedicated loading arm. "The first tanks will be operational in the first quarter of 2015 and the terminal will be fully operating in the final quarter of 2015," explains Paul.
This new pit is already proving to be a significant addition to STANDIC, following the finalisation of a major tender with a number of suppliers who are ready to make use of the facilities when they become available. "Together with Tanc, which is co-ordinating and guiding this project for us from design to finalisation, we have organised the tender for this project in Dordrecht. The tender was finalised a few months ago, so we started with the construction of the tank pit's foundation in April 2014; this was constructed by Breda Bouw, a civil works company that we also worked with on tank pit six. The same counts for Spie, which will do all the mechanical, piping and E&I of this new tank pit, as they did before with tank pit six.
"We also have two Netherlands-based companies, constructing the tanks in-house; these have been split into stainless steel and mild steel, however, the majority are stainless steel. Oostwouder Tank- & Silobouw BV is constructing the stainless steel tanks for us in-house. Soon the tanks will be shipped from the Northern part of Holland to Dordrecht and placed in tank pit seven. A large crane will place all tanks with utmost precision on their foundations. Although the main focus will be on loading and unloading trucks, we have chosen the design of the tank pit for multipurpose operations with maximal flexibility. Therefore we have chosen multipurpose twin-screw pumps to load both vessels and tank trucks. All pumps are supplied by Kampers Pumps & Services."
With major developments currently ongoing, STANDIC will be looking at further investing in its terminal's ageing facilities over the coming years, as Paul concludes: "The first tank was constructed in 1958 and other areas were originally developed in the 1970s and 1980s so re-modernisation is an important focus for us over the next five to ten years. For example, the tank truck loading locations will be modernised, and developed in accordance to the latest standards."
STANDIC BV
Services: Bulk liquids storage and distribution