Stanlow Terminals is bringing an exciting new energy hub to the UK
In December of 2021, Stanlow Terminals made a major announcement, as the company shared its plans to develop the UK's largest biofuels facility. Part of Stanlow Terminals' drive to support the country's net-zero ambitions, the project will combine the repurposing of existing storage infrastructure alongside new infrastructure investments.
These investments will allow customers to store, blend, and distribute low-carbon biofuels suitable for use in the energy transition as drop-in replacement transport fuels for road, aviation, and marine. In total, the investment will add 300,000 cubic meters of capacity to the company's two sites in Tranmere and Stanlow, enhancing what are already critical national infrastructure locations responsible for 16 percent of the UK's total fuel supply.
"In the context of UK energy security issues, and the ongoing energy transition, this infrastructure is set to be absolutely critical to the development of the North West's and the UK's energy markets," comments Mike Gaynon, CEO of Stanlow Terminals, speaking to Energy, Oil & Gas.
The development of Stanlow Terminals' biofuels storage facility is just one element of the broader work being undertaken by the company to adapt and transition its operations. Following a restructuring of its business units in early 2022, Stanlow Terminals is focusing its activities on so-called 'new energies'.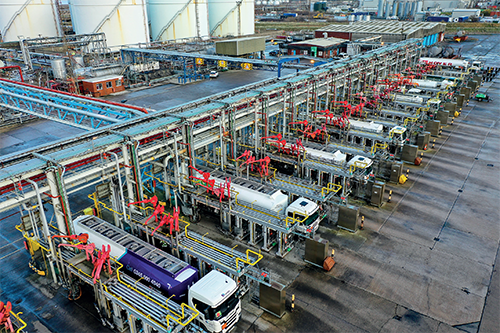 "New energies include all our future low-carbon energy storage and infrastructure projects: low-carbon hydrogen, sustainable aviation fuel, green ammonia, carbon dioxide and liquid organic hydrogen carriers," Mike explains. "We're starting to develop the elements of the hydrogen economy and other specific energy products that will contribute to the UK's decarbonization."
As the company embarks upon this journey, it's supported by the existing capabilities of its deep-water facility at Tranmere. As Mike adds: "our Tranmere site is equipped to accommodate large ships, which will prove vital as we've developing globally-leading import and export markets, essential to the energy transition."
The development of Stanlow Terminals' capabilities is also expected to improve integration with its parent company, Essar. Based in India, Essar is currently exploring green fuel projects with a view to supplying the UK and European markets. According to Mike, this is also exemplified at Essar Oil UK, where the company is setting "a global benchmark" for the low-carbon refineries of the future. Essar is also investing in the development of hydrogen production facilities at Stanlow.
"Vertex Hydrogen, Essar's hydrogen production company, will build the UK's largest low-carbon hydrogen plant here within the next few years, with production to start in 2026," he reveals. "Vertex Hydrogen is part of HyNet, the UK's leading decarbonization cluster, and Stanlow Terminals is also developing plans to utilize HyNet's carbon capture capability and sequestration pipeline. Together, these projects will provide a blueprint for a low-carbon industrial cluster.
"In terms of scale, the first phase of HyNet will see the sequestering of around ten million tons of carbon dioxide per year, by around 2030," Mike adds. "We'll then be targeting the construction of a multi-modal hydrogen transport hub, providing an effective mechanism for the storage and distribution of hydrogen by road, rail, and marine."
Through this innovative approach, Stanlow Terminals is hoping to build upon what has been a successful couple of years. "Throughput volumes and sales have increased post-pandemic, in tandem with the refinery growth," Mike notes. "Our new energies business is predominately long-lead, supported by significant capital investment programs over the next three-to-five years.
"We've also been working with the UK Government's Catapult Network, together with Mersey Maritime, to establish a green shipping corridor along both the river Mersey and Manchester Ship Canal," he adds. "Historically, both Stanlow and Tranmere terminals have provided bunkering facilities for ships, and as new energies such as methanol, hydrogen, and ammonia are increasingly required for ship propulsion, bunkering is set to become a core part of our business once again."
One significant recent development for Stanlow Terminals occurred in March 2021, with the announcement that the Liverpool City Region was set to become a Freeport. Both the company's Tranmere and Stanlow facilities sit within the radius of the Freeport Zone, and the company is now working with the Liverpool City Region to explore what these designations could mean for the sites, including permitting Stanlow Terminals' customers to import and export without customs duties. The company has also recently acquired International Sustainability and Carbon Certification (ISCC) – a tracking process for biofuels and other low-carbon replacement fuels, further enhancing its offering for customers.
"We're certified as an ISCC warehouse keeper, meaning that our customers who have ISCC-certified products can bring those products into our facilities for storage while maintaining their certification," Mike notes. "They're able to do so thanks to our completely segregated storage, with all the necessary systems and procedures in place. Once again, it's all part of making our hub more attractive to customers and businesses within the energy transition space."
As we move into the fall, many within the energy sector are still adjusting to what has been a year of volatility, driven largely by the Russian invasion of Ukraine. This has thrust issues of energy security and resilience into the limelight. For Mike, it's underlined the importance of investment in the energy transition and domestic energy infrastructure, and he expects plenty more to come.
"Before the end of this year, we hope to sign some of our first third-party storage contracts," he confirms. "We also have a couple of MOUs (Memorandums of Understanding) in the pipeline, which we'll be able to reveal more about in the coming months. Beyond that, we're looking ahead to the next five years, for which the focus is, of course, on building out our storage platform and energy infrastructure business as we transition for tomorrow."