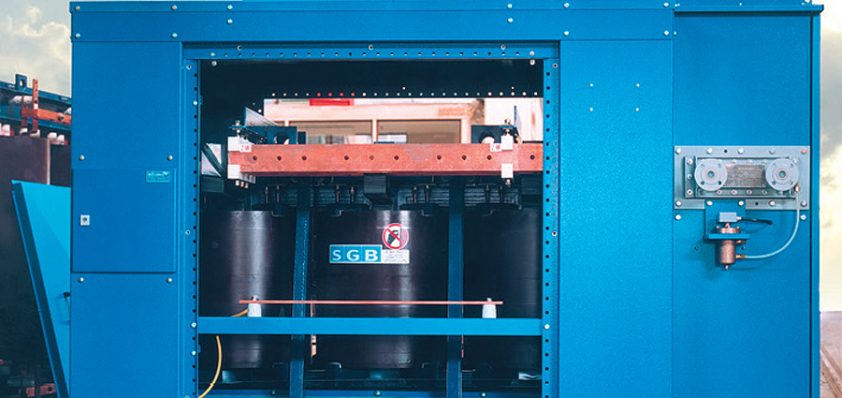 A proud heritage
The Starkstrom-Gerätebau (SGB) Group offers its customers a wide spectrum of products, ranging from transformers for energy supply (power transformers, oil distribution transformers, cast-resin transformers) to professional project management and installation, as well as inspections to ensure reliable long term operation, in addition to further similar product services.
The company may manufacture machines, but it is passionate about people and it has more than 1000 well-trained, highly motivated and loyal staff members, who form the foundations of its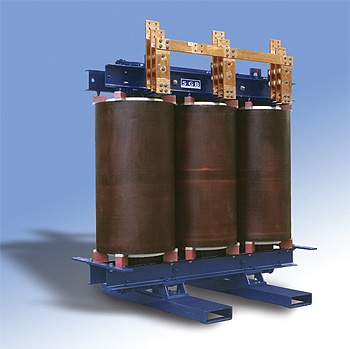 achievements. The company focuses on individual responsibility, as it believes the implementation of corporate objectives can only be achieved by the individuals themselves. This way of thinking has enabled SGB to develop into one of the leading power companies in Europe.
This team is also highly trained – SGB attaches great importance to professional education. Specialist apprenticeships ensure that it always has new generations of experts with the required knowledge. Safety, environmental awareness and health are all important topics that are covered.
However, the most important focus of all at SGB is the customer. To this end, the Group offers the best package possible – a combination of high product quality, schedule effectiveness, customer service, cost effectiveness, value maintenance and environmental awareness.
To achieve this takes constant focus and concentration, and a reliance on the right systems and strategies ensures access to future markets. Total quality management is an important objective of the Group and products and services have been subject to strict quality control for more than 50 years. In accordance with the expectations and requirements of the market, this has been certified according to ISO 9001 since 1993, and is confirmed in annual audits.
This dedication to quality extends into the area of research and development (R&D). In the past, SGB, as a specialist in transformers, has had a great influence on the state of technology in Germany. In order to be able to offer further achievements for the benefit of customers, it dedicates a significant proportion of its investment capital in creating technologically innovative products.
These products include power transformers, oil distribution transformers, the Lahmeyer compact station, cast-resin transformers, special transformers and solutions to electrotechnical problems and technical services.
Although Starkstrom is well known for a number of products, the most innovative transformer type among its range are its SGB cast-resin transformers, which are characterised not only by their extremely high reliability, but also by excellent operator safety and good environmental compatibility. Cast-resin transformers have power ratings from 50 kVA up to as much as 30 MVA and offer a number of benefits including:
A low fire risk and energy cost, as the low fire risk makes it possible to install the transformer right at the load centre.
Flexibility and safe planning as Öl containers or fire walls are not necessary.
Low maintenance costs. Maintenance work like re-sealing (renew gaskets) and renewing the corrosion protection of the tank or oil treatment are not necessary. Cast resin transformers only need air for cooling.
Power reserves. Short overloads like strats of electric motors or welding are easily absorbed and continuous overload is possible as the transformers can be equipped with fans for forced cooling.
Additionally, the advantages of the SGB high voltage windings improve the performance of the cast resin transformer in a number of ways.
Layer winding vacuum casted with glass fibre reinforcement.
High viscosity of resin (very fluid) during the impregnation process of the glass fibre reinforced windings reduced the risk of bubbles, voids or cracks which could lead to partial discharge to a minimum.
Cooling channels improve the cooling.
Even high temperature fluctuations will not damage the windings. This is caused by the balance of the firmness and elasticity of the glass fibre/resin compound.
A partial discharge level below 10 pC will be verified on each individual coil as well as on the complete transformer.
Ageing tests are performed at elevated temperature and extreme environmental temperatures to prove a long life span.
A product designed predominantly for the offshore market, particularly applications such as wind farms, the transformers use the so called 'SGB Safe System', which means that they are accommodated in a protective housing with an integrated cooler. The use of such a system is a direct result of the fact that when building transformers for wind park applications or other offshore applications a number of important factors have to be considered – namely marked and rapid power fluctuations, high overvoltages due to switching operations, extreme vibrations, and the various climactic and environmental conditions that prevail.
The use of the SGB Safe System for cast-resin transformers has made the products some of the most robust and reliable on the market, and a preferred choice of many clients in the wind farm sector. For example, not only is the product hermetically sealed against the external salty, corrosive atmosphere, but it also has an optimised cooling system as a result. The fact that the transformer is sealed also means that the maintenance intervals are greatly extended. Furthermore, in the case of major damage, the complete assembly – both the transformer and its housing – can be replaced.
As previously mentioned, Starkstrom places considerable emphasis on quality, and as such, has tested and developed its cast-resin transformers to be able to handle the toughest offshore conditions. For example, during each routine test of a new product, it is additionally loaded until it reaches its temperature limit, and is subjected to considerable vibration and fire testing. During such testing it has been found that Starkstrom's cast-resin transformers are particularly well suited for operations that involve high and rapid power fluctuations, and this makes them particularly appealing to a number of major offshore clients. Quite simply, the cast-resin transformer's MTBF of more than 1900 years means that they are the natural choice for any applications where a safe power supply is essential.
SGB cast-resin transformers are extremely resistant to fire: this has been proven in independent tests by the Association for the Promotion of Fire Protection in Germany, who illustrated that ignition using simple means is practically impossible.
The SGB Group uses the slogan 'Power in Starkstrom' to illustrate its top performance in the field of power engineering. The company believes this represents an incentive and an obligation to fill this idea with life and power, and to implement it in the form of its products and services. The company's cast-resin transformers, together with its other products, are fine examples of the quality, technical excellence, and performance that customers have come to expect from the SGB name, and with the latest developments this trend looks set to continue.
Starkstrom-Gerätebau (SGB)
Products Transformers