Statoil Fast-Track Development Plan
On the right track
Despite its long history within the offshore industry, approximately half of Norway's oil and gas reserves remain below the seabed today.
However, what has become apparent is that the length of time between large discoveries in open areas on the Norwegian Continental Shelf (NCS) is growing. This has been a region of major discoveries over the last 40 years including Statfjord, Oseberg and Troll, with three out of four producing fields today considered large or medium sized.
In comparison though, three out of four discoveries on the NCS since 2007 are classed as small signalling a shift in the type of focus for the future. But for such developments to be profitable, Statoil is adopting a new fast-track approach designed to halve development time for the more straightforward fields. "Back in 2009 we started to look at the amount of time it took to complete field and subsea tie in developments, which was approximately five years or so from discovery to production. We felt that this was too long a time period and therefore wanted to optimise our processes in order to complete this much faster," explains Halfdan Knudsen, vice president of fast-track portfolio.
In terms of how this fits in with Statoil's overarching plan for the continued production of the NCS, Halfdan adds: "For Statoil our ambition is to maintain the production level on the NCS because we see this as a very important area of activity. This year has been very good for the business in terms of discoveries and we see some larger projects due to come on-stream in the longer term. However in the critical short-term period from next year and until first oil from the larger developments the fast-track portfolio is very important in achieving new production."
Having established a fast-track development taskforce in 2009, by mid-2010 Statoil had a concept in place, which by cutting development times would in turn improve the profitability of these smaller fields, whilst maximising the NCS' current potential. Halfdan elaborates upon some of the key points of the programme: "We set ourselves an ambitious target of reducing this five year project timeframe to just 2.5 years from discovery to production. Alongside this we are also aiming to ultimately reduce our investment costs by 30 per cent.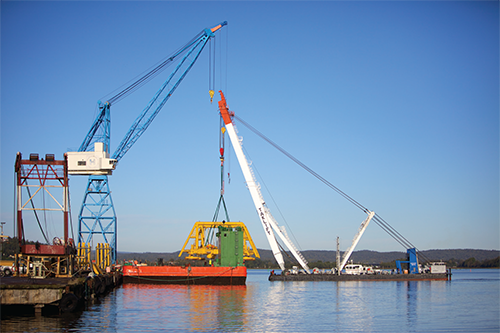 "In terms of the first five fast-track projects that we launched we are now down to an average development time of 34 months, which is close to our 30 month target. At such an early stage it is difficult to see the full impact upon our costs, but there are early indications of a positive trend with the first tie in project currently at five per cent lower than our investment estimate. There is still some way to go to achieving the 30 per cent target, which has been made more difficult due to increased pressure on drilling and subsea equipment following the market upturn," he continues.
As it stands, these initial five projects remain on schedule to begin operating from late 2012 or early 2013, with the first wells now beginning to be drilled. The continuous nature of the fast-track programme means that Statoil has already sanctioned a further two projects for 2013, and expects to sanction another two in early 2012, bringing the portfolio up to a total of nine developments.
Part of the fast-track concept is focused on a move away from customised solutions to a more standardised approach and equipment in order to meet economies of scale. As such, Halfdan comments on the task of implementing this thinking: "One of the main challenges in this programme has been to standardise the subsea equipment used across these developments. Therefore we have spent some time establishing a standard equipment catalogue, drawing upon our long subsea experience to bring together the best technology and knowledge. We have then looked at our internal work process from the perspective of efficiency all the way from a prospect to front loading of a project.
"Our current challenge is to also standardise the drilling aspect of the development, as around 50 per cent of the capital investment is on the drilling and well side. Therefore in order to really prove the work we have done so far we need to fully optimise the drilling of these fields, and standardise the completion of the wells. To this end we have secured two dedicated drilling rigs to work across the fast-track portfolio enabling us to maintain consistency in these processes," he adds.
Of course, Statoil's long history within this market and well renowned industry expertise has been vital in creating a viable fast-track concept. What this portfolio has required is a move away from the more sequential relationship between disciplines on larger projects, to a fully integrated project team working from start to finish for a common ambition. Crucially, this work not only has the potential to majorly impact upon the way small marginal fields are viewed in terms of viable production, but equally best practice can be transferred to larger straightforward developments elsewhere in Statoil's portfolio.
Statoil Fast-Track Development Plan
Services: Field development