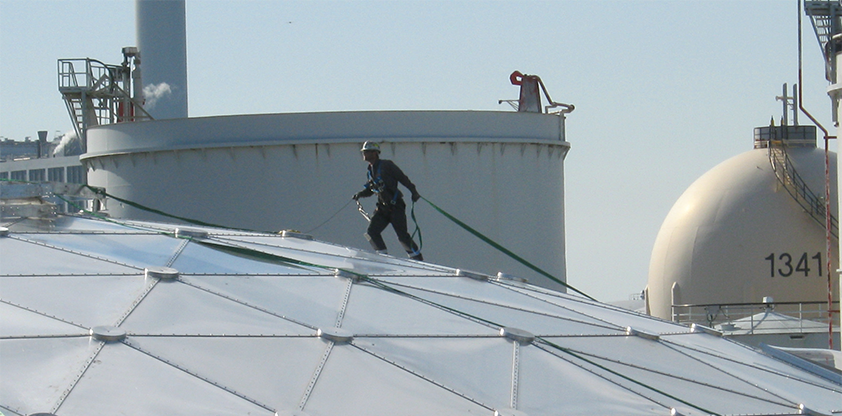 Statoil Refining Denmark A/S
A good base
Since its purchase from Dansk Esso in 1986, Statoil Refining Denmark A/S has operated the Kalundborg refinery on behalf of the Statoil Group, along with a product terminal in the centre of Zealand.
The oldest parts of the refinery date back to 1961, but it has gradually been developed and modernised over the years including an expansion in 1995, which brought in the facility's condensate distillation plant. That in turn enabled it to produce petrol with a lower content of the carcinogen benzene.
At present, Kalundborg refinery processes around 5.5 million tonnes of crude oil and condensate each year into petrol, jet fuel, diesel oil, propane, heating oil, and fuel oil. Other products have also been introduced as the result of investments into the facility, such as the production of agricultural fertiliser in 2000 from sulphur and nitrogen created in the desulphurisation process of oil products. In 2002, the Synflex facility came on-stream producing around one million tonnes of sulphur-free diesel oil. The last major modification programme took place at Kalundborg in 2008 with the completion of a fuel reduction project.
From its establishment Statoil Refining Denmark has shared the Statoil Group's culture of safety and risk management, and continues to work to maintain these high standards throughout. "Over the last year our safety record has improved significantly, including an almost 50 per cent reduction in total recorded injury frequency, which is a very good trend in that direction. One of the drivers behind these results is that we have recently completed a compliance and leadership programme, which has focused on risk management, risk understanding, compliance, and personal qualities.
"In particular we have looked at when personnel are given a task how they understand the risks and how they are in compliance with government structure and legislation before they begin the work. We feel that we are definitely moving in the right direction when it comes to safety, and that will of course continue in the years to come," describes Rasmus Wille, Statoil Refining Denmark's refinery manager.
This ties into Statoil Refining Denmark's short-term strategy work to improve its operational liability and safety. The company's reliability over the last 12 months has also been extremely good, nearing 100 per cent after taking into account planned shutdowns during the same period. "We also have a very high cost focus at the moment, where we are running a number of improvement programmes aimed at reducing our costs and enhancing our base operation," adds Rasmus.
Improvements have also been seen in Statoil Refining Denmark's margin earnings, with 2012 looking to be a very good year for the business. In discussing these results, Rasmus notes some of the factors contributing to them: "The external market is certainly having an impact on the margins, but one of the things that has kept this high is the very good margins we have on upgrading naphtha to gasoline through our condensate refinery where we process light crudes. One of our strategies has also been to significantly improve production of specialised products, such as the environmentally friendly Swedish MK1 diesel, which has certainly played a part in adding to our margins."
However, Statoil Refining Denmark is anticipating a return to lower margin levels going into the future, and therefore is acting in accordance to that to ensure its operations are in step with these changes. "Both cost reduction programmes currently running to improve our margins are key for ensuring we are in the best possible position going forward. We are also looking at a 2020 plan, which basically identifies which projects we need in our portfolio long-term. At present these focuses include bio-diesel production and improving our tank farm to increase our flexibility on the crude intake side, as well as some interesting projects on the energy reduction side. We are expecting to see a continuation of the trend over the last year for refineries closing down, and therefore believe that long-term the refineries that stay operational will be those with the highest reliability, lowest costs and most specialised products," notes Rasmus.
At present the Kalundborg refinery certainly appears to fit within this niche, and continues to remain flexible in this often-changing market place through measures such as widening its crude intake from the Middle East and Africa as well as the North Sea, and gaining a foothold in bio-products. In terms of securing Statoil Refining Denmark's long-term future, Rasmus concludes with how most important is laying the right groundwork first: "Statoil is by definition an upstream company, but also focuses on strategically important downstream assets as well. We see that if we can create a good strong basis for our refinery through low costs, high safety, and high operational reliability, then we will reap the benefits in terms of support and investment to improve our refinery margin in the long-term."
Statoil Refining Denmark A/S
Services: Crude oil refinery