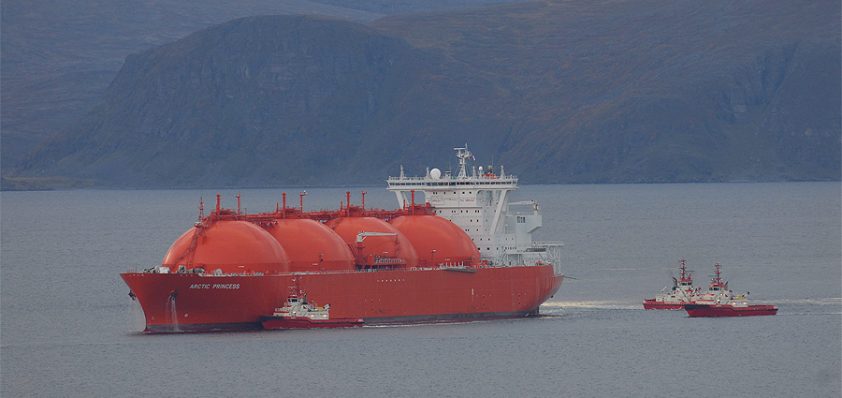 Voyage of discovery
Norway's largest exploration and production company has a long and impressive history, boasting more than 30 years experience on the Norwegian continental shelf (NCS) in pioneering complex offshore projects. As an integrated technology-based energy business predominantly concerned with upstream oil and gas operations, StatoilHydro develops technologies and manages projects that meet the world's energy and climate challenges in a sustainable way. What's more, its ambition is firmly focused on international growth and the business is already present in 40 countries around the world.
Founded in October 2007 following a merger between Statoil and Hydro's oil and gas activities, the organisation has grown somewhat, now employing 29,500 people and operating 39 producing oil and gas fields. It is the world's largest operator in waters exceeding 100 metres in depth and produces, on average, more than 1.7 million barrels of oil equivalent per day. StatoilHydro has proven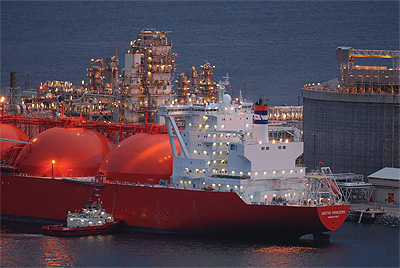 reserves of more than six billion barrels of oil equivalent and is among the largest crude oil and gas suppliers in the world. Furthermore, the company is a world leader in the use of deepwater technology as well as for carbon capture and storage.
The most notable event in StatoilHydro's recent history was last year's largest ever industrial development in northern Norway. At a cost of NOK 58 billion, the Snøhvit plant at Melkøya outside Hammerfest in Norway created about 400 new jobs in the area, including 220 in StatoilHydro's operation team at the gas liquefaction plant, which is set to remain functioning for 35 years. This project involves bringing natural gas to land for liquefaction and export from the first plant of its kind in Europe, and the world's northernmost liquefied natural gas (LNG) facility.
After five years of development, StatoilHydro commenced production of LNG at the Hammerfest LNG plant in September 2007. Commenting on the project, acting executive vice president for Exploration & Production Norway (EPN), Tim Dodson, said: "Snøhvit is a fantastic industrial adventure we have been working on for many years. The start-up of LNG production 24 years after the discovery of the Barents Sea's Snøhvit field is one of the absolute highlights in this project."
Snøhvit is the first major development on the Norwegian continental shelf with no surface installations, meaning that the seabed facilities had to be specially designed to be over-trawlable, so that neither they nor fishing equipment will suffer damage from coming into contact. No fixed or floating units are positioned in the Barents Sea – instead, the subsea production facilities stand on the seabed in water depths of 250 to 345 metres. The wells transport the gas from the Snøhvit, Askeladd and Albatross fields to land through a pipeline stretching for 143 kilometres.
As Snøhvit was the first offshore development in the Barents Sea, as well as being Europe's first export facility for liquefied natural gas (LNG) production and the landing of natural gas from the Snøhvit, Albatross and Askeladd fields, it has naturally come across some challenges – in particular, the health, safety and environmental (HSE) aspects of the project have required special attention. StatoilHydro placed particular emphasis on safety and the environment in designing the technical solutions, and its HSE target for Snøhvit was that its development and production caused zero accidents, lost-time injuries, occupational illnesses, material loss or environmental damage. More assessment studies have been carried out for Snøhvit than on any other project StatoilHydro has so far sought to develop.
Not only does the project represent new technology and approaches, but also fresh business opportunities. Deliveries from the Snøhvit development provide StatoilHydro with its entry ticket to the fast-growing US market for natural gas. Spain represents another important market and the French licensees in the field, Gaz de France and Total, are responsible for exporting their own share of the gas, totalling 1.7 billion standard cubic metres per year.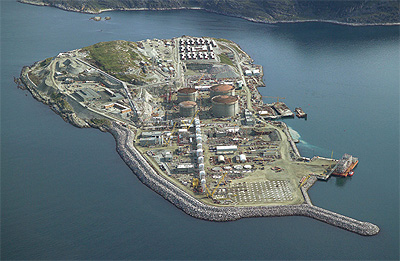 Shipping the gas from the Snøhvit liquefaction plant to receiving terminals has required the procurement of specially built LNG carriers, constructed to stringent environmental and safety standards at yards in Japan and France. The vessels are 290 metres long and have an LNG cargo capacity of about 140,000 cubic metres. In full production, one special carrier will arrive at Melkøya every five or six days to collect LNG and transport it to customers in Europe and the US.
Adopting new technology has allowed StatoilHydro to achieve what few people had thought possible – the first offshore development in the Barents Sea. The business has also impressed in terms of exploration; this portion of the firm's activity has been highly successful. Just this month, the company discovered gas in the Asterix prospect, which lies in 1360 metres of water, 245 kilometres west of Sandnessjoen in the Norwegian Sea.
Preliminary estimates indicate the proven recoverable volume of gas is about 16 billion cubic metres, which means it is one of the bigger discoveries off Norway in recent years. As the gas is located 80 kilometres west of the Luva gas discovery, Asterix will be considered for development together with Luva and the other nearby discoveries of Haklang and Snefrid South, which could help lay the basis for a deepwater gas infrastructure in the Norwegian Sea.
StatoilHyrdo has encountered oil and gas in the Katia prospect as well, which lies 11 kilometres southwest of the Oseberg South platform group in the Norwegian North Sea. Also announced in March 2009, the development follows several successful exploration operations over the past year and confirms that it is still possible to find relatively large volumes of oil and gas in established areas such as Oseberg. It is hoped that the find will be developed and produced through a tie-in to one of the existing subsea installations in this part of the North Sea. Commenting, head of North Sea infrastructure-led exploration, Tom Dreyer, said: "Given that it lies close to an existing field and can quickly be brought on-stream, this is a very interesting volume. The discovery is a good deal larger than we usually find in wells close to existing fields."
With an eye constantly on exploration, expansion and improving its existing technologies, StatoilHydro is one of the most interesting and reputable brands in the business. By maintaining excellent relationships with suppliers such as MT Højgaard and providing the company retains its renowned drive and determination, any challenges in the oil and gas sector can be overcome, so that StatoilHydro can prosper long into the future.
StatoilHydro ASA
Products: Technology based energy solutions