Strong resolve
Over its lifetime Steelcon has delivered more than 5500 steel chimneys across the world, as a result of a 30-year commitment to steel stack production.
In achieving this level of output the company has developed somewhat from its early beginnings to a team of around 150 people, spread between offices in Esbjerg in Denmark, Slovakia, and Kraków in Poland. Today around 150 steel stacks are delivered each year ranging in height from 20 metres up to 140 metres, with a diameter from one to seven metres. These are destined for locations throughout the globe thanks to Steelcon's sales network, which includes company offices and agency or partner agreements.
The success of this strategy has positioned Steelcon as the leading manufacturer in factory-made steel chimneys for the world's energy sectors. The company also maintains a secondary product line in steel masts for various commercial purposes. As sales and contract manager, and company co-founder, Laurs Pedersen explains, Steelcon does not just deliver a product, but a total solution: "We are very good at finding the right solution for the particular application of the client. Unlike other companies, we try to handle all disciplines required for the project in-house including advice, calculations, design, engineering, production, procurement, delivery, and site erection. One current example is a project we are undertaking for Kuwait National Petroleum for the delivery of two stacks, six months apart. This has been carried out as a turnkey project, which is not something many of our competitors can offer."
Likewise, Steelcon has found solutions to complicated technical projects under very different conditions around the world, resulting in skills and expertise that are supported by a multitude of industry references. Many of these have taken place within the typical gas turbine power plants, but one specialist market for Steelcon is oil and gas refineries. This sector is currently seeing greater investment at present, both in new-build or replacement facilities, and as such Steelcon is currently involved in three projects of this type. The most recently delivered consists of four stacks of 100-metres height and a total weight of 800 tonnes, which Steelcon shipped out locally from the port of Esbjerg.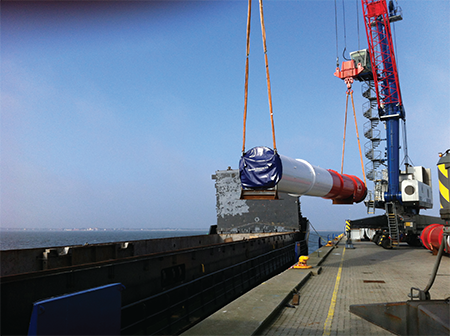 "The oil and gas sector is a little different to the other markets or other types of plant that we are delivering," continues Laurs. "In our standard markets we are delivering steel solutions according to country standards which means for example if the product is destined for Germany then it has to meet the DIN standard, or if it is being shipped to Australia then it must comply with the local standard. In the case of refineries though, many have their own standards, which means a new set of requirements every time we work with a new oil company or refinery. In order to cope with these variations in specification, and the demand for documentation, we have developed our own software system over the last four or five years that can process these."
The company continues to take advantage of its experience with ongoing in-house developments particularly in terms of technological innovations, which serve to ensure Steelcon's solutions remain up-to-date. This commitment is also seen through to production, with the company boasting a series of ultra-modern factories to ensure consistent quality.
One of the most recent developments in this vein has been sparked by the move towards mandatory compliance to the CE mark for structural steelwork across Europe. Originally scheduled for introduction later this year, the compliance date has been postponed by two years due to the challenge of certifying all companies within the European steel industry at the same time. "At Steelcon our CE certification is almost in place, and this means we have also had to change the standards that we calculate to. The CE mark is not just one standard, but consists of a basic common standard combined with a national annex depending on the country in question. Having used our own calculation systems for the past 25 years, we have developed a new programme that can accommodate this change in legislation. As such, we will continue to be able to offer our clients quick quotations for projects as we do today," elaborates Laurs.
"As part of this new European CE mark, there is also a requirement to have in place certain tamper systems on the steel stack, which is best achieved by monitoring its movement. Therefore we are also in the process of creating a system where we can monitor the movement of the stack for a certain period of time by way of a mobile phone," he adds.
Whilst such work has been underway, the market itself has undergone a particularly challenging period due to the global financial crisis. As such, a lot of projects have been postponed, prompting companies like Steelcon to identify new business areas and markets to move into. One such interest for Steelcon over the last two to three years has been the Middle East due to the strength of the national oil industry, as well as Russia and Eastern Europe. "Four years ago we delivered two sets of steel chimneys to Moscow for use in two of the most modern district heating power plants in Russia. From here we have identified that in order to overcome the demand for energy this region has a lot of existing plants that will need to be rebuilt and modernised, which presents a lot of opportunity," reveals Laurs.
"As with our other international operations, we recognise the importance of having local support and expertise when entering new markets, and therefore are currently looking for the right partner in Russia to move forward with in this sector and Eastern Europe. It is our ambition to gain a larger share of this upcoming market, as well as to strengthen our operations in the Middle East," he concludes.
Steelcon
Products: Steel chimneys