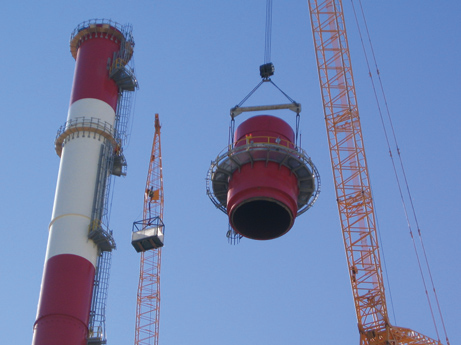 A steely resolve
As a leading manufacturer of factory-made steel chimneys, Steelcon can offer solutions for complicated technical projects under a variety of conditions around the world.
Working for customers that operate across a range of industries, including oil and gas, the company has been responsible for delivering more than 5000 steel chimneys. Having been founded in 1981, Steelcon has spent the last three decades building up a significant degree of experience in its field.
The company possesses a highly trained staff of platers, welders and fitters who can work upon steel chimneys ranging between heights of ten metres and 130 metres. Steelcon's chimneys are produced at modern factories with state-of the art-equipment, and the company's services are further complemented by a marketing and sales network. It also has offices across the EU, the Middle East, the Far East and Australia.
Stephen Street, Steelcon's head of sales for the UK, Iberia and the Middle East, elaborates upon what he believes are some of the company's key strengths today: "We deliver our chimneys worldwide and our reputation for quality is excellent. Perhaps the main reason for this is that we are a specialist that only works with chimneys. The factory is geared up solely for chimney production, meaning that we can focus specifically on providing the best solutions in that field. Furthermore, we have developed all of our own design and engineering software, and the factory's ability to produce with such high efficiency levels enables us to continue competing on a worldwide scale."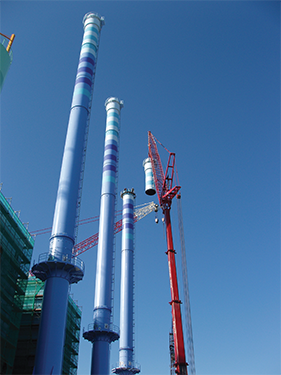 All chimneys designed by Steelcon are done so according to the customer's specific requirements and demands, according to Stephen: "Each chimney that we build is a one-off, bespoke item, and so we work closely with our customers to ensure the end product meets their needs. Quality is further ensured by the fact that all of our designs are built according to national standards as well, dependent on the chimney location."
Steelcon's engineering department develops steel chimneys according to various principles of construction, including freestanding double-walled steel chimneys. These can be constructed with a statical structural shell with a flue gas leading insulated liner, and are available in a range of different materials, dependent on the flue gas composition and temperature. In addition, this solution can be extended with extra liners and outlets from more multiple boiler plants. The external shell can also be given a surface treatment if the customer wishes.
Other examples of products produced by Steelcon are its freestanding single-walled chimneys that are used mainly for ventilation systems and as towers for mounting of antennae. The company can also provide insulated steel liners to be mounted into existing or new-built brick and concrete chimneys, which improves the environmental qualities of the structure. Noise absorbers can be fitted according to the demands of the local authorities, by using round pylon dampers or baffle dampers.
Quality is a key element in the company philosophy, as Stephen explains: "Quality control is ongoing within Steelcon, and we have always maintained high levels. Last year we attained our certification to ISO 9001 and we also operate to Certificate Class E DIN 18800-7. It is a constant area of ongoing development within our business and we are always looking to improve where we can." According to European Directives all Steelcon chimneys are CE Marked according to EN 13084-7.
Steelcon's Danish-based headquarters has been approved according to the Danish Law of Environmental protection as of 1995, and its facilities there have been awarded with an Environmental Diploma from the Danish Environmental Network. The company places a significant level of importance on the comprehensive documentation of the work it carries out and it uses up-to-date test and control systems for all of its raw materials, sub-supplier production, own production and chimney erection.
Steelcon also has its own erection staff who specialise in the erection of all of Steelcon's chimneys, which are carried out under many different conditions around the world. In order to ensure that the company can provide chimneys that remain erect in even the most extreme situations, it sends its erectors to safety courses on a regular basis. Furthermore, all of these employees are holders of the Safety Passport CCNSG.
The company's welding procedures and welding qualifications are updated at regular intervals and have been approved to a host of international standards. Welding procedures are conducted according to EN ISO 15614 and EN 288. The welding certificates are also accredited as EN 287 and EN 1418 compliant, and the company has also been approved by the SLV Welding Institute in Germany.
As it continues to expand upon its international reputation for quality and expertise, Steelcon looks ready to take advantage of what Stephen expects will be a growing market. He concludes: "We certainly see a lot of opportunities in our industry and we are always looking for new avenues through which to expand our services. In the UK, for example, we are starting to become very active in a number of biomass projects. The experience we have built up over the years in fields such as oil and gas will translate into a number of other sectors, and we hope to really take advantage of this."
Steelcon
Products: Steel chimneys