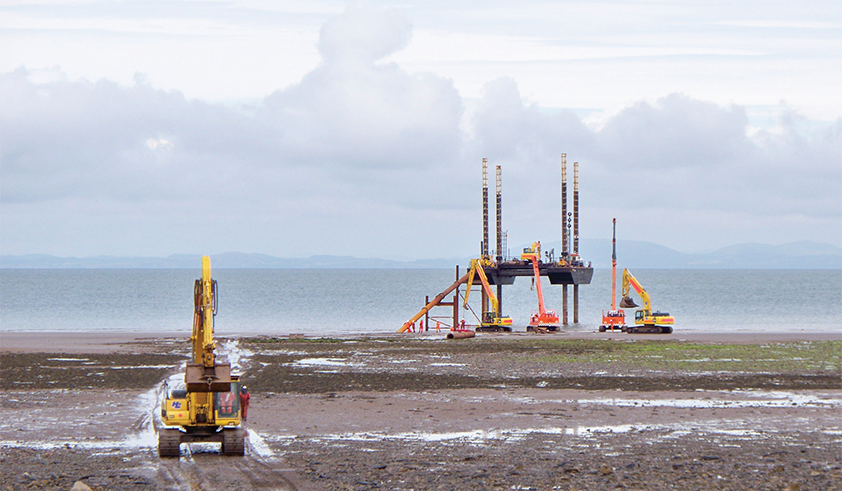 Stockton Drilling Limited
Small but dynamic
Stockton Drilling Limited is a family owned multi-disciplined specialist engineering company.
Based in the UK, the company also works internationally, with a very strong and successful track record in the application of horizontal directional drilling (HDD) into the oil and gas and renewable energy industries.
This specialist technique is designed to install pipelines under obstructions, which may be geographical such as rivers and canals, or man-made including roads, railways, runways, and even other pipelines. The principle in itself is relatively simple, yet significant skill and experience is required to execute HDD effectively. This is one of the reasons why Stockton Drilling is currently the company of choice in the UK for the renewable sector when it comes to shore approaches for wind farms, wave energy machines, or cable landings.
In addition, Stockton Drilling also continues to operate more traditional open cut and non-trenchless techniques for pipeline and cable installation. Alongside its drilling capabilities, the company designs, procures and constructs open cut pipelines, and offers HDD equipment for hire.
Describing those factors that have enabled Stockton Drilling to see the success that it has to date, director Gearoid O'Connell says: "Being a family-owned business we are small and dynamic, which means we can react to customer needs very quickly and address any issues that occur. This differentiates us from our competitors, who are typically larger multinational companies without the flexibility that we offer. We also have established some strong long-term relationships with customers, which have resulted in repeat work. One example of this is E.ON, which we have worked with continuously for the last six years on a full-time basis, as well as Aquamarine Power in Orkney where we are looking at more work in the new future."
Having worked with many major and forefront clients, Stockton Drilling has been involved in numerous leading projects including the Bacton Gas Plant where it performed the first HDD within a 'live' gas plant. More recently the company has completed two cable landings for E.ON at the Humber Gateway wind farm project, and a water pipeline between the islands of Orkney and Shapinsay. This two-kilometre drill was executed within an extremely hostile environment in order to put in place a sustainable water supply to Shapinsay, which was suffering from deteriorating quality of its current borehole supply.
Out of all of its projects over the years, one that Stockton Drilling is most proud of is its work on the Oyster 2 wave energy project off the coast of Orkney for Aquamarine Power. "Usually when we carry out HDD we will install the rig, drill a hole, and pull the pipe in," explains Gearoid. "Because of the environment around the area though it wasn't feasible to have a marine vessel and pipe out on the water to pull this through, so we had to remove our rig and push the pipe into the drilled hole instead.
"Although there have been other pipes installed using the push technique, this was the largest diameter at 22 inches for that length of pipe that has ever been done through that method. We are now getting a lot of enquiries from Canada, where they are looking at very similar techniques as the marine environment means it is not feasible to carry out the conventional pull method."
The need for continuity of its workload means that as well as Canada, Stockton Drilling is also actively looking at other opportunities in different markets such as Australia, where it is currently tendering for work, and Algeria. "It's a matter of choosing the best place to be as and when we are successful in our tenders, whilst also looking after our repeat customers who effectively rely on us as being part of their team," describes Gearoid.
"The UK oil and gas market has been quite quiet over the last few years, primarily due to a lack of activity from the National Grid, so we have seen a shift in UK companies looking further overseas. We recently attended the Pipe Tech World Summit in Istanbul, which generated some very good leads, and we are hoping to repeat this again at another exhibition in Barcelona early next year. On the other hand, the announcement of the £10 million Saltire Prize in Scotland means that we have seen greater levels of enquiry from the renewable market so this remains a strong growth area for us in the UK," he adds.
With its capability to install pipelines under infrastructure, geographical features, and undevelopable land such as sites of specific interest and farmland, the application of HDD seems set to steadily increase. In preparation for this, Stockton Drilling is adding to its fleet in the near future with a new HDD rig of around 400-tonne capacity, which will be used on bigger outfalls and shore approaches.
As Gearoid alludes though, Stockton Drilling also sees a gap for other drilling methods in the marketplace: "We're very interested in purchasing a new technique known as direct pipe drilling, which is a cross between HDD and tunnelling. We consider this a big step change in our industry and would like to set up a specific direct pipe division to tap into the large overseas marketplace that we envisage for this, as well as continuing to develop our pipeline and civils sector," he concludes.
Stockton Drilling Limited
Services: Drilling