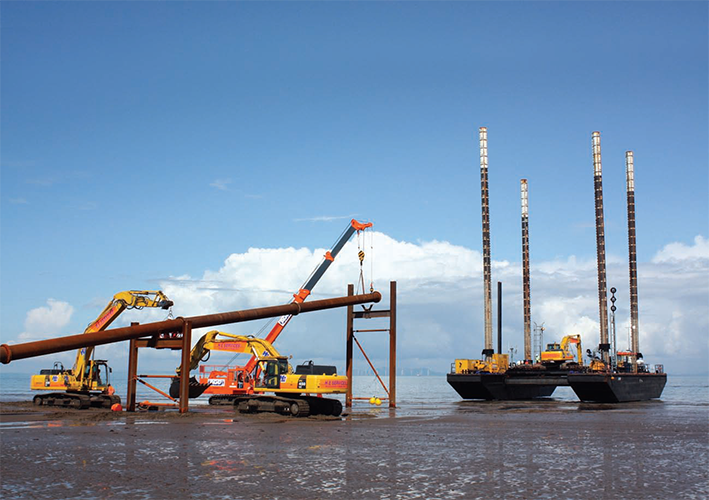 Stockton Drilling Limited
All challenges met
Since it last appeared in European Oil and Gas Magazine during November 2012, Stockton Drilling Limited (SDL) has continued to deliver specialist, turnkey solutions in both traditional pipeline installation and horizontal directional drilling (HDD) within the oil and gas and renewable energy industries.
The family owned business is based in Wakefield, UK, but its 50 staff service projects for an international market with customers including major industry players such as Shell, BP, Aquamarine Power, E.ON UK, National Grid, and Wessex Water.
The company has been in operation for over a decade since it was founded in 2001 and some members of the Stockton Drilling team have as many as 25 years of experience, having previously worked together within the drilling sector. The company director Gearoid O'Connell, for example brings 20+ years of engineering problem solving to the business, which has allowed it to develop and employ innovative drilling solutions. These include applications for drilling and installing pipelines underneath geographical obstructions, such as rivers and canals as well as man-made hazards such as roads, railways, runways and existing pipelines. While the principles behind HDD may appear relatively simple, the skill and expertise required to execute HDD operations is significant. This is why SDL is currently the preferred choice when it comes to shore approaches for wind farms, wave energy machines and cable landings within the UK renewable energy sector.
Working with pipeline diameters ranging from six inches to 48 inches and lengths of between 300m and 1800m, the company is able to facilitate HDD operations through the employment of just three stages. In the simplest terms, a project begins with the drilling of a pilot hole. This is followed by a process of reaming out the hole to the required diameter to accommodate the product pipe. Finally, the pipeline is pulled or pushed through the predrilled hole. Recently, SDL was delighted to announce the completion of a two-kilometre drill between the islands of Orkney and Shapinsay in Scotland. The focus of the project was to install a pipeline under the seabed to deliver water to the small island of Shapinsay to enable the local community to be supplied from the Orkney mainland.
To enable the delivery of the water to the island, SDL installed a 180mm diameter HPPE, high-pressure polyethylene pipe system. These robust pipelines are not only able to operate from temperatures between minus 40 degrees Celsius and 60 degrees Celsius but also offer excellent impact resistance. SDL employed its 250 tonne HDD rig to complete the two-kilometre drill, resulting in the installation of one of the longest pipelines in the country currently used for water supply.
When it comes to traditional pipeline installation, the staff at Stockton Drilling are all highly experienced, technically adept and efficient in all areas of open cut pipeline installation and as such the company is able to offer turnkey services in this area, incorporating a whole spectrum of applications including design, feasibility studies, procurement, installation and reinstatement.
The company also offers equipment hire for specialised HDD applications meaning that whether clients require a full package of services or additional HDD hardware, SDL is able to provide the appropriate solution. In addition to its already comprehensive service base, SDL has recently further expanded its operational capability through a joint venture with the Swedish firm, SWEOffshore. Through providing joint services in highly specialised sectors, SDL is now able to offer hydrographical services including bathymetrical survey and current recordings, as well as geophysical services extending to geophysical survey, bottom survey, sea floor composition, marine geological mapping and sediment classification. On the physical side, the joint venture allows SDL access to vessel hire services including crew boats, crew accommodation and work boats, allowing for marine investigation services, such as environmental monitoring, marine benthic surveys and seabed sampling and analysis. These services can also be supported by diving operations incorporating inspection, maintenance, repair and live 3D monitoring.
With SDL and SWEOffshore each able to share in the collective services provided by this highly beneficial joint venture, both firms can boast a highly specialised and impressively diverse range of services. As a result, in terms of unconventional and challenging drill projects with the support of dedicated survey services, the package on offer from SDL and SWEOffshore is second to none.
As 2014 progresses and the company looks to the future, SDL will seek to increase its global footprint and continue to grow within the international market. While the business is relatively small compared to larger operators, this is an advantage for the firm. It is able to offer highly focused services to its clients that are both highly flexible and innovative in execution in a way that is difficult for larger more bureaucratic organisations. As a family run business, communication within SDL is incredibly efficient, which will be of huge importance in increasing its global reach, with a particular focus on Australia and Algeria over the coming years. Likewise, technological innovation is at the forefront of what SDL has to offer and will continue to develop. Alongside its own research and development, joint ventures like that with SWEOffshore display a level of business acumen and technological drive that will spirit SDL into new markets and an increasing market position for many years.
Stockton Drilling Limited
Services: Traditional pipeline installation and HDD drilling