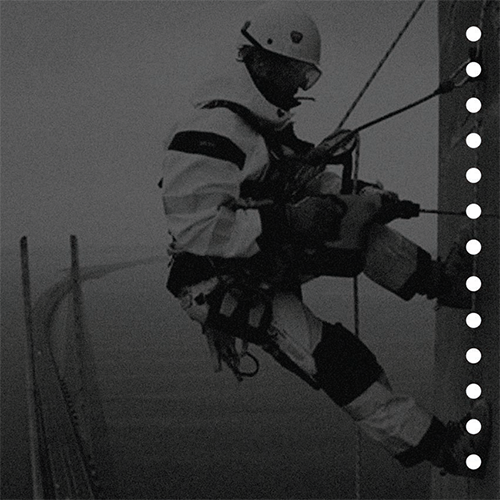 Safety in stock
Stopsave is the only height safety specialist in the north of Scotland and whilst other companies have height safety equipment available, Stopsave is the only company that has focused upon this area exclusively.
Having spent his entire life in the height safety industry including servicing, training and product development, Bill Davidson founded the business in 2000.
RB Farquhar Limited bought Stopsave in July 2012 and with Bill taking an advisory role in the company, Michael Shand took the role of managing director. "It was clear that we had bought a very well run company, with excellent people employed both in the office and in the workshop. Since the acquisition, our philosophy has been to focus on maintaining and if possible improving service levels," explains Michael.
The company has the largest height safety hire fleet in the UK, with around 4000 pieces of equipment including inertia reels, harnesses, fall arrest lofts, tripods, rescue kits, karabiners and scaffold hooks. Operating as an exclusive service agent in the north of Scotland for Miller/Honeywell and Tractel it is also an agent for Ridgegear and Checkmate amongst others, supplying all leading height safety manufacturers equipment including ISC, Petzl, and DMM.
Tractel is part of a world-leading height safety manufacturing group and Stopsave is proud to be associated with it, and the quality of its excellent products. Discussing the arrangement Michael notes: "I believe Tractel recognises that we are a well-run, well-established business, which can assist them to promote their products in Scotland. We were particularly pleased to sign an exclusive service agency with Tractel as this allows us to get know their product in a way no other distributor in the area can."
With customers including Stork Technical Services, Cape, ATR, EMM, Bibby Offshore, Oceaneering, Bilfinger, Reel, Global Integrated Services and Enermech, it is driven to achieve client satisfaction. "Customer service is absolutely key for Stopsave and it is what the company has been founded upon. We offer a 24-hour service turnaround when required and as the one of largest stockist of height safety equipment we meet extremely tight lead times. We collect and deliver daily throughout Aberdeen and Aberdeenshire," says Michael.
Stopsave holds a unique position in the industry. As a distributor and a service agent, the business can inspect and certify all the products that it provides. "All height safety equipment requires yearly service, however many customers who work in the harsh offshore environment actually request six monthly servicing, which we are happy to provide.
"When a client buys a new piece of equipment from us we fully inspect and certify that item before dispatch, a service not offered by the majority of other distributors. In addition, in the next few months we will be launching a web-based system for all our customers, which will allow them to monitor the status of all their certification on line. This will work a red, amber, green system with items requiring re-certification changing to amber one month prior to the date, and items that are past re-certification date changing to red in colour. This will assist our clients in ensuring that only fully certified items are being used," Michael explains.
The introduction of the web-based certification programme will assist clients at no additional cost. As Stopsave continues as a height safety specialist it also looks for additional niche products to offer to customers, complementing its services, as Michael adds: "Our edge comes from the service we offer. We understand that time is money for our clients and projects cannot start without the required height safety equipment. Being able to offer products for hire as well as sale is also critical."
Rescue plans are now a key requirement when using height safety equipment, and being prepared to undertake a rescue should a fall occur is vital. Along with Stork Technical Services, Stopsave developed the Stopsave Rescue Kit. The advantage of this rescue kit, compared with others that use a telescopic pole, is that in difficult weather conditions offshore there is no requirement to try and 'catch' the fallen individual with a pole. Instead, through the use of a rope grab and a recoverable inertia reel a safe rescue can be undertaken, lowering or raising the individual to safety.
The business has developed, also with Stork Technical Services, the Scaffold Anchor. The product is a solution for situations when workers do not have an anchor point to attach their inertia reels or lanyards to. The Stopsave Scaffold Anchor, which allows for easy attachment to scaffolding nearby, was nominated for a safety award in the Offshore Achievement Awards 2013.
Focused on the future of the business in 2014, Michael concludes: "We will maintain and improve our service to existing clients, whilst looking for new opportunities. We are currently in discussions with a key UK manufacturer in regard to launching an entirely new product range, and we will decide on this venture later in the year. The next 12 months hold a number of opportunities to get involved with our clients abroad and we are in the early stages of discussion in these areas."
Stopsave Limited
Products: Range of height safety equipment for purchase and hire