Scratching the surface
Located in the heart of Cheshire, the Stublach Gas Storage Facility is destined to be the largest gas storage facility in the UK once fully developed, with the 400 million cubic metres of gas that can be stored there, enough to supply 375,000 homes with gas for cooking and heating for 12 months. The natural gas stored at the site, supplied through the national transmission system, is located more than 500 metres below ground within salt caverns. When it is required by customers, the gas is moved in and out of the caverns by an on-site gas compression station.
Owners and operators of the facility are Storengy, an ENGIE subsidiary and Europe's leading provider of natural gas storage services. Drawing on its global knowledge and experience in storage sales, Storengy supplies expert solutions in order to design, build and operate market-leading storage facilities, and has been applying this expertise to Stublach since it launched the project in 2007.
"A great deal has happened since the last time we featured within the pages of Energy, Oil & Gas in 2015," begins Catherine Gras, who was appointed as Managing Director of Storengy UK in 2016. "At that time, the Stublach facility was becoming operational and since then we have taken great strides in transitioning it from a project delivery operation into a commercial entity capable of selling its gas product to the market, something which has been an important phase in the development of Storengy UK as a company. By actively engaging with customers, including hosting our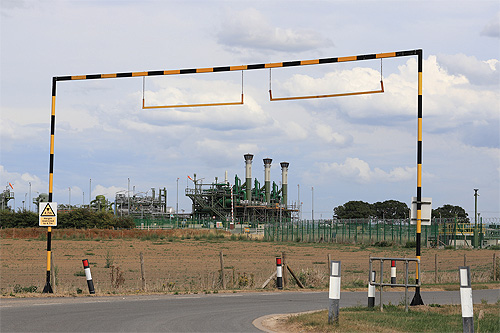 first gathering of potential and existing business partners on the Stublach site in September 2017, we have created a healthy appetite for our products."
Since 2015, one of the most significant achievements for the company has been the successful completion of Phase 1 of the development of Stublach. This has seen the creation of ten underground caverns, which together hold approximately 200 million cubic metres of gas, a figure that is more than 15 per cent of gas storage capacity in the UK. The achievements made to date are now helping to positively influence the second stage of the project. "During the last two years, we have been very much focused on delivering Phase 2 of the project, and this will continue through until the end of 2019 as we work to add a further ten caverns and double the size of our gas compression capabilities," Catherine explains. "The extra challenge we face in achieving this is the fact that, unlike during Phase 1, we now have a live asset with commercial activities, therefore operations will be occurring simultaneously with phase 2 developments, which is exciting in itself and one we are confident we can deliver with minimum disruptions.
"What we have looked to do is take the lessons learned during Phase 1, particularly as it relates to what we think we could have improved, and apply this to our Phase 2 activities. This has allowed us to revisit things like how we manage our construction activities, and how we can internalise more tasks so as to react faster to issues, reduce timescales and better manage our budget. As a result of these efforts, Phase 2 is progressing according to plan and we are delivering significant savings across the board. Furthermore, we are doing so while continuing to make the health and safety of our people our number one priority.
"We are very proud to say that we have surpassed more than one million hours since we last experienced a lost time injury (LTI), which is particularly impressive when you consider the amount of construction and maintenance work being conducted on a daily basis."
As we enter the final few months of 2018, clearly one of the primary areas of focus for Storengy UK is steering the Stublach project towards the successful completion of Phase 2. At the same time, it falls upon Catherine and her team to continue to not only engage with customers regarding the quality and reliability of its gas product, but also to examine further business opportunities that the company can capitalise upon.
"As the underground storage expert within the ENGIE group, we have the knowledge, experience and capabilities to offer a range of services beyond those being utilised at Stublach," Catherine continues. "These include various solutions to deliver low carbon sources of energy, from the decarbonising of heat to the production of biogas and geothermal power, which we can then help to connect to the UK's distribution network. We will also soon be announcing the launch of an interesting feasibility study based on developing hydrogen solutions, which is something of a hot topic in the UK at the present time."
Returning to the Stublach Gas Storage Facility, Catherine gains great pleasure from being involved in the development of what is a nationally strategic energy asset, as well as one that stands to have a strong impact locally. "The North West of England has a very strong industrial culture, and we have been working closely with a number of businesses and local authorities to build on this and develop the area around energy," she adds. "Together with other companies based in Cheshire, we have proposed a concept to the Government, we call it the Energy Innovation District, which is designed to build growth innovation around the energy sector here in the Cheshire region and beyond. We have a great many operational assets in the area already and we are bringing operators and producers together to build a project which we think will generate huge benefits locally and nationally, and we look forward to Stublach and Storengy UK playing a major role in this."
Storengy UK Ltd
Services: Natural gas storage