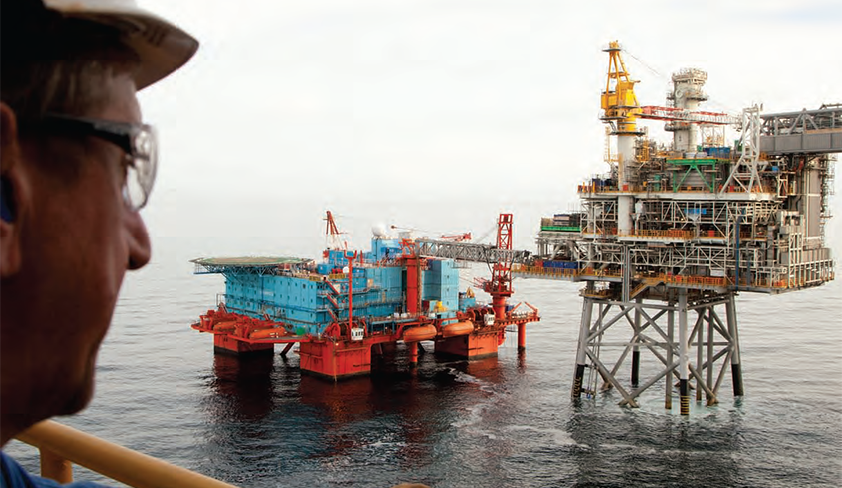 A partner for life
It has been a productive and successful few years for Stork Technical Services (Stork) since it was last featured in European Oil and Gas Magazine in December 2010, as Erik-Jan Bijvank, senior vice president, UK and Africa at Stork, explains:
"The technical services position in the UK and Africa market has been greatly enhanced by a number of acquisitions. Since the beginning of 2013 all Stork entities that were acquired (Cooperheat, iicorr and RBG) are now fully integrated. Bringing onboard a vast amount of experience and knowledge has established Stork as a fully integrated asset integrity service provider, through the combination of traditional fabric maintenance methods, integrity and inspection services, and our subsea diving offering."
Dedicated to improving asset integrity for clients throughout the lifecycle of their assets, Stork offers a wide range of solutions and specialist services for asset management and maintenance, while constantly striving to reduce risk, assure safety and enhance environmental performance. With an entrepreneurial history dating back 180 years, the company has developed a large amount of technical expertise across a range of disciplines that allows it to maintain the integrity of its customers' assets. This commitment to offering excellent service has also led to long-term working relationships with clients, as Erik-Jan highlights: "We attract personnel who are committed to delivering and producing a forward thinking work ethic. Our employees are given a lot of responsibility and we empower them as experts in their field to do what they know best; we have an unrivalled appetite to deliver excellence. This is one of the reasons why Stork has expanded its global footprint significantly over recent years."
Now organised in four global regions; Continental Europe, UK and Africa, the Americas, and the Middle East, Caspian, and Asian Pacific area, Stork has noticed a change in the demands of the market as clients look to expand the life cycle of their assets as efficiently, safely and productively at the lowest possible overall cost. This has led to the company strategically targeting this market by offering its customers one partner for life and one level of service from concept through to execution. "We are finding that there has been an increase in clients asking us to structure and frame the problem before executing the work, so perhaps in the past we were asked to carry out what people specified to us but now we are being requested to take responsibility for end results," highlights Erik-Jan. "This is a definite change for Stork, which has come about from us engaging with clients in their own workplace, listening to their challenges, asking questions, and working together to develop and deliver the right sol tions. It is about being innovative; we are developing our skills base to deliver added value solutions."
With a passion for unraveling complexity, Stork works with major operators on a range of assets such as offshore installations, gas turbines, petrochemical plants, and wind turbines to deliver innovative asset management solutions. The company's most significant contract win was for more than £15 million of new work with a major North Sea operator in February 2013, which will see Stork Technical Service's subsea team deliver a range of integrated subsea inspection, repair and maintenance (IRM) operations. These services will be delivered from the company's dedicated dive support vessel and a range of bespoke dive intervention craft, which have been deployed on major subsea projects around the world and are anticipated to generate more than £10 million in revenue alone during 2013.
Recognised for commitment to quality and innovation, the company won two awards at the UK Oil and Gas Industry Awards in 2013, which Erik-Jan discusses further: "One of the awards was for innovation and safety, which was a great achievement for Stork. A number of different innovations have been introduced into the market in recent years, with the Hot Bolt Clamp being recognised by four different industry bodies. This product is a true testament to the expertise and forward thinking ways of our organisation; it is now a tested and proven piece of equipment that allows us to safely remove and replace corroded bolts on live bolted flange connections with no disruption to ongoing production. This product was researched and developed in-house by our multi-skilled personnel who then went on to create an industry first, a safe and successful solution."
The other award won by Stork at the Oil and Gas Industry Awards 2013 was in recognition of scaffold chargehand Marc Brankin's exemplary attitude and behaviour towards offshore safety.
As ageing asset infrastructure requires expensive maintenance and repair, Stork is committed to continually developing high quality, innovative products and services for its clients; a commitment that is destined to continue into the future, as oil and gas companies continue investing in new infrastructure and extending the life of assets within their existing asset base. "We will continue to focus on the four regions we are working in around the world by developing and nurturing existing relations. Our mission is to build on our excellent reputation for service delivery and to be truly recognised as an asset integrity lifecycle partner," concludes Erik-Jan.
Stork Technical Services
Services: Asset integrity lifecycle partner