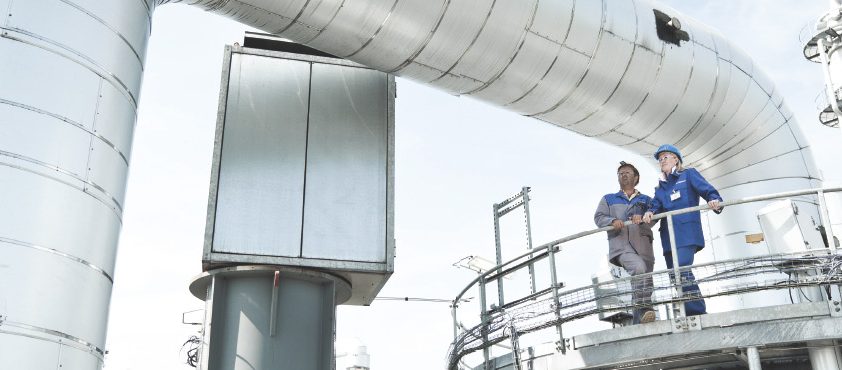 Integral partner
With a rich entrepreneurial history dating back 180 years, Stork Technical Services continues to represent operational excellence in the systematic management of safety, health, environment, reliability and efficiency for those in the international oil and gas industries.
Originating in the early 1800s when schoolboy Charles Theodoor Stork's ambitions were sparked by a visit to a steam-powered textile mill in Enschede, the Netherlands, the business later came to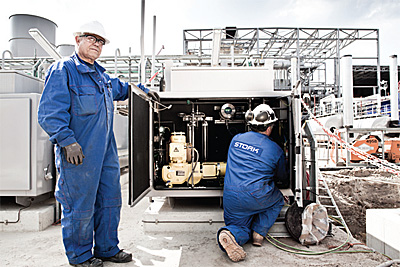 fruition with his creation of the Weefgoederenfabriek (woven goods factory) C.T. Stork & Co at the record-breaking age of 13. Years of success and a specialisation in the textile machine-building industry brought expansion, investment and geographic development until Stork Brothers & Company Engineering Works was opened in Hengelo in 1868. Having brought together generations of expertise in the manufacture and application of large machine parts for the industrial sector, the last four decades have seen the organisation mature dramatically and alter its focus to the service sector.
Today, Stork Technical Services utilises a 12,000-strong international workforce to deliver its broad range of regional E&I (electrical and instrumentation) and mechanical services, integrity management and operational solutions to those searching for seamless performance in the chemical, oil and gas and power industries, among others. A presence in 17 countries spanning the globe is a key strength of the company with its global leadership providing synergies for international clients, while regional business lines are dedicated to the delivery of consistent service to local customers. An impressive 60 per cent of Stork Technical Services' turnover comes from its home market of the Netherlands and Belgium, while regions such as Latin America, the Middle East, Asia, the UK and Germany are constantly growing in emphasis and relevance. While boasting an unrivalled portfolio of practical solutions such as process equipment and inspection capabilities, at present 80 per cent of business lies within the asset management field and providing maintenance services to its broad client base.
"We focus on the heavy industries such as oil and gas, petro-chemicals and power generation where our experience and specialisations are most suited," Marc Dassen, vice president of sales and marketing at Stork Technical Services explains. "The rest of our turnover is generated by activities in general industry including steelplants, large food producers, pharmaceuticals and the paper industry. Our largest clients include market leaders such as Shell, BASF and Ecopetrol, power generation plants such as the Claus power station – the largest in the Netherlands – and waste processing companies. The flexibility that we offer these clients is a major advantage over our competitors and we pride ourselves on being a reliable partner that truly appreciates the risks and critical nature of reliable and predictable production for these markets."
Indeed, by establishing a reputation for world-class optimisation services, Stork Technical Services has become the partner of choice for many. By applying a holistic approach, from on-site maintenance to creation and implementation of asset management recommendations, the organisation primarily adds value to a company's operations. Such a capability can be held responsible for the renewal of a substantial contract with Shell at the start of 2010. Following 15 years of successful renovation and maintenance on the largest gas fields in the world, Stork Technical Services' partnership with the AJS consortium secured a three year extension for the existing integrated services contract with Shell ONEgas, a combined business unit of Shell UK Exploration & Production (Shell Expro) and Nederlandse Aardolie Maatschappij (NAM), in April this year. Worth over 200 million euros per year for the AJS consortium, which not only includes Stork Technical Services but also project management company AMEC and Jacobs Engineering group, this contract means the continued employment of over 1000 people across the UK continental shelf and Dutch sectors of the North Sea.
Utilising the consortium's areas of particular expertise, the project covers over 54 Shell ONEgas assets, including production platforms in the southern North Sea fields and the gas treatment plants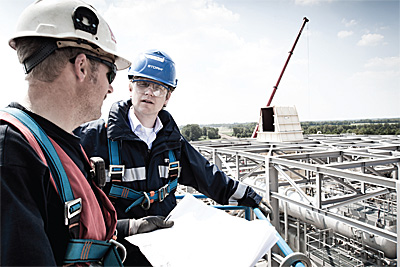 of Shell at Bacton, UK and NAM at Den Helder in the Netherlands. As one of the largest and most comprehensive support contracts in the North Sea, the project services will include maintenance, modification, engineering, construction, project management and operational support, making it a substantial accolade for the company. Speaking at the time of renewal chief executive of Stork Technical Services, Doug Meikle commented: "This latest contract extension confirmed the recognition by Shell ONEgas of the exceptional performance delivered by the AJS consortium. Through its proven track record with ONEgas activities in the southern North Sea, AJS understands the business and operational challenges faced by the customer and possesses the competences required to address those challenges effectively."
Marc puts the achievement of such major contracts down to the huge spectrum of specialist services the company is able to provide. Rather than maintaining a nonspecific workforce, the organisation produces a tailored solution by combining the individual expertise of its staff. "We are more complex than a generic contractor of mechanical resources, and while 50 per cent of our workforce supplies main contracting services, the remaining half are highly specialised people of various different domains. Experts on corrosion, turbines, gearboxes or in the implementation of maintenance plants and concepts for example, provide a very strong combination that means we can aid customers in a variety of different circumstances," he notes.
The past year has also seen a restructuring of Stork Technical Services' capabilities following the realisation that clients require a simplified service model. From a market perspective, the re-organisation of the portfolio will make it easier for customers to buy integrated services from all of the competencies in the company, as Marc highlights: "I use the analogy that we are now like a well equipped chef that has all of the right ingredients to prepare a complete meal for a client. This is quite a difficult step to make in our market, but I think we are succeeding in promoting the fact that while our individual expertise is second to none, we can also develop a complete solution for the management of an entire project."
For the coming years, the company has identified two flourishing market areas where its strengths are most applicable in two very different ways. South America is the biggest growth area for Stork Technical Services with regards to volume and business is increasing at a rapid rate, while the Middle East represents a more long-term objective. The organisation is putting a great deal of energy into this region where the formation of partnerships with large industrial service providers is a growing trend. While a few contracts in regions such as Qatar and Saudi mark progress, the Middle East is not necessarily a growth market, but its potential comes from customers that are moving towards performance contracting – an area where Stork Technical Services excels and has a big historical advantage over other service providers.
"There is a huge ongoing effort to apply the specialised services we have built up in Europe to these new and emerging areas," Marc explains. "We believe that our future lies in expanding our footprint to support clients such as BP or Shell on a worldwide basis rather than limiting ourselves to a specific geographical region. Our ambition is to be one of the top five players in this kind of provision, while in the meantime we will continue investing in our integrated service concept, which combines performance contracting with unrivalled expertise."
Stork Technical Services
Services:  Services & asset integrity management