Monitoring developments
Strainstall, a member of James Fisher and Sons plc group, is a broad-based engineering firm that specialises in load measurement and sensor based safety technology.
Established in 1965 in the Isle of Wight, the company has developed more than 45 years' experience in themanufacturing of standard and bespoke loadcells; it also assists industries through operations by ensuring structures, equipment and infrastructure are safe to use. "Today Strainstall has over 140 employees around the globe, in locations such as the UK, Dubai, Singapore and Australia. We provide solutions for load measurement and monitoring operations across a wide range of industries, but are particularly focused on the oil and gas market," says Simon Everett, managing director.
With a focus on technology and engineering expertise, Strainstall has mechanical, electrical, electronic and software engineering capabilities available in-house to consistently develop new products and technology. "Engineers make up approximately a third of the headcount of our company and our in-house capabilities give us the opportunity to bring multi-discipline teams together to produce integrated solutions," says Simon. "We emphasise the importance of reliability and have developed specific technologies for use in harsh environments and subsea. We can also provide solutions where our competitors can't due to our extensive hazardous area expertise."
Working with a diverse range of customers across a variety of market sectors, ranging from oil majors, EPCs, service companies and lifting equipment firms, Strainstall is proud of its ability to find solutions to even the most complex of demands due to its dedication to customer service and expansive knowledge in load monitoring and environmental applications. "To solve the problems of our customers it is imperative we work closely with them, in many cases we have become the technology partners to a growing list of key clients who use us as an extension of their own teams, thus making us an integrated part of their solution," highlights Simon.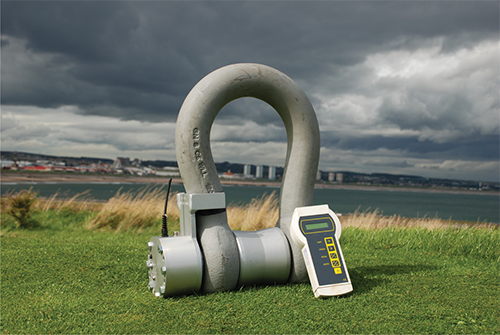 Load monitoring has always been at the centre of Strainstall's activities, but there hasbeen increasing interest in the oil and gas sector.Using the offshore and marine experience it has, the company provides integrated management solutions from its range of information andcontrol outputs. A recent product developed by Strainstall is the Vessel Motion Monitoring System (VMMS), which monitors transfer boat movements. Its primary function is to enable the safe transfer of personnel from vessel tovessel/structure; it can also provide a more comprehensive monitoring system and has widespread applications from operations in the offshore oil and gas industry to the offshore wind turbine industry.
Another state-of-the-art product that Strainstall is due to deliver is its quick release hook (QRH) system for the Shell Prelude project, the world's first floating liquefied natural gas (FLNG) project. "Along with our colleagues in Fendercare Marine, we have worked with Samsung Heavy Industries (SHI) to develop QRHs specifically suited for this demanding offshore application," says Simon. "We believe this is the first time QRHs have been developed for green seas conditions and are proud to support SHI and Shell on this prestigious project."
The FLNG will be deployed at Shell's Prelude gas field, 120 miles offshore Western Australia, where it will be permanently moored for approximately 25 years. Strainstall will supply the vessel's QRH systems and an instrumentation package to provide the safe and quick mooring of LNGs to the FLNG. The mooring loads will also be monitored by the firm in real-time by strain gauged load pins that have been incorporated into the QRHs, enabling each mooring line to be pre-tensioned to satisfactory load values as well as providing data to protect line performance. Digital signals from the hook sensors are transmitted to the FLNG control room, where mooring line tension is displayed and visual and audible alarms are provided in the event of under/overloads. Furthermore, the QRHs are fitted with remote release to enable an emergency release from the control room.
This project follows Strainstall Marine joining forces with Fendercare Marine, another James Fisher and Sons firm, in 2012. It is a mutually beneficial partnership that further enhances both companies' prospects to develop a stronger foothold in the oil and gas industry. "We have a great opportunity to grow the business over the next five years and beyond. Becoming part of Fendercare Marine enables us to extend our global reach and bring our combined expertise for the benefit of our customers, as has been demonstrated on the Shell Prelude project," enthuses Simon. Following this project with Shell and future expectations of growth in the LNG market, Strainstall has invested in a 10,000 square foot facility dedicated to the production of jetty systems.
Over the coming years Strainstall aims to continue improving the solutions it can offer customers by investing in new product research and development, which will enhance opportunities for international growth. "We have expanded our engineering and project management, and engineering teams and will continue to do so in order to deliver increasing numbers of tailored solutions. With a foundation of engineering excellence and the ongoing oil and gas industry boom we believe the prospects for Strainstall are excellent," concludes Simon.
Strainstall Group Ltd
Services: Solutions provider for load measurement and monitoring applications