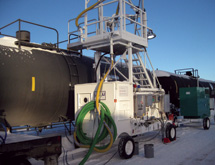 Strategic Oil & Gas Ltd. is a junior company focused primarily on upstream oil and gas exploration and development, and while that fact on its own might not set the operation apart from others in the market, its unique strategy does. With industry-leading technical capabilities in geology, geophysics, engineering and petrophysics analysis, as well as promising assets, the company made Alberta Venture's Fast Growth 50 list of 2013.
Strategic got its start a few years ago when COO Sean Hayes was operating a small, technically oriented private company that he had formed with other industry players who wanted to work for a place "where we could participate in production versus just consult," Hayes says. They had assembled a technical subsurface team that was employing the same high-tech elements the majors were using, and they saw opportunity.
Since commencing operations in 2005 under its founder Arn Schoch, Strategic had been active as a small non-operator. However in 2009, Strategic acquired Zinmac Inc., a private oil and gas company formed by Hayes and a number of colleagues. "The merger was a successful marriage with Arn bringing the financial network and Zinmac the technical expertise," Hayes says.
"Our plan was that we didn't want to build well by well; we wanted to build asset by asset," he adds. "Using the high-tech tools and skills from Zinmac and typical of larger operators, we saw a niche in our peer group to target missed pay and new opportunities in an efficient and smart way."
Strategic began by working on some properties in Alberta in 2009, but at the same time had farmed-in to Encana on a large property in British Columbia – Maxhamish – that was primarily a gas field but had an unexploited and deeper oil leg. Strategic now has four horizontal multi-frac wells there and estimates the property's reserves at more than 500,000 barrels of oil. However since the company gave up the operatorship of this asset it is not in control of the project's timeline, so it began looking for something else. In 2010, the company had the opportunity to acquire the Steen River asset in northern Alberta.
"In the past 18 months, Steen River has shown phenomenal growth," Hayes says. "We went from 300 barrels a day to now over 3,000 barrels a day."
Technical Expertise
Strategic remains focused on its assets in northern Alberta and has increased its drilling expertise to keep up with the operation. What keeps it unique within the industry peer group, however, is the company's high-tech approach to business, although it's only a junior.
"Similar to the majors, our high-tech subsurface models when applied successfully help to avoid costly and bad decisions being made during drilling and logging operations," Hayes says. "When we go on roadshows to present, having such a technical base is unusual for a junior. What's more, our expertise is all in-house and integrated into the overall picture of both subsurface and topsides."
The Steen River property is geologically complex being formed by an asteroid impact, he explains, so Strategic uses subsurface 3-D geomodels to image the unique play.
"It's not a slam-dunk – the asset needs much more subsurface technical work to understand what's going on," he says. "As a junior, our timing is critical, however, and unlike my experience with the majors where their wheels may turn very slowly, we have to be able to define the critical technical factors quickly."
What sets Strategic apart even more is that the company employs high-tech applications, but it also has experienced technical people on staff who can spot critical factors in the play. "With a 3-D geomodel, you get the holistic visual image and can pick out the errors and anomalies immediately," he says. "Those are things you will never spot when the same information resides separately on a spreadsheet, well cross-section or a map. Really, this technology saves us a whole heap of work."
The Game Plan
Strategic is happy to have "cornered a bit of Alberta that is typically overlooked," Hayes says, and it is using its budget to drill and integrate existing infrastructure for the project. He is planning for and predicts Strategic will reach a good degree of stability.
"Our assets are capable of getting us to 5,000 barrels a day," he says. "Steen River is heading already to over 3,000 barrels a day. We have increased our acreage position in the greater Steen area and with our existing assets at Maxhamish in northeast British Columbia together with nearly 40,000 net acres in Amber, a property that is contiguous and in the same fairway as Steen, we have a strong asset base for growth in the immediate and longer-term future."