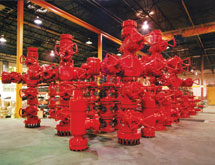 Stream-Flo Industries Ltd.
For the province of Alberta, 1962 was an important year. The Alberta Conservation Board had approved the Great Canadian Oil Sands Project and the Alberta-California pipeline was completed. Seeing the need for Canadian-made products that were suited to Canadian conditions, Duncan McNeill launched Stream-Flo Industries Ltd. and the Crown Energy product line in 1962. In its first year of operation, Stream-Flo manufactured the first Canadian swing check valve used in the oil industry. The company's global expertise and industry dominance have continued to grow, making it a leader in the energy market.
This year, Stream-Flo Industries Ltd. is celebrating 50 years of continued success. With Mr. Duncan McNeill still navigating the business as founder and chairman of the board, he continues to set guiding principles and policies to ensure continued operational excellence.
Mr. Duncan McNeill's contributions and accomplishments in the oil and gas industry were recognized in 1998 when he was inducted into the Canadian Petroleum Hall of Fame. Additionally, in 2002, Stream-Flo was named the Technical Employer of the Year by the Association of Science and Engineering Technology Professionals of Alberta as a result of its high level of support for the technicians and technologists throughout its operations. He was also awarded Manufacturing-Structural Entrepreneur of the Year Award in 1996. Mark McNeill, President of Stream-Flo Industries Ltd. and son of Duncan McNeill, stresses that these awards highlight his father's dedication to the strength of the industry, as well as the ongoing success of Stream-Flo.
"My Father took the integrity approach, helping out other businesses as he grew in his success," Mark McNeill says. "He was one of the early candidates for the Canadian Petroleum Hall of Fame, and it has been an honor to see him recognized."
Worldwide Growth
Following in his father's footsteps, Mark McNeill joined the family business and started at the bottom. "I started in 1979 sweeping the floors," he recalls. "I went on to be a machinist, then to open field branches for the organization. I had the opportunity to go overseas to Southeast Asia for five-and-a-half years to expand our organization over there. Eventually I moved back home to the Canadian market."
Upon his return to Canada, Mark became Vice President of Marketing for Master Flo Valve Inc., a division of the Stream-Flo group of companies that specializes in subsea and surface products. Eventually becoming president of Master Flo, he later graduated to his current position as President of both Master Flo Valve Inc. and Stream-Flo Industries Ltd.
The company that started with just four people has grown into a global corporation with more than 1,300 employees.
Mr. Mark McNeill explains: "We don't classify ourselves as exclusively Canadian, we are proud to be a global company. Stream-Flo has set down roots in numerous countries around the globe and many of the people in our international offices have been part of the Stream-Flo family for over 20 years."
With worldwide locations, the company is able to provide technical support to customers around the globe. "On a global basis, we have offices in all the major sectors," McNeill says. "We make sure we are accessible to our customers in all markets. Our customers pull us to new regions – they ask us to be there because they know the kind of service they will get from us."
Technical Growth
Stream-Flo has kept pace with technical advancements within the industry and has matched them in their growth. "Thanks to ongoing technical advances, fields and reservoirs that were out of reach for exploration are now viable sources of energy," McNeill explains.
"We have products with pressure ratings up to 20,000 psi [pounds per square inch], others that are operating deeper than 10,000 feet of water, which is a tremendous feat in itself, and SAGD [steam-assisted gravity drainage] equipment capable of sustaining temperatures up to 650 degrees Fahrenheit," he says.
But it's not only the state-of-the-art products that make this company successful. "We are leaders in our industry because of our people," McNeill stresses. "It's our people that make the difference. We are a private organization and we select our people in a significantly different manner than our competitors. There are always challenges, but we work together as a team to resolve our differences. A lot of people want to join our organization because of our culture."
The company's innovative design team – which consists of more than 33 engineers, technologists and technicians with more than 400 years of combined experience – helps customers with any design customization or application requirements. This team built the largest subsea swing check valve in the world in 2002 with a 48-inch diameter and a weight of 30 tons.
Leading the Way
Mr. McNeill does not expect any changes in the way the group of companies does business, regardless of the size of its operations. "We expect to continue on with controlled growth, strong financials and a capable team, so when opportunity rises we remain in a position to seize it," he says.
Stream-Flo is always willing to lend a helping hand to entrepreneurs and companies trying to get ahead in the industry. McNeill has not forgotten the origins of the company. "We are always looking for opportunities to help other small businesses that need help developing, whether it's financial development or technical development," he says. "We help small companies in all facets of the oil and gas industry because we've had help from friends [when we started] getting into some markets."
Stream-Flo continues to grow its international presence with a strong push in the United States, where the company has grown from 35 people in 2011 to 235 this year. The company has expanded its reach to five states with 10 locations, with Colorado and Oklahoma as the latest additions.
Just as the company's product line has grown in response to customer and industry needs, its geographic expansion is a result of market demand. Mr. McNeill explains that Stream-Flo's next market will be wherever its customers ask the company to go.
"Really, it's our technology," he stresses. "We get pulled into new markets because of our technology. We don't let cultural differences keep us away – we use this demand to know where to open up and wherever we go, we make sure that all of our customers are treated the same, with the best services and solutions." EMI