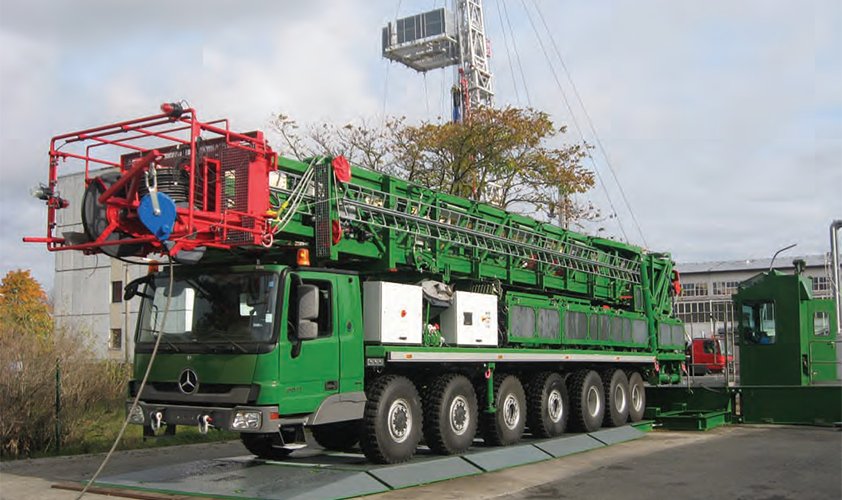 STREICHER Drilling Technology
Dedicated to innovation
For more than 40 years the Gommern-based subsidiary of the MAX STREICHER GmbH & Co KG aA, SATVIA Maschinen-und Bohrgeraetebau GmbH hasbeen manufacturing drilling rigs and otherequipment/accessories for the drilling industry.
Changing its name in June 2012 to STREICHER Drilling Technology GmbH, the companyemphasised its corporate identity to theinternational market and also its affiliation to the STREICHER Group. "MAX STREICHER GmbH& Co KG aA is headquartered in Deggendorf,Germany, has approximately 3200 employeesand is divided into four sections: pipeline andplant construction, mechanical engineering, civiland construction engineering and constructionmaterials," explains Matthias Kopp, projectmanager of STREICHER Drilling Technology.
"The subsidiary in Gommern is structured into four sections: the first of which comprises the manufacturing of drilling rigs from 60 tons to 200 metric tons, while section two coversrefurbishment of mobile and vertical drilling rigs, as well as drilling equipment such as top drive and mud pumps. Section three manufactures complete mud systems and the fourth section, for the construction of our own top drives in therange of 120 tons to 200 metric tons, completes this comprehensive service portfolio.
"The subsidiary in Gommern has more than 70 employees and its own design, electrical and hydraulic departments; our employees do all of themanufacturing, beginning from cutting the steel,sandblasting, painting and up to commissioning at the customer. We are also very proud of our own service department, which enables service for own equipment but as well as for other equipment of third parties all over the world."
With four decades of experience in the field of vertical drilling, STREICHER Drilling Technology today offers engineering, design, production, sales and maintenance, and service all in one place. Working as an innovative partner to its client base, the company's overriding principle of business is to satisfy the expectations and demands of its customers.
Previously featured in European Oil and Gas in 2012/11, STREICHER Drilling Technologyhas continued with its ongoing projects, whilealso keeping watch for upcoming opportunities,as Matthias highlights: "We have begun adevelopment project where we are redesigning the mechanical rig series, which will involve feeding in new technology to reduce theoperating costs of the rigs. Other projects thisyear involve the refurbishment of a 120 ton drilling rig for a customer in Germany, which was delivered in June 2013 or the manufacture of a 185 ton hydraulic drilling rig for a customer in Russia, which will be delivered in October this year. We also manufactured a mud system, for a 200 ton drilling rig that was delivered in January 2013. We are involved in several projects and business is very positive for STREICHER Drilling Technology right now."
The refurbishment of mobile and vertical drilling rigs and drilling equipment, such as mud pumps and top drive, involves the complete disassemble of the rigs, which are then inspected, repaired and replaced with new technology before being put back together again. "We are putting new technology, such as new brake systems, electronic measuring systems or data storage systems, into old rigs to transform them into state-of-the-art products. The redesign of this series is and will be a core focus for us in the future," explains Matthias.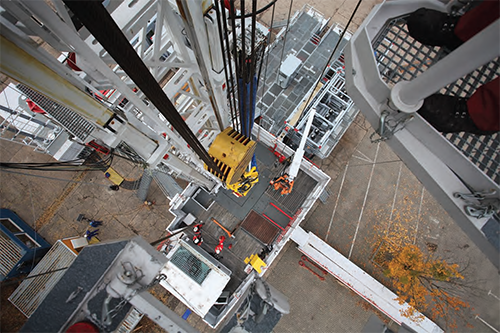 Following the completion of the company's first offshore modular rig in 2010, which was acquired by Archer for operations on the natural gas platform 'MAUI A' off New Zealand's coast, STREICHER Drilling Technology was awarded a contract by Archer in the first quarter of 2013 to manufacture another offshore drilling rig. Similar in design to the VDD 400.1, which is easily transportable, quick to rig up and rig down, the VDD 400.2 has been developed and accepted in line with NORSOK. During drilling, the pipe handler will automatically operate while insertion and extraction of drilling rod, pipes and other equipment for the drilling process will be carried out simply at the touch of a button. The VDD system's hydraulics will enable precise steering and also allow for the transference of high loads.
Being part of the STREICHER Group gives STREICHER Drilling Technology a major advantage against its competitors, with associated company DrillTec GUT GmbH operating its drilling rigs and thus enabling the company to gain more experience and knowledge through testing the rigs on the field. All land based drilling rigs designed and manufactured by STREICHER Drilling Technology are done so in close co-operation with DrillTec to ensure the rig spread can be adapted to the demands of each drilling project in the best possible way.
Dedicated to enhancing existing products and creating groundbreaking innovations for the oil and gas market, STREICHER Drilling Technology GmbH developed and launched three new HDD rigs of the HDD 350 series, including the HDD 350.6, in summer 2012. Unique worldwide, this rig is the first in the world to be designed specifically for slanted directional drilling; boasting explosion-protected components, and a rack and pinion drive which allows to carry out exploration drillings at near surface deposits.
In the previous publication, Andreas Beck, head of development and design at STREICHER Drilling Technology, discussed the challenges of new developments and ideas into a conservative market, yet Matthias believes the oil and gas industry has changed over recent years: "I think the market has become more welcoming to new ideas; the biggest innovation from STREICHER Drilling Technology is our offshore rig, which we are building in Deggendorf, while the mud system is developed, fabricated and tested in Gommern. We are very happy to be building our second rig of the offshore VDD type; in our opinion the technology that our rigs are based on is getting more acceptance in the industry, which is why we are also re-designing the mobile mechanical rigs. If we can find solutions to reduce operating costs on the rigs through installing hybrid technology, this will be a major advantage for us in the future."
Looking ahead, the company sees potential for upcoming work in Russia and Poland but is ultimately focusing on completing the projects it is currently working on, as Matthias concludes: "We are under a tough time schedule with the current projects we are involved in, particularly for the offshore rig as well as for the 125 ton rig we need to deliver to Poland in March next year. These contracts are what we are concentrating on for now, but our prospects for the future are very positive.
STREICHER Drilling Technology
Products: Drilling rigs and platforms