Launchpad for growth
Established in 2004, Stromek is a leading innovator in the development of equipment for specialised offshore vessels.
Based in Norway, the company already possesses an impressive catalogue of products, and will begin promoting yet further new designs later this year. Such is Stromek's reputation within the offshore and subsea sectors that the company now enjoys a turnover of 60 million NOK, which is quadruple its revenue of two years ago.
Stromek has already designed, and taken to market, tarpaulin gates, davit systems, and umbilical sheaves, amongst an array of other products. As managing director Stig Saether explains, the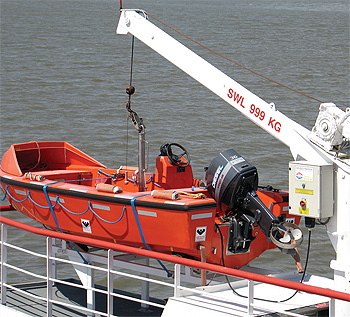 company is, however, now focused on a new range of systems, of which its ROV LARS are at the forefront: "We have developed our own type of ROV launch and recovery system, which has a very solid design, and can operate in rough weather. In fact, it has been designed to function in wave heights of up to 11 metres, and to cope with the 100-year wave, so is able to meet extreme challenges."
The system has been developed on the basis of a zero tolerance approach to accidents, meeting oil companies' requirements to minimise opendeck operations on offshore vessels. Stromek's design, both functional and strong, is classified HS6, has no rigging time, and can be operated independently of other deck activities.
Further detailing Stromek's current operations, Stig discusses the company's major client: "They are a growing player within the offshore and subsea sectors, and we have done a lot of business with them. For example, we cooperated with them on a job that they completed for StatOil Hydro, and were responsible for the fabrication of a light tower – the project was supposed to take 60 days, but because the equipment was so successful it was completed in approximately three weeks."
Stig explains that, aside from being an important client, this customer plays a further key role for Stromek: "Research and development is very important to us and, in this sense, it has been a very good partner. We devote a great deal of time, effort, and money to developing our products, and have been able to use the crew onboard its vessels, along with their technical department, to receive feedback about our designs."
Using the experience gained from prototypes provided, Stromek will exhibit its latest innovations at ONS 2008. Indeed, the company's unique ROV LARS has been nominated for the event's prestigious Innovation Award, further exemplifying the company's ingenuity. Though Stromek has already been in contact with potential customers regarding its new systems, its appearance at ONS will truly represent the opening phase of an effort to promote the new ROV LARS, and once more illustrates the importance of the event to the offshore sector. The company is likely to follow this by attending other such high-profile exhibitions from next year onwards.
As Stig highlights, Stromek's customeroriented approach is a cornerstone of the company's performance: "Whilst we have been hugely successful in the past few years, we are still small enough to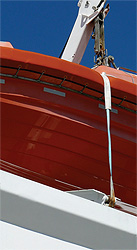 provide tailor-made equipment for our clients. They come to us with certain wishes and ideas, and we are able to react to them, rather than offering a 'take it or leave it' approach with a fixed range of products. It is always important, if you want to have a good reputation, to maintain a close dialogue with your customers."
Despite its remarkable recent growth, Stromek, like all companies, faces significant challenges moving forward. "The major issue confronting us is getting qualified people in to work with," says Stig. "For those who we have employed over the past couple of years, we have invested a lot of money and effort into upgrading, for example, welding certificates, and making sure that they have completed the necessary courses to do this kind of work. When we are looking for new people, we do not consider those who we don't believe we can educate into this kind of market, and we bear contractors in mind.
"A further issue we have to consider relates to overseas expansion. At the moment, we are largely focused on Norway, but we have also established contacts in Singapore, and with a company who will be doing a lot of work in the US. Some of the products we make are quite big, and if we want to be hitting the market in Asia or America, we will have to consider cooperating with companies that are already established out there."
Stig concludes by outlining the state of the market, and his long-term vision for Stromek: "The growth will certainly continue. It could be said that there is a slight stagnation on new orders for these specialised vessels, but there are many existing orders where the equipment type has not yet been settled. As a consequence there are still many ships within our range of business out on the market.
"Stromek will not be the biggest supplier of this type of equipment, but should be the preferred supplier for very many owners. Many people have already heard about our work through the ROV operators, and we want yet more to look at our company when they come to buying products for specialised vessels. We have built a reputation for reliability and innovation, and so we can be optimistic about the future."
Stromek
Products Equipment for specialised offshore vessels