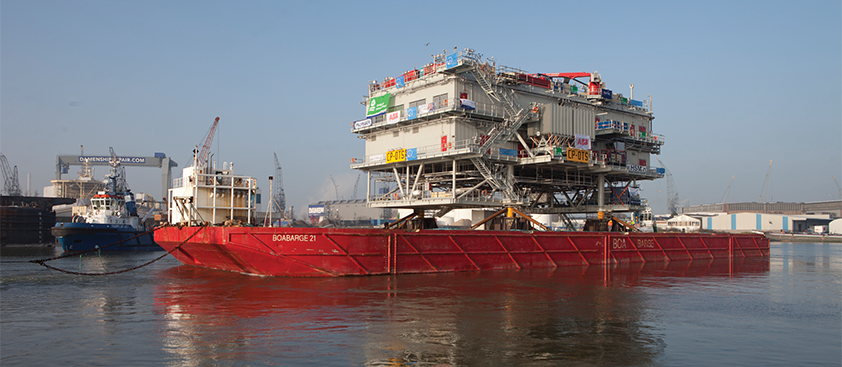 Inside men
The name Struik & Hamerslag may be most familiar amongst the Dutch yachting industry, where the company is known for delivering top quality interiors, but by drawing on these same merits it has also applied itself to other markets including offshore.
Established in 1964 as a supplier to the shipyards of the Netherlands, Struik & Hamerslag was in fact one of the first companies to assist yards when the new building of offshore modules started up in Holland in the early 1970s. These yards were used to heavy steelwork and therefore less familiar with the installation of cladding, doors, windows, flooring, and furniture elements – an area Struik & Hamerslag had already accumulated substantial expertise in.
From this point, the company has carried out turnkey architectural outfitting of all kinds of offshore modules. Its activities still remain strictly focused on the market of Northwest Europe (NWE) given the higher standard of client requirements and level of craftsmanship here compared to different continents. "Our unique selling point is that we can combine 45 years of experience in our company from writing specifications to maintenance works on offshore destinations," describes commercial director, Eric de Meij.
"We have done virtually everything within our field to be able to meet our clients' expectations, having successfully worked on more than 150 offshore projects in the last 40 years. The long-lasting relationships we hold with our suppliers give all involved an advantage as we can interchange experience as required. All of these factors contribute to our ability to deliver projects that are on time, on budget and to specification. Techniques like lean production, EPC contracts and S-curve planning processes have also been taken from the offshore industry and integrated into all of our other company activities, such as the yachting sector. This gives us the opportunity to provide the best of both worlds to clients."
Although the number of new offshore platforms in the North Sea has declined, hundreds of production units still remain operational in this region. Therefore one of Struik & Hamerslag's core activities is the refurbishment of interiors on these existing platforms. Elaborating on this market shift, Eric says: "We always thought that the offshore industry in the North Sea would generally be diminishing from the year 2000, especially given that platforms were built with a lifetime expectancy of 25 years.
"However, due to the combination of higher oil prices and more modern exploration techniques, we see that platforms will be present for a longer time. Therefore the maintenance and lifetime extension programmes are very active at the moment. Furthermore, we see small additions to existing platforms such as a compression module etc, and an increasing number of intermittingly, or non-manned satellite platforms, which require different operation techniques compared with living quarters."
Regardless of individual project scope, Struik & Hamerslag can draw upon the same spectrum of services from the writing of initial specifications to design input to yards and operators, including integration of various rules and regulations. For new build projects, the company undertakes the design and instillation of the complete architectural package including the exterior module shell, insulation, doors, windows, internal walls, flooring, furniture, equipment, and finishes. In the case of existing modules, this scope shifts towards maintenance and renovation, as well as lifetime extensions through the writing and monitoring of maintenance programmes.
"Generally we are working on the platforms whilst they are in operation, which means that our clients do not want their day-to-day activities to be disturbed by our craftsmen. Therefore meticulous planning and co-ordinating of our work is discussed with clients at the very start of the project. At this point we also undertake a very thorough risk assessment to identify any areas that require special consideration. We carefully pack our containers with all of the necessary tools, equipment, and materials to execute the works in the correct sequence, and ensure that we carry sufficient spares to avoid any downtime during the fit-out," explains Eric.
In terms of how requirements for interiors have progressed over time, he notes some of today's key considerations: "From the 1970s onwards, we have seen a rising level of luxury and comfort for people working on the platforms The spaces we are working in are the home of these personnel, which means they want to have the same features that they do onshore. As such, the level of sound insulation and integration of equipment is progressing rapidly. In the past cabins were for two or four people, whereas nowadays we see these as being single or double cabins. This is partly due to the amount of people working on platforms being reduced by more computerisation and automation, which is also noticeable within the control rooms."
At this point, a key consideration for the business is the cost of exploration in the North Sea sector. This is keenly attuned to the oil price, which if remains high will provide sufficient possibilities for the development of fields, but if it drops will make it more difficult for operators to profit from North Sea exploration activities and in turn reduce potential to develop new fields. Despite this, for Struik & Hamerslag the past year has held a mixture of new build projects together with HSM Offshore, as well as renovations on existing platforms for Total and GAZ de France. "As long as we are still satisfying our clients by delivering, on time, on budget and on planning, we believe that we can maintain our current status," concludes Eric.
Struik & Hamerslag BV
Services: Accommodation interior outfitting