Suspended service
StS gruppen is one of the top providers of insulation, scaffolding, and surface treatment (ISS) services in Norway and offers a comprehensive range of services related to maintenance and modification.
Established in 1972 the business was founded by a group of Norwegian entrepreneurs, specialising primarily in scaffolding. "Those scaffolding interests grew quite rapidly, and by 1977 we had our
first offshore assignment on Statfjord, an enormous oil and gas field covering 580 km2, and a project at Ekofisk, which followed," says business development manager Bjørn Hartveit.
It was not until a few years later when the company introduced industrial rope access that it was truly granted its position as a pioneer in the Norwegian continental shelf. "Certain situations were inaccessible by scaffolding, but we recognised that using skills gained from mountaineering that we could combine these two elements to be able to do work offshore in some of the most difficult places to reach," continues Bjørn. For over 15 years StS gruppen has remained a pioneer in the use of industrial rope access techniques, utilising it as an alternative to traditional scaffolding systems. The company has been a front runner for establishing the Norwegian standard for industrial rope access (SOFT) and has become recognised internationally for its level of expertise and experience.
"Throughout the years our business has gradually expanded with some key, notable concepts. In 1997 we developed the world's first flexible and mobile reusable habitat system, driven by the needs of our customers," says Bjørn. The basic idea is to utilise the strength and flexibility of scaffolding to create a frame for an airtight lining. Pressurised, the lining becomes an effective shelter from the outside environment. This overcame the issue of the customer of being unable to create a safe working environment whilst working on live installations, allowing the execution of hot work during regular operation of oil and gas related installations and plants. "There was already a similar fixed type of habitat solution, but it took a long time to build. What we did was to take our knowledge from scaffolding, and produce a design that was easy to erect and de-commission. By pressurizing the habitat with air taken from a blower placed in a non-hazardous zone we are able to create a safe working environment in hazardous zones. A combination of gas detectors and a pressure and temperature transmitter inside the habitat with automatic shut down technology provides additional safety," he adds.
Later in 2002 the business expanded its range of services to include surface treatment and insulation following the acquisition of Teknisk Isolering and KSK Korrosjon. This led to the company receiving a contract in 2003, operating as a one-stop supplier of insulation, scaffolding and surface treatment services at all Oseberg platforms, as well as at Troll B and C, Brage, Njord A and B and Grane. "It was around 2006 that we began to increase our knowledge in the ISS segment, where we saw that there was a missing education in Norway to be trained in the field of insulation, scaffolding and surface protection. Subsequently, we developed a co-operation with universities and schools in Norway to increase the knowledge and ensure that there was a sufficient education in this segment," points out Bjørn.
Historically the business has maintained a high presence on the Norwegian continental shelf, however in recent years that has lessened. "Whilst much of our work is focused on the North Sea, we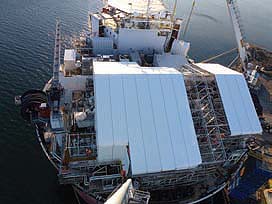 are looking to promote our habitat solution, expanding worldwide. We have already established a representative in Malaysia and we are working on other parts of the world, where other oil and gas installations can benefit from reduced down time, and increased safety," says Bjørn. Having secured the base structure for growth within Aberdeen, the company has set the foundations for ongoing opportunities, additionally tapping into the UK market through a business subsidiary in Middlesborough.
Looking towards the future, StS gruppen is ready to re-establish its interests in offshore Norway, focusing on joint services, as well as targeting on-shore installations. Projects such as that on the Mongstad refinery in Norway has given the business the possibility to secure a wider range of clients to work with. Whilst the market is shrinking, and the size of the business is reducing, a focus is placed on maintaining relationships with current projects, as well as finding new customers and contracts, as Bjørn explains: "We need to take every possibility within our core services to find new clients and new possibilities. Competition in the market is strong, and we need to be clever and focus on our strengths to take the most out of possibilities there."
Looking to give the best solution for customers, the business views itself as a problem solver, as Bjørn concludes: "The focus is how we can help our clients in the best possible way, and we build that on a fundamental strength in health, environment and safety. Quality is very important, as well as price, but when it comes to client's requests, through flexibility we aim to be ahead of competitors, finding the newest solutions." Operating from a strong core of expertise, the structure of the business holds it in good stead to lead into the future, as it continues to have a positive impact on its clients daily operations.
StS gruppen
Services: Insulation, scaffolding, surface treatment