Remote control
Formed in 1997 and headquartered in Aberdeen, UK, Sub-Atlantic designs and manufactures small- to medium-sized electric ROV systems that are used worldwide by institutions ranging from oil and gas companies to oceanographic and military facilities.
The company is also the world's premier manufacturer of hydraulic thruster systems and hydraulic and electrical products used in many types of underwater vehicles. All Sub-Atlantic products are designed to increase reliability, reduce operating costs, and ensure customer satisfaction.
To provide a more comprehensive and global service to customers, Sub-Atlantic pooled its resources with Schilling Robotics LLC of Davis, California, which formed the Schilling Sub-Atlantic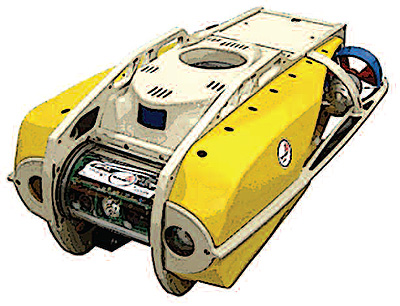 Alliance. The companies use the alliance for sales, service, product development, and marketing, and it benefits customers by providing the widest range of subsea vehicles, vehicle components, and control systems available from a single source, and by strengthening worldwide support for Alliance products. The two companies are also pooling their technical expertise to enhance existing products and create new ones, yielding costeffective equipment designed to enhance customer productivity.
Alliance products are designed to be more capable, reliable, long-lasting, and efficient than competing equipment, thus lowering the cost of ownership for the life of each product. Offered products include ROVs, tether management systems, communication and control systems, electric and hydraulic manipulators, tool skids, electrical and hydraulic thrusters, hydraulic power units, valve packs, compensators, pan & tilts, rotary and linear actuators, and cable/connector assemblies.
The other half of this union, Schilling Robotics, designs and delivers the world's highest-performing, basic building blocks for subsea equipment operating in the world's harshest environments. The company brings technology expertise and innovation in control, communication, and actuation (gained through 20 years of market leadership) to the challenges facing customers in subsea environments. This combination of expertise and experience has led to the development of a revolutionary modular component approach, the Remote Systems Engine (RSE), and to the design of subsea equipment that leverages commonalities across systems and applications to deliver highly reliable, easily integrated, lower-cost solutions.
The Alliance means that together the companies can offer the widest range of subsea vehicles products in the world. One of the newest ROVs available is the Comanche, a small work-class ROV system that has been designed to carry two work manipulators. It is an efficient and economical solution for survey and rigsupport. Comanche incorporates a fully electric, seven thruster propulsion system, configured to provide high thrust and lifting capability. It uses a 3000 Volt, 400 Hz power transmission system from surface to ROV resulting in a small tether, main lift cable and launch/recovery system. This transmission system makes it particularly suited for long tether excursions and deep live-boating operations. Comanche is equipped with additional power sources to allow the use of a 15 kW / 20 hp hydraulic power unit for running tools and work skids and for rig support intervention tasks. The Comanche has been designed using Sub-Atlantic's small vehicle technologies making it extremely cost effective and simple to operate & maintain by a two-man crew.
The SSA Alliance also offers a wide range of underwater vehicle thrusters. These include hydraulic and electric in both brushless DC and brushless AC types to suit most requirements. In certain applications, it can produce specials for customers requiring something outside of its range.
Sub-Atlantic's range of hydraulic thrusters have become the preferred propulsion solution for ROVs and cable burial/maintenance vehicles. Working in a highly aggressive environment, they have earned a reputation for reliability, efficiency and exceptional performance.
Sub-Atlantic hydraulic thrusters are reliable due to a rugged, lightweight construction and a ceramic shaft sealing system. These thrusters also benefit from producing near equal forward/reverse
efficiency within a five per cent band. To compliment these superb thrusters, Sub-Atlantic also provides a complete subsea propulsion solution comprising hydraulic power units up to 150 kW (200 HP) and a range a valve packs.
Electric thrusters are also available from Sub- Atlantic. No matter how well a thruster shaft seal performs, electric thrusters will suffer from water ingress in some form, requiring maintenance procedures to limit contamination levels. With this in mind, Sub-Atlantic designed the SPE range of brushless DC thrusters to operate when completely full of sea water. This is achieved by its unique 'Stator Shield' system which provides a water blocked barrier between the stator and the rotor, creating two isolated cavities. The robust drive electronics are integral to the thruster, requiring only power and a proportional control signal.
The company's successful Mohawk and Super Mohawk ROVs feature brushless electric AC thrusters. They are available in two sizes, the CTE-01 producing 29 kgf (64 lbs) thrust and the CTE-02 producing 45 kgf (100 lbs). These thrusters are perfect for vehicles using AC power transmission systems. Both sizes of thrusters are direct drive for mechanical reliability and are proportionally controlled by an external drive electronics board designed to fit inside an electronics bottle with a minimum inside diameter of 166 mm / 6.5 inches.
The largest oil and gas companies in the world are customers to both Sub-Atlantic and Schilling – for example as recently as September 2006, leading seabed-to-surface engineering and construction contractor Acergy expanded its ROV Fleet with the third ultra heavy-duty Schilling UHD system.
The system is based on Schilling's standard UHD system, but incorporates features that enhance operational efficiency by allowing easy and flexible configuration for mission-specific tasks. The system features 150 shp and is rated for 3000-metre operation. This marks the ninth vehicle order in Schilling's UHD product line. Acergy's purchase in March 2006 of two Schilling Robotics UHD systems, UHD 07 and UHD 08, marked the beginning of a collaboration between Acergy and Schilling to produce a new fleet vehicle for Acergy. Unlike the UHD 07 and 08 systems, however, the UHD 09 will be supplied without a tether management system (TMS). The vehicle will be specifically configured to support high-speed, low noise, free-flying survey systems. The ROV system will be installed on Acergy's new vessel, the Acergy Viking, and will operate primarily in the Norwegian sector of the North Sea.
While all three ROV systems for Acergy will encompass the core UHD technologies, they will also benefit from Acergy's experience with component layout, frame design, and use of tooling packages. The final design will be tailored to Acergy's specific and exacting remote intervention and survey requirements. "The application of custom design systems, such as the collaboration we have with Acergy, demonstrates the ingenuity and progressive corporate model that Schilling Robotics was built on," says Jason Stanley, Schilling Robotics VP and regional manager. "The UHD 09's advanced technology and innovative strategies for communications and control will enhance the power and flexibility of Acergy's ROV fleet."
Through the SSA Alliance, Schilling Robotics offers onsite repair, training, and service support for Sub-Atlantic products in the US and this capability was enhanced in July 2006 when it relocated to a new 10,000-square-foot facility in Houston's 'Energy Corridor' in Texas, US. The new facility allows the company to offer local repair and technical support services for manipulator, ROV, and subsea controls product lines. Training services are offered from the new site, including a state-of-the-art 3D visualisation and training system that incorporates GRI
Simulations' VROV ROV simulation software. This new system will support operator training and mission planning services for Schilling Robotics' clients.
In addition to expanding its support services, the Houston office added a complete project team, including engineering and program management, to locally support remote systems design and build programs. The team works with clients who use the company's ROV and subsea controls product lines, to assist with applications and custom system designs.
Jason Stanley states: "Leading others to empowerment by offering complete subsea remote solutions is Schilling's focus. We knew that the next step was adding a Gulf of Mexico facility where our clients would be guaranteed immediate access to first-class service."
Schilling Robotics opened its Houston regional office in January 2005 with a small sales contingent, and immediately began adding industry veterans and experts in program management and engineering support. At the beginning of 2006, the company grew the team to include experienced, supervisor-level offshore field service personnel, trainers, and factory service technicians. Additional field service personnel are currently being hired. "Supporting our products and ensuring our clients' success is our first priority at Schilling," stated CEO Tyler Schilling. "We remain focused on offering the very best personnel to maintain this commitment."
Sub-Atlantic
www.sub-atlantic.co.uk