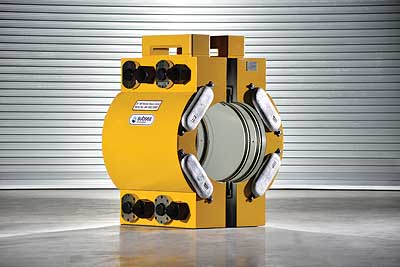 Subsea solutions and innovation 
Following the establishment of the company during 1985, Subsea Innovation has provided state-of-the-art engineering products to clients within the offshore oil, gas and energy industries throughout the world. Over the past three decades Subsea Innovation has continued to grow in strength and has gradually relocated and developed its facilities as the business has expanded. During September 2014 Subsea Innovation moved into a new purpose built manufacturing facility on Faverdale Industrial Estate in Darlington. Encompassing 40,000ft2 the facility has increased the company's operating space covered by 50 tonne cranes and also features a 4.5m3 test pit that can be flooded for test procedures. Furthermore the site also has the facility to cater for pull tests of up to 100 tonnes. "The decision to invest in a new facility was based upon the requirements of our customers – we had secured long term contracts with major oil and gas contractors from the UK, Australia and the Middle East and in order to be able to deliver on these projects more space was necessary," explains Finance Director, Phil Heathcock. "We are lucky to have such an attractive working environment to operate from and feedback from our clients so far has been very positive."
Today Subsea Innovation continues to build on its proven track record in the provision of a range of products for the offshore oil and gas market. Its range of offshore equipment handling systems portfolio includes launch and recovery systems, tether management systems and moon pool systems that are operational throughout the world. The company also supplies a range of subsea sealing systems for J and I Tube's that include passive, diver and ROV installed seals as well as environmental plugs. It has also delivered suction pile plugs that have assisted with monopile installation in Australia. Furthermore pipeline repair is another business stream in which Subsea Innovation is active, with permanent and temporary solutions available to clamp and connect pipelines of up to 40" in diameter.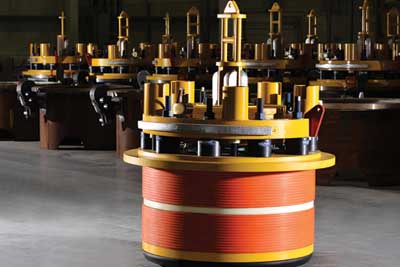 Despite the challenges created within the global market that have been caused by the present low oil price, Subsea Innovation has remained active and during April 2015 successfully refurbished launch and recovery systems (LARS) for a major offshore oil and gas contractor. "The oil and gas market is going through a period of readjustment as an impact of the current oil price, which is forecast to remain at the $65-$70 per barrel price for a prolonged period. We are focusing efforts on ensuring that we can support our clients in providing quality solutions to their requirements at sustainable prices for all concerned," Phil elaborates. "The refurbishment of the LARS that Subsea Innovation recently completed is a line of business that we would like to do more of. At present the capital investment on projects is being deferred, meaning that customers are looking for extended life from their current assets. With over 120 operational LARS all over the world we are ideally placed to be able to repair and service this equipment as well as that of others."
Further to its competencies relating to LARS and other subsea equipment, Subsea Innovation also has a strong history for the provision of bespoke engineering services that allow it to solve the problems of its clients in the offshore sector. Here too the company has enjoyed great success as well as exciting developments during 2015. "Previously we have designed and manufactured a grouting tool that is used to repair damaged subsea structures. More recently we have designed and manufactured a mattress deployment system for the laying of concrete mattresses around offshore wind farms. This was designed for Offshore Marine Management (OMM) and went into active service for the first time in July 2015," Phil reveals.
Key to meeting the demanding requirements of its clients is the employment and further development of highly skilled designers, engineers and technicians. As such Subsea Innovation maintains a staff training programme that enables employees to study towards NVQ, HNC, HND, CIPD and degrees at the Open University. "We are dedicated to attracting and retaining the highest quality of staff to our company and offer a fantastic working environment, so we see ourselves as an employer of choice in the North East engineering sector," Phil says. Commenting on the strengths of the company that have enabled it to consistently grow and weather the challenges of a volatile marketplace he concludes: "The main strength of Subsea Innovation is its the ability to design and manufacture a wide range of equipment for a variety of applications in the offshore energy sector. Additionally the 30 years of experience that has been built up by the company is demonstrated by its products that are still operational in the field, as well as the volume of repeat work that clients can put our way – safe in the knowledge that they will get a professional service and a high quality product. Having fully offshore trained personnel ready to assist clients wherever they are in the world is another major asset that should be mentioned, as it means that Subsea Innovation is always on hand when its expertise is required."
Subsea Innovation
Services: Supplier of subsea equipment
Issue 124 September 2015