Bespoke solutions
Formed by managing director Drummond Lawson and technical director Dave McKay in January 2010, Subsea Technologies Ltd (STL) provides subsea engineering solutions to blue-chip oil majors and service organisations requiring well control, well intervention and subsea control system applications.
Based in Aberdeen, UK, STL specialises in the design and manufacture of world-class subsea pressure control equipment, which is tailored to meet the specific demands of each client. STL prides itself in developing solutions that not only meet its clients' technical requirements, but their operational needs too. The STL team is committed to the design and manufacture of high quality, innovative, well intervention, well control and subsea control systems, often (but not always) including STL's proprietary application-specific connectors. Developing products for this technically challenging business segment means that STL has built a team capable of delivering engineering design,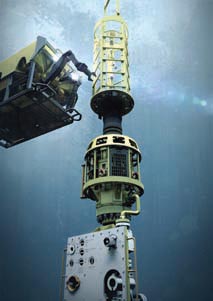 finite element analysis, 3D graphical visualisation, systems integration engineering, project management, QA, and assembly, test and maintenance.
In its first year, STL secured a contract through Halliburton to develop and deliver the first of its Stackable Lightweight Intervention Connectors (SLIC) to Shell in Nigeria. This provided a huge boost of confidence to the young company, as the SLIC was at that point simply a detailed concept, and both Halliburton and Shell believed in it sufficiently to commit to STL developing and delivering the first one to them. Since those early days, STL has sold five SLICs in a variety of configurations and is seeing continuing growth in the number of enquiries coming through for the product.
STL has a continuous R&D investment programme, and has developed a number of new patent applications since formation, though some IP within STL pre-dates the existing business. Three months after its establishment, STL acquired the intellectual property and assets of a previous business, founded by Drummond in 2005 and acquired 100 per cent by a Norwegian entity in 2008. The Norwegian parent company got into financial difficulties during the economic crisis and ultimately went into liquidation in late 2009. "STL's technical director Dave McKay and I believed in the business and the technology, so we created STL, re-employed a number of the former staff, gathered support from the previous clients and suppliers and ultimately managed to acquire the intellectual property that we had initially developed. I think that our demonstration of our commitment to both our clients and suppliers, and some of the technology foundations laid prior to founding STL can be acknowledged as contributors towards the reason why STL has developed at such an impressive rate," explains Drummond.
He continues: "2013 was a successful year for us. We won a significant contract through Interwell with Shell in the North Sea and we built a simplified well intervention system for a project which is actually just about to go offshore in the next few weeks."
Not long after winning the Interwell contract, STL began work with Malaysian firm Bumi Armada Berhad; recently delivering a FEED study for the design of a complete subsea well intervention system. STL received positive recognition for its work as Bumi Armada progresses towards the construction phase of its project. "The Bumi Armada project stands out as the first time that a client has asked us to design, develop and supply a full specification subsea well intervention system. It is a significant step forward in terms of the company's progress and assuming that it moves from the FEED study stage to the main construction and build phase, which we will find out later this year, it is going to lead to a substantial growth period for the business," explains Drummond.
"We have grown fairly rapidly in both position and in recognition within the subsea well intervention industry as a whole over the last few years. In fact, we were told by Bumi Armada that an industry survey it carried out
identified us as the recognised source for subsea well intervention systems, hence the company came to us," he adds.
Having worked with service companies such as Helix Energy Solutions Group and Halliburton in the UK, and Weatherford and Wild Well Control in the US, as well as major oil firms such as Shell and Statoil, the company is renowned for providing high quality solutions to technically challenging requirements through innovative engineering. Indeed, a major factor for the company's success is its focus on providing bespoke solutions and industry-leading products that maximise its customers' uptime subsea and at surface in any weather.
STL has developed class leading connector technology, including the previously mentioned multi-functional SLIC Connector. The SLIC comprises of a family of products, which provide the user with a riser connector, a subsea lifting tool or a wireline pressure control head through the installation of different cartridges. Drummond explains: "Designed specifically for the well intervention market, the SLIC Connector is made to be constantly connected and disconnected, unlike previous connectors used in this market, which were originally designed for a different, much less onerous purpose and so were not ideally suited to this application. The SLIC connector's interface is extremely robust and can be used even in marginable weather conditions." Patented worldwide, the SLIC Connector features built-in redundancy and was designed for maximum ease of maintenance offshore.
Another notable product is STL's Xtreme Release (XR) Connector; highly regarded within the subsea industry, it removes the entire concept of Maximum Riser Disconnect Angle, as Drummond highlights: "The XR Connector is designed for occasional use in an emergency; for example, if you have a vessel connected to the seabed by a riser and the vessel drifts off, you need to be able to disconnect from the subsea infrastructure quickly and reliably. Patented worldwide, the XR Connector is able to release in situations where previously existing connectors could not release." Significantly improving vessel safety and reducing environmental risk, the XR Connector also lowers costs through vastly increased vessel operability.
Hailed as the winner of both the 'New Enterprise' award at the Subsea 2013 Awards and Grampian Award for Innovation at the 2013 Enterprise North East Trust Awards, STL has this year been shortlisted for the Best SME Award at the Institution of Mechanical Engineers' Manufacturing Excellence Awards. The company is certain to flourish over the coming years as it continues to develop its product range and meet the demands of its customers across the globe. "We have a strong position within the well intervention market and anticipate ongoing growth. To ensure this I think a next step for us will be opening an office in the US and continuing to consolidate our position on the other side of the Atlantic. We also want to build on our solid foundation of engineering skills and, where possible, expand our capabilities and technologies into other markets with similar technology applications, such as the drilling and well abandonment markets," Drummond concludes.
Subsea Technologies Ltd
Services: Subsea pressure equipment specialists