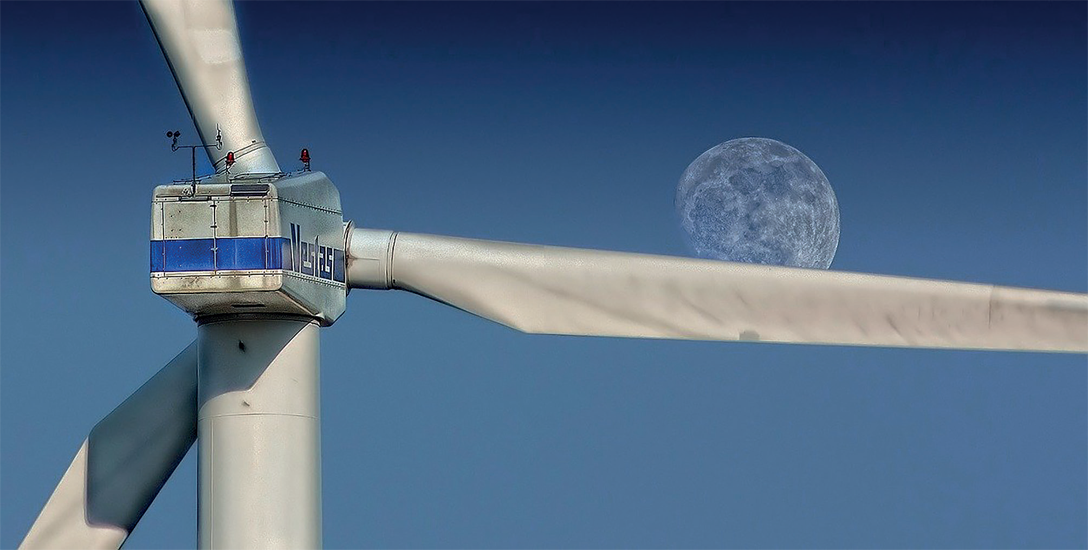 The offshore wind industry has become one of the UK's success stories. In the past decade, the industry went from a capacity of 0.3 Gigawatts (GW) of power to 9.7 GW — and also generated almost ten per cent of the UK's total energy in 2019. However, this success brings similarly high expectations for the future, with a Government target of a 400 per cent increase in capacity by 2030. To achieve this, the sector must accelerate its adoption of digitalization.
In June 2019, the UK became the first major economy to pass into law its goal of achieving net zero carbon emissions by 2050. As much as this commitment focused on the introduction of technologies to tackle emissions, it also made the development and continued adoption of green energies more important.
The renewed importance of green energy adoption was reflected later in 2019 in the UK Government's briefing notes for the Queen's parliamentary speech in December, where a goal was established to increase the UK's offshore wind capacity to 40 GW by 2030. This extended the already ambitious 30 GW goal set out earlier in 2019, while emphasizing the need for offshore wind operators to maintain low costs while increasing capacity.
Achieving this growth target will be one of the biggest challenges for operators over the next decade. Although increasing capacity could be as simple as installing more offshore wind turbines, this would lead to high project and operating costs. To reduce the ongoing cost of operations, the UK's Offshore Renewable Energy (ORE) Catapult is encouraging offshore wind operators to embrace digitalization and data.
However, an independent survey of key offshore wind stakeholders, commissioned by the ORE Catapult in 2019, highlighted that the industry's adoption of digital and data-driven technologies is falling behind other energy sectors. Not only this, but almost all respondents believe there is a disparity between how the sector currently operates and how it should be operating to get value from digital technologies.
Robust solutions
Fortunately, we have seen this begin to change in the past year, as more offshore wind operators have approached Recab UK for embedded computing projects. In our view, offshore wind is
an ideal sector for digitalization and the adoption of Internet of Things (IoT) technologies to improve remote monitoring and minimize operation and maintenance (O&M) costs.
One of the biggest contributors to offshore wind energy costs is O&M, due largely to the environmental conditions of offshore operations. Regular maintenance is required, but the remote nature of offshore wind farms means this is not a quick nor cheap process.
Operators can use embedded edge computing systems to remotely monitor the health signals of turbines, using a network of sensors in turbines and edge servers to act as gateways for performance data. This allows operators to embrace a condition-based approach to maintenance that reduces overall costs. However, this is only achievable if the data can be collected, processed and transmitted reliably and quickly to engineers.
Achieving the necessary level of availability of offshore data requires a robust edge server. For example, at Recab UK, we can develop an embedded server depending on the application requirements. This might use a congatec Computer on Module (COM) — either a COMexpress type 6 module or a type 7 module with an Intel Atom C3000 series CPU such as the conga-B7AC — as a platform for the server. These modules are designed for extended temperature ranges and boast a low thermal design power (TDP) that makes them suitable for fanless, hermetically sealed and ingress protected enclosures.
The module would be supported by our expertise in rugged baseboard design, which will support an extended number of I/O connections to allow sufficient network connectivity, such as 10 Gb Ethernet connection to transmit and receive data. This, combined with the computing power of the module, allows for effective data processing in offshore environments.
Of course, just as the environmental conditions affect turbines and accelerate the need for maintenance, the embedded systems used in offshore applications must be able to withstand the harsh conditions. They must be ruggedized to withstand the turbulence of high winds and the motion of turbine blades, as well as capable of operating in extremely low temperatures and protected against water ingress and salt mist sprays.
Embedded computing
Designing and developing systems to withstand the demanding environment, as well as regulatory requirements, involves component-level considerations such as the conformal coating of baseboards, as well as ensuring the overall embedded system is IP67 rated and resistant to salt mist. To meet these requirements in a time and cost-effective way that meets project deadlines, it's best to partner with a rugged offshore computing expert such as Recab UK.
With increasingly high expectations placed on the UK's offshore wind sector, operators now face the challenge of revising operations and equipment to reduce costs and improve effectiveness. Digitalization technologies that support collection, analysis and use of data are key to this, and they rely on effective embedded computing at the edge. To ensure offshore wind remains a success story in the coming decade, system engineers must begin by ensuring success at the edge.
RECAB UK
Martin Frederiksen is managing director of offshore embedded computing expert Recab UK. Recab UK, previously Diamond Point International, is part of the international Recab group. The company offers a bespoke, ruggedized PC and computer-on-module design and production service, and has a proven track record on long-term projects, in collaboration with railway authorities such as TfL. Recab UK is looking to cut through the incredible range and complexity of computing technology, to instead offer thorough, consultative customer services rather than a simple storefront.
For further information please visit: https://recabuk.com/