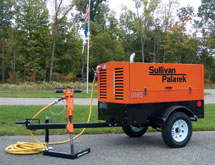 Compressed air is used in so many places that Sullivan-Palatek Inc. President Steve Van Loan advises that it is the fourth utility. "We have gas, water and electricity, and the fourth utility is air," he says. "Air is used in many, many places – it's something that a lot of people just don't think about. Most everything that we do, there's an air compressor involved in it."
In the mining industry, Sullivan-Palatek's portable diesel-driven rotary screw air compressors are used to power the down-the-hole drill of a drilling rig, clean the hole and operate the lifting equipment, brakes and cable clutches. They also can pump air into an underground mine shaft or run a machine shop.
"Most of the air on an offshore rig is used for maintenance, chipping, painting and cleaning," Van Loan maintains. On land, oil or natural gas rigs use from 350 to 500 psi of compressed air to drive a hammer that screws onto the end of a drill pipe. The air also blows the rock cuttings formed by the drilling out of the hole. "The deeper you go, the more pressure you need to clean the hole," Van Loan notes.
Made in the USA
Sullivan-Palatek's compressors are manufactured at the company's single plant in Michigan City, Ind.
"There's not too many compressors made in America anymore," Van Loan maintains. "Our rotary screw compressor air end has helical rotors in it, and is manufactured here on our premises, which enables us to maintain the tolerance that can give us more efficiency. We use galvanneal sheet steel for the enclosures that go around all our compressors which inhibits rusting. It's like galvanized metal, but it's galvanized from the inside out instead of putting a coating on the outside of the metal."
Because drilling and mining frequently are 24/7 operations, compressor reliability is crucial. "Any time a compressor breaks down, you have major problems," Van Loan emphasizes. The plant is down and workers are idled. Scheduled maintenance can prevent that, but many people seldom do it beyond annual oil changes, he remarks.
"Normally, a part on a compressor will get replaced when it fails," Van Loan asserts. "Nobody does a lot of preventive maintenance. There's not a whole lot of things on a rotary compressor that go bad. As a manufacturer, we recommend quarterly maintenance and a thorough inspection once a year; however, few companies do it. They start doing it when they have a problem, and then everyone is in a panic."
Another solution to breakdowns is to keep a backup compressor on hand. "One of our biggest sell jobs is talking the guy into making sure he has redundant air," Van Loan reports. "Without a backup, you're done – you're just finished if you don't have back-up air."
He points out that approximately 3 percent of the cost of running a compressor is the maintenance, 10 percent is the acquisition cost and the rest is fuel or electricity. "If you put a variable frequency drive on a compressor, the motor actually slows down and speeds up like your car driving down the road," Van Loan notes. "Based on 7,500 hours a year, 87 percent of the cost of ownership for your electric air compressor is energy."
Warranting Performance
Van Loan believes the Sullivan-Palatek warranty that is issued free with its products is a competitive advantage. "We would like to think we have one of the better warranties in the business," Van Loan maintains. "We started a five-year warranty 22 years ago when nobody had one, and now everybody has one. But there's a lot of caveats involved in the five-year warranty our competitors offer. We try to make ours as simple as possible."
Family owned Sullivan-Palatek keeps prices low on its parts. OEM parts must be used to keep from voiding a compressor warranty. Some companies charge for the extended warranty and use the strategy of very high margins on the parts to keep compressor prices low. In either of these two cases, the customer pays a very high overall price.
"A lot of compressors don't have quality," Van Loan asserts. "They have the name, but they don't have the quality. We close business on a daily basis because even though no one ever heard of us before, our product is superior to the product that has the name. The reason we are superior is we still build an all-American product with American parts that was designed 20 years ago to last for 10, 15, 20 years or more.
"These larger companies try to cheapen the product up because they're bottom-line-driven by their shareholders," he maintains. "We don't believe in that. We'd rather put a little more money in it and have a good-quality product that goes out there and doesn't fail. Our motto is quality, and we strive for it daily."