Built to last
Located at the northern end of the Shetland Islands, the BP operated Sullom Voe terminal is one of the largest of its kind in Europe, producing its eight billionth barrel of oil in mid 2010.
Constructed between 1975 and 1981 and covering 1000 acres, Sullom Voe's main purpose is to handle production from 38 oilfields in the East Shetland basin and to act as a buffer between these fields and the tankers that ship oil to refineries across the globe. Production is received through the Brent and Ninian pipelines East of Shetland and through the Clair pipeline and shuttle tanker West of Shetland, with massive investment plans currently in place to cope with the future influx of North Sea onstream oil and gas projects.
"Sullom Voe was built for the production of around 1.3 million barrels a day back in the 1970s and in 2010 reached a major milestone with eight billion barrels of oil. Its capabilities are to take hydrocarbons from offshore to stabilise the oil, to split the hydrocarbon into oil and gas and to then export the stabilised crude oil by tanker to refineries. Over the past ten years we have been 99 per cent available to our customers," explains Peter Miller, vice president of North Sea Operations (Midstream), at BP.
"Approximately 28 different companies have interests in the terminal and we are working together to invest in a multi-million pound intervention programme to give it a new lease of life. This is a very simple programme of shutting down parts of the site for renewal, putting up scaffolding, taking off insulation, replacing lines and returning all of the metal to the thickness it needs to be. We are doing this to ensure the site is fully operational throughout 2020, 2030, and 2040; a major task considering a lot of the equipment has been in constant operation since the 1970s."
Already more than a decade past the period it was designed to last, the ageing terminal requires a major upheaval that is expected to last eight years. These changes are in line with BP's plans to invest £3 billion on the development of the Schiehallion project and a further £4.5 billion on the massive Clair oil field. "Clair is a very exciting field with between seven to eight billion barrels of oil in place and is Europe's largest reservoir," explains Peter. "BP is the operator of this field and is currently investing in its development. The oil we recover will be transferred through Sullom Voe. The project is going very well, with BP confirming the safe installation of the platform structures in 2013. From here, the rest of the platform's construction is ongoing and it is expected to come onstream in 2016."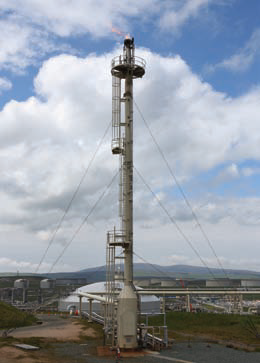 Originally discovered in 1977, the Clair field is located 75 kilometres west of Shetland and spreads across a vast 220 square kilometres, in water depths of 140 metres. The Clair Ridge development will boast the capability to produce approximately 640 million barrels of oil over a 40-year timeframe, with peak production anticipated to reach 120,000 barrels of oil per day. Facilities will consist of two bridge-linked steel fixed steel jacket platforms and topsides, one of which will be a drilling and production platform and the other will be for quarters and utilities.
Furthermore, BP and its co-venturers are also proceeding with a two-year appraisal programme, named Greater Clair, which involves looking into the potential in developing a third phase of the Clair field. Starting with a two year programme to drill five appraisal wells, the number could increase to between eight and 12 wells if results are positive.
Meanwhile, the Schiehallion oil field was shut down in April to make way for its £3 billion redevelopment, which could last up to three years. "There is still a lot of oil left in Schiehallion, which is why we are investing in a brand new floating, production, storage and operating vessel (FPSO) vessel that will be stationed on the oil field. Again, the hydrocarbons from Schiehallion will come through the terminal, hopefully for many years to come," says Peter.
To cope with the large increase in offshore production, new facilities at Sullom Voe include a plant that will be utilised to sweeten the gas that is produced at Clair Ridge, which will involve the removal of hydrogen sulphide so the gas can be used at Sullom Voe and also exported to the Magnus field – where it is injected into the reservoir to increase recovery (EOR scheme).
BP anticipates more than 1000 people will be based at Sullom Voe throughout the development process of these major upgrades, almost doubling the current 220 staff and 300 contractors based at the terminal. In preparation for this, BP is currently searching for experienced oil and gas personnel, particularly trained engineers, to work at the terminal.
"We have ongoing employment prospects in the Shetland Islands and aim to draw as much of our workforce from the Shetland Islands as we can. To supplement that we are hiring, and continue to hire BP staff from around the rest of the UK who will come and work on rotation here," highlights Peter. "We are also looking at all of our capability and ability to support the work and accommodate the people, as well as our ability to have that number of people working here safely. There are certainly a lot of employment prospects here."
Focused on bringing these investments into fruition, BP is creating a positive future for Sullom Voe and its operations in the Shetland Islands, as Peter concludes: "The vision for the terminal is basically to continue the success of the past through being online, available and running at lowest possible cost. Although this involves us spending a lot of money in the short term, it will get the terminal in a place where its life can extend to 2020, 2030 and 2040. Our strategic plan is nothing more complicated than that; we aim to be here, be operating, be safe and be efficient – as we have been for the past 30 years."
Sullom Voe Terminal
Services: Handles production from oilfields