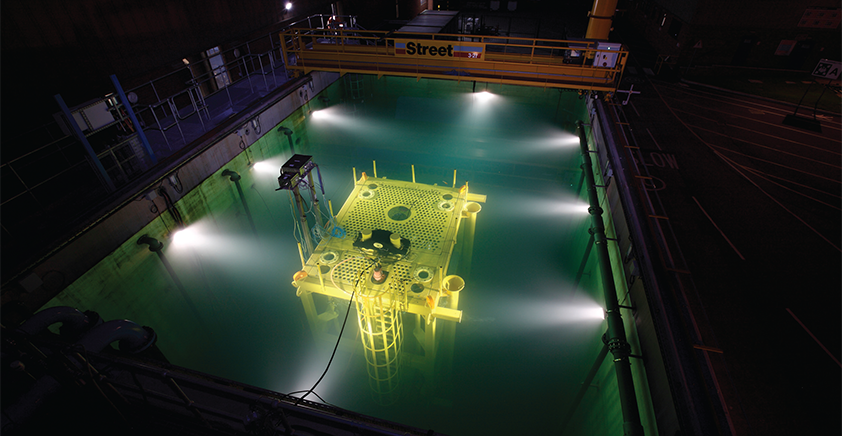 Committed to quality
Sulzer Pumps' products are used throughout the oil and gas, hydrocarbon processing, power generation, pulp and paper, and water and wastewater sectors, as well as by additional clients from specialised areas of general industry.
All of these customers are drawn by the high quality state-of-the-art designs coming out of the Swiss company's manufacturing workshops, then retained through its network of 120 service centres and sales offices around the world. Intensive research and development into the areas of fluid dynamics, process-oriented products, and special materials have made Sulzer Pumps a key name for innovation.
Rich Niiranen, vice president, Business Segment Oil and Gas discusses the company's work with the oil and gas industry in greater depth: "Sulzer Pumps serves major oil and gas companies, processors, and others in the production, pipeline, liquefied natural gas (LNG) and upstream processing sectors. Our success in the industry is based on our unique ability to break through technological barriers and provide reliable equipment. We work with our customers from the concept phase through design, manufacture, testing, installation, operation and services.
"Our wealth of experience and highly committed engineers means we can realise engineering solutions for the challenges of tomorrow. For example, the first 27 megawatt water injection pump came from us, and we delivered the world's highest-pressure water injection pump (605 bar discharge pressure). Sulzer Pumps also produced the world's largest multi-phase pumps
and LNG send-out pumps and undertook development on the world's quality highest-powered subsea pump. With more than 170 years of experience in managing oil and gas technical, operational and safety issues we can provide the best possible fitted pumping solutions to customers."
The range of pump solutions available from Sulzer Pumps is wide, and can be categorised by application. Oil productions pumps are available for injection, main oil lines, seawater lift, fire fighting, subsea, and auxiliary purposes. Floating production, storage and offloading (FPSO) pumps purposed for injection, firewater, seawater lift, off-loading, process, and auxiliary. Pipeline pumps are design for reliability whilst minimising energy consumption. These are supported by attentive services including diagnostics and consultation, maintenance, repair, and technical and financial optimisation.
Sulzer Pumps continually evolves these lines. Its subsea technology, for example, is being worked on in conjunction with oil and gas majors to ensure it meets the requirements of the most advanced arctic and ultra-deepwater drilling projects in the world. Currently in its final round of verification is a 6000rpm 3.2 megawatt multiphase helicoaxial pump for just such purposes, and this is being further optioned for developments toward testing a six megawatt, 15,000psi high viscous model. Such products are tested at the company's purpose-built 1.5 million litre capacity pool facility in Leeds, UK.
As offshore drilling proceeds into deeper waters, the demand on FPSO vessels continues to increase. Therefore, products must offer better performance with lower energy and physical footprints. Sulzer Pumps is aiming for solutions to these challenges. The company's multistage BB3 and BB5 pumps are already at the forefront of the market with record breaking large and high-pressure seawater injection models. BB2 single and two-stage pumps offer a high-pressure membrane sulphate reduction package, whilst BB1 pumps are designed to boost the flow of cargo pumps to 30 bar.
"Deeper water and arctic reserves offer significant challenges," Rich says. "Wet gas compression is a key area that is gaining focus within the industry. We will continue to develop the technology based on industry and customer requirements for the future. We also see a new emphasis within the oil and gas industry on improving safety records. This is driving continuous improvements in work processes, designs, and the reliability of the equipment used in projects. Safety is a top priority for us too. Our employees and the safe operation of the equipment we provide to our customers are paramount. Sulzer Pumps' focus in this area can help customers achieve new levels of safety performance in their own projects."
In 2011, the performance of Sulzer Pumps across all its business units was an order intake of 1705.6 million Swiss Francs and at the end of the year counted 8211 employees on its roster worldwide. This is the result of a focus on meeting the gaps in its respective markets: in oil and gas, this means bringing reliable and successful subsea processing technologies to the market. Its BB3/BB5 pumps illustrate this whilst the 15,000psi pump provides a guide for what the company is now aiming towards.
Rich concludes with a look at the future of Sulzer Pumps and what it holds: "We have been awarded a number of large offshore projects in Eastern Canada, the Gulf of Mexico, West Africa, and Brazil over the last couple of years using technology mentioned previously. We remain committed to delivering the same high quality pumps, solutions, and service standards to customers that the company is globally known for. We would like to remain the leading pumping system solutions provider and continue to develop customised solutions according to market needs and requirements."
Sulzer Pumps
Products: Offshore and deepwater pumps