Supply line
Based in Leirvik, Faroe Islands, Supply Service is a vessel owner and operator with a particular focus on the provision of offshore supply and support services to the North Sea oil and gas industries.
In addition to its offshore capabilities, Supply Service operates a fleet of five vessels working as shrimp trawlers, pair trawlers, and one 20-tonne vessel, which is used for tourism activities. Supply Service was initially founded in 1970, although today it forms part of the Sjóborg group, which began operations in 1993. The company also provides management services for several other companies within the Sjóborg group. "We undertake basic ship-owner activities, although the primary focus of the business is on offshore services," explains Jens Meinhard Rasmussen, managing director of Supply Service.
In order to effectively supply these services, Supply Service has invested in its own fleet of offshore vessels. "Initially we ordered three offshore vessels but two had to be cancelled due to difficulties of the shipyard because of the economic crisis. However we did receive our first vessel in 2009, the Eldborg, which is a high-end offshore platform support vessel (PSV). Since the summer of 2009, the Eldborg has been operating on a long-term charter contract to the Song Delta rig in the North Sea," says Jens.
Certainly Supply Service's capabilities within the offshore sector are well reputed with the company's key client base including names such as Wintersall and Det Norske Oljeselskap, a Norwegian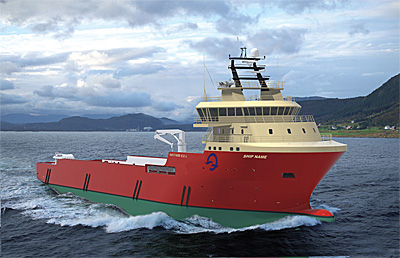 oil company. Commenting on what sets the business apart from other competitors in the market Jens said: "The shipping industry is currently facing a possible lack of qualified seamen in the years ahead. Here in the Faroe Islands, we have a large base of qualified personnel, with new engineers and sea masters being educated all the time, so this is a major advantage for us. Being a smaller company we are flexible and dedicated, and this is supported by a management that can make decisions extremely fast."
In line with the company's mission to provide reliable and safe supply services for international offshore oil and gas exploration and production, Supply Service has invested further into its vessel capabilities in order to meet the needs of this market. "Last summer we felt, as ship owners, that operating only one offshore vessel was not workable so we currently have two new PSV's under construction. This is in line with our strategy only to invest in modern high-specification vessels, which are suitable for working in the harsh conditions of the North and Norwegian Sea. One is due for delivery in September 2011 and the second in March 2012.
"Our first vessel, the Eldborg, was built with a clean design and to meet the latest standards including NOFO 2005. This specifies the standards that oil recovery vessels included in NOFO's standby fleet must meet. We are continuing to build on that platform, and once again are delivering high-end vessels, with our two new PSV's now achieving the NOFO 2009 standard. Our aim is to build vessels, which are as adaptable as possible, and with these new vessels we are able to offer great flexibility on the tank system. The vessels are also designed to be extremely fuel-efficient, based on proven technologies. After the delay with the previous vessels, we specifically looked for a strong and reliable shipbuilding partner for these two contracts. Both vessels are being built by the Havyard Leirvik shipyard in Norway and are currently due to be completed on schedule," elaborates Jens.
In terms of crewing its vessels, Supply Service draws upon its advantageous position in the Faroe Islands, which is known for its long tradition in seafaring. The company employs a highly qualified workforce of experienced and flexible personnel, with multi-lingual skills, speaking both English and Scandinavian languages. Supply Service also implements a strict health, safety, environmental and quality (HSEQ) policy, which is designed on a basis of good practice and the internationally recognised HESQ system for ships – International Safety Management (ISM-Code). The company also reaches the Port Facility Security (ISPS) Code, OHSAS 18001, and ISO 9001 and ISO 14001 quality and environmental standards.
The policy covers all aspects of the business including causing zero harm to its personnel and assets, and satisfying the demands of both clients and authorities. Supply Service recognises its responsibility to minimise the impact of its activities on the environment, and therefore documents and evaluates these aspects to ensure its operations are as efficient as possible. In terms of quality Supply Service is dedicated to providing and meeting the demand of its international clients in order to strengthen its market position globally.
Considering the current status of the market and the opportunities available to Supply Service moving forwards, Jens comments: "Certainly the market seems to change depending on the type of vessel. For example there are currently too many anchor handling tugs in the market today, but with regards to the PSV market we are fairly optimistic. We are seeing indications of quite heavy investment from the oil companies over the next year and we believe that demand for modern, large PSV's will increase in line with this."
The company's overall ambition also extends to becoming one of the leading shipping companies in the Faroe Islands, as well as supplying quality offshore services. Its strategy for achieving this is to focus on three key aspects – creating long-term value for clients, sustainability and the environment, and ongoing development of health, reliability and efficiency of services. With this in mind, Jens concludes: "For us it is extremely important that we continue to perform well with our existing tonnage. Our overall aim is to develop a strong reputation within the market and become the preferred partner for oil and gas exploration and production companies, whilst maintaining steady, healthy growth."
Supply Service
Services: Offshore supply