Surerus Murphy Joint Venture
United they grow
Bringing together two successful pipeline construction companies, Surerus Murphy Joint Venture is a compelling example of the power of collaboration when the parties involved can offer proven acumen in their specialty. "The company was founded in 2015, when J. Murphy & Sons from the UK and its local Canadian partner, Surerus, came together to take advantage of a number of LNG projects that were proposed in Canada at that time. Unfortunately, only one of the original 17 LNG projects is left today, but as we continued as a joint venture, we were able to identify lots of other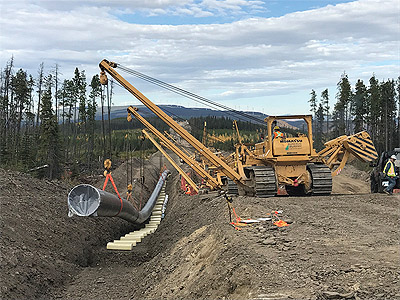 opportunities outside the LNG sector," Surerus Murphy's President, Mick Fitzpatrick says. "Both businesses recognised the benefit of having a partner with a complementary skillset, as we have gained vast experience over the years, working in our respective countries." J. Murphy & Sons has developed its expertise in pipelines for over 60 years, while Surerus Pipeline Inc., a family-owned business from British Columbia, has grown into a national leader in construction of both small and large diameter pipelines across Canada for 50 over years.
Extreme conditions
Shortly after its establishment, the new joint venture were awarded what Mick labels "one of the most technically challenging projects in Canada for the last ten years" – the High Pine Expansion Project that saw the addition of two loop segments of 42-inch pipeline to the existing natural gas transmission system in northeast British Columbia. "We faced a significant amount of steep slopes there, some up to 50° in angle. In addition to the heavy gradient, we encountered a number of challenging river crossings, too. The weather did not make things easier, either, as we had to work during the winter in temperatures that would plummet to -40° Celsius, and we were further hampered by the snow that had fallen.
"To tackle the challenges, we completed a significant amount of pre-engineering, as well as various modifications to our equipment, so we could utilise it on the steep slopes," Mick explains. "We utilised both static and mobile winches, and modified our equipment in a way that they could operate at the angles they were required to. This included the addition of adjustable hydraulic beds and strengthening, and in many cases the addition of all of the attachment points. For the implementation of the programme, we used our best people who came from all over the world to assist with the delivery of the project. I believe that the challenges of this project set us up very well for future projects in the Province of British Columbia, which involve a lot of similar work to what we have completed for the High Pine Expansion Project."
One of the projects Mick refers to, is the LNG Canada gas liquefaction facility near Kitimat. "The project is heading towards an FID (Final Investment Decision) in 2018, and we hope for a positive decision that will see construction progress in 2019," Mick informs us.
Technical ability
In the meantime, Surerus Murphy took on the first stage of the UPR (Urban Pipeline Replacement) Programme, which includes the replacement of existing pipelines in Calgary and Edmonton, and the construction of several new low pressure lines and gate stations. Mick discusses the company's role: "It is another technically challenging project for us, as we are making nine directional drills in the space of four kilometres. The job is relatively small, but we need to work quickly, because it is only a 12-week project. We were awarded it in late December 2017, so we had to finish it in March this year, and this was our main priority. We wanted to complete this stage on time and on budget, and we are currently bidding to get involved in the next three phases of the programme."
Surerus Murphy is also awaiting a green light to begin construction works at Canada's biggest pipeline project – The Trans Mountain Expansion Project. The joint venture was chosen to construct 180 kilometres of the new route in what will be the largest project it will have delivered. "We were selected, because of our technical ability to successfully deliver a project of such a scale, and we have been working with Kinder Morgan on its early planning. Currently we are facing well publicised delays to the project, but we are hopeful to commence construction at the end of 2018, and take the work into 2019 and 2020," Mick clarifies.
Pipeline expansion
The Trans Mountain Expansion Project is a $7.4 billion construction scheme, which will add approximately 980 kilometres of new pipeline and reactivate 193 kilometres of existing pipeline to the existing Trans Mountain Pipeline, built in 1953. It is the only West Coast link for Western Canadian oil, and when completed, pipeline capacity will increase from 300,000 to 890,000 barrels of oil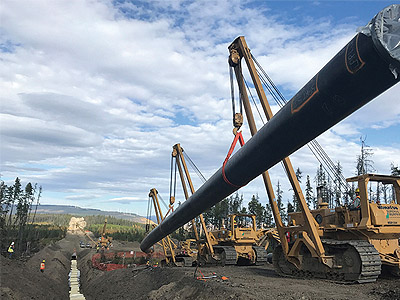 per day. The project was devised due to a heightened number of requests from oil shippers who are eager to reach new markets by extending the capacity of North America's only pipeline with access to the West Coast. The shippers are reported to have made considerable long-term commitments that add up to approximately 80 per cent of the capacity of an expanded Trans Mountain Pipeline. An operational expanded pipeline will help Canada get realistic value for its oil, and the country will be able to sell the oil it produces at a better price. Presently, nearly all of the oil produced in Western Canada goes to one market only – the US Midwest. However, because there is a limit to how much oil this market needs, Canada has been selling at a lower price, compared to similar oil products, for the last ten years. The new project will enable Canada to deliver to international markets, thus generating approximately $3.7 billion more per year.
Having landed a respectable number of high-profile projects, it is worth discovering what core strengths Surerus Murphy draws upon, in order to deliver the challenging works it is tasked with. "We have one of the largest privately-owned equipment fleets in Canada, which is a distinctive advantage of ours, but we also rely heavily on our teams. We have been able to bring together some exceptionally talented individuals from both organisations. It is fair to say that we have got the right people to do the right jobs," Mick reasons. "I should also point out at our strong back office in planning and systems, and the skilled support teams based in Calgary, made up of both local and international personnel. We are also the only pipeline construction company in Canada to have ISO accreditation for both quality and environment."
Exploring possibilities
Surerus Murphy might be a comparatively young company in its new formation, but its aspirations leave no doubt that the joint venture is resolute to build a strong co-operational business in the long run. "We definitely will continue to grow the SMJV business in Canada beyond our current workload. It has been an excellent opportunity for both J. Murphy & Sons and Surerus to grow their presence in the Canadian market, there are significant future opportunities that will allow us to further develop our people and our business. We are also currently exploring the possibilities to move into adjacent sectors of the oil and gas industry, recognising pipeline work is very cyclical. We are interested in entering integrity and maintenance, and facility work, to ensure favourable prospects for the joint venture in the future," Mick sums up.
Surerus Murphy Joint Venture
Services: Pipeline construction, integrity works, facilities and fabrication, constructability, tunnelling