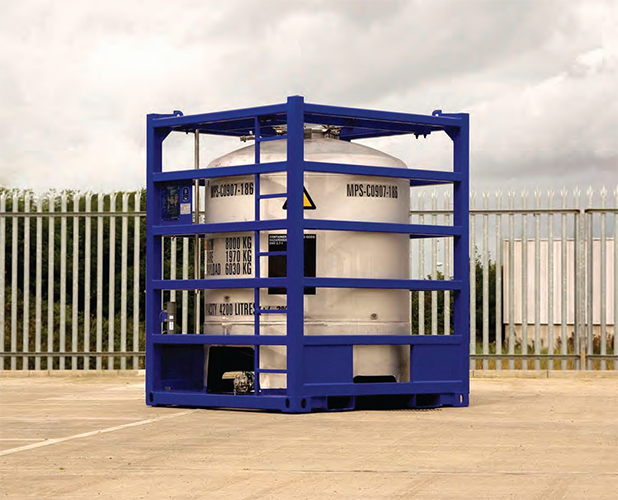 Setting the standard
It has been an exciting time for Suretank over the past few years; the company has expanded with almost break-neck momentum and is showing no signs of slowing down.
Whether focusing on improving its production techniques or expanding into new markets, Suretank has earned a reputation as an industry-leading specialist in the design and supply of offshore transport containers.
The company was formed in 1995 by Patrick Joy, Pat O'Hare and Niall Lund, to supply chemical tanks to the oil and gas industry in the North Sea. The trio recognised the need for high quality storage solutions within the industry and this dedication has become the company's bedrock in subsequent years. Suretank's focuson quality translates to its personnel and its attitude towards customer care. All of the company's sales team are engineers, which means that they are able to offer customers bespoke engineering solutions designed around individual clients' needs. It also has engineers on the ground in every area of the world in which it operates so that it is always on hand to offer assistance from the design stage through to post sale support. As such Suretank is able to offer the highest quality products to its customers and remains dedicated to maintaining a safety record that is second to none. Its engineers work to ensure that the company's product portfolio complies with industry standards and it has more accreditations than any other company operating in the field including PED,CEN & DNV 2.7-1 certifications.
Its dedication to high quality design and production, coupled with the company's high level of accreditation have given it a forceful reputation as a market leader in offshore liquid and cargo storage solutions. Suretank's customer base now includes most of the major rental,exploration and production companies in theoffshore industry. As such its units are foundworldwide, from the North Sea, West Africa, the Gulf of Mexico, Brazil to the Caspian Sea, Sakhalin, India, Australia, the Middle East and the Far East. Often, the company's move into new areas of business has been driven by clients approaching Suretank looking to secure its high standards for their new area of business. Sales director Martin Laverty explains: "Often companies come to us asking us to enter into new parts of the market because they are aware of the level of quality we can provide. They want to have the same level of production and design in their areas so that has spurred the move into cryogenic and cabin markets."
Owing to its continued focus on design in new areas, the company boasts a strong product portfolio with manufacturing being undertaken at several locations globally. It is able to provide liquid storage solutions including ISO, acid, chemical and helifuel tanks as well as cryogenic storage tanks. It also provides an extensive range of containers and workshop designs, including associated spare parts and accessories. The company began by building storage tanks in Dundalk in Ireland before moving construction to Dunlear, and has continued to expand
its production operations throughout its history. Observing the need for high quality storage containers within the offshore industry, Suretank began commissioning the construction of offshore containers in Poland. Key to the success of this part of the business was the company's implementation of its own personnel within Poland to oversee quality control. The operation was so successful that the company now works with several third party contractors on the construction of offshore containers within the country. Similarly, as the business has grown, Suretank has expanded its production capabilities nto new locations so that it is able to deliver its products quickly to the markets that require them. It has opened a production facility in Skelmersdale, near Manchester and has moved into the Far East by taking a controlling interest in a Chinese manufacturer based in Zhongshan in Guangdong province. Suretank understands that its business is spread worldwide and continually seeks to invest in new areas to improve its ability to supply its clients. Complementing its other operations the business has begun to work with companies in the Americas, as Martin elaborates: "We already knew that our customers were spread worldwide but we worked towards shortening the time to market by having production facilities closer to fields. This includes Brazil and the US. We started an agreement with a manufacturer in Brazil last year and they are now producing offshore containers."
An important recent development for the company has been that Norwegian firm HitecVision has bought a share hold in Suretank. While it has been business as normal at the company since HitecVision's investment, Suretank anticipates that the two companies will be able to work together to strengthen their mutual positions in the offshore industry. A new Aberdeen office helped to raise the company's profile, as Martin explains: "Prior to HitecVision's purchase of part of the company, we opened an office in Aberdeen, as we had identified the need for high quality in the offshore cabin market. This made us more visible to HitecVision in Norway and allowed us to come into contact with them. HitecVision are well known globally for having a strong market approach and placing an emphasis on quality.
"With HitecVision's expert knowledge of business development and growth we can expect to see Suretank continue to develop as a quality manufacturer in the global offshore container and tank market."
Suretank
Services: Offshore transport containers