Stepping up to the plate
Armed with nearly four decades of experience, Swinton Electro-Plating is a UK-based metal finishers, based in the Lancashire town of Swinton. It specialises in hard chrome plating and refurbishing services, operating in a niche market, and is among very few of its kind in the country. Located near Salford in the UK on a 60,000 sq ft site, Swinton is the largest facility for hard chrome plating in the UK. The organisation is well connected with the rest of Greater Manchester, via the M60 motorway, which also gives the company access to the rest of the UK and beyond.
Godfrey Evans, who has been at Swinton for 17 years and been its managing director for 13 years, believes the company's breadth of experience is the secret to Swinton's success. Outlining the firm's remit and history, he comments: "We were established in 1962 and provided a plating service for most of the known coatings at that time, and some 30 years ago we decided to specialise by offering a hard chrome and an electroless nickel plating service. The customer base was diverse and included any engineering company that manufactured equipment requiring corrosion or wear-resistant coating – and still does.
"Since I became managing director, we have begun to specialise in the oil and gas industry – drilling contractors in particular. We provide a hard chrome plating service to downhole tools and have supplied major drilling contractors throughout our history. We are one of very few companies in the world possessing the ability and expertise to do so. Over the past ten years the business has expanded in line with the growth of oil and gas exploration.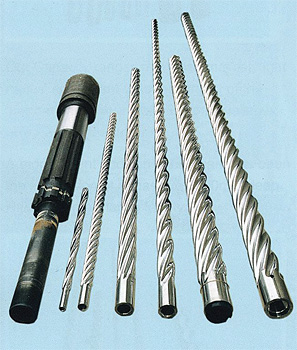 "Typically, oil and gas is our main market, but we're also very aware of the emerging alternative energy markets. Whilst that equipment is generating green energy, it is still mechanical and electrical, meaning that it needs protection from the elements. Consequently, we have become involved in various renewable energy projects through applying coatings to those pieces of equipment. In terms of where we're active, we supply from northern Norway down to South Africa and from the Atlantic Ocean across to the far eastern coast of Russia."
In thinking about what sets Swinton apart in the marketplace, besides its niche knowledge and expertise, Godfrey cites the company's high standards and commitment to customer satisfaction: "Quality is a given in every job that gets supplied. We're recognised throughout the industry for consistently supplying excellent products that keep customers coming back for more; we can track the start of one working relationship with a client back to the early 1960's. We consistently attract repeat business, and much of the new business we secure arises as a result of referrals from existing or previous customers."
Swinton's reputation for providing a high quality and efficient service is supported by years of practical experience and maintained through stringent quality control, in-house laboratory facilities and effective production control. A fully equipped inspection department forms an integral aspect of the organisation, boasting facilities for microsectioning, eddy-current thickness measurement, micro hardness testing and surface finish measurement. Close tolerances and specifications are strictly maintained and all parts pass a rigid final inspection prior to dispatch.
Discussing Swinton's capabilities and commitment to technical progression, Godfrey reveals: "With the range of facilities and experience we offer, we provide a development service for new components and materials on an ongoing basis for any customer. We also have a small R&D facility in-house that not only allows us to utilise existing processes on new materials, but to develop new processes for almost any metallic material. R&D is important with regards to securing new business for new customers or developments; it allows us the flexibility to not have to say 'no' too many times. Importantly, our facilities and processes are very well established."
While the business has enjoyed considerable success as Swinton has grown year-on-year, it is not impervious to the impact of the economic downturn, as Godfrey explains: "Like everybody else, we have been affected, although we weren't affected as early as the majority of businesses were. We noticed the change early in 2009 and have been working through that problem. But we're expecting the oil price to increase and market activity to return as that happens."
Looking to the future, Godfrey predicts growth as the world's markets gradually move out of the recession and sees value in investing in more eco friendly forms of energy. Commenting on his plans for Swinton, Godfrey concludes: "One of our main objectives is to diversify the customer base to allow for security of business whilst still maintaining the scope and value of supply to existing customers. In other words, our aim is to grow the business organically with new products and customers.
"The emerging alternative energy market is an obvious avenue for us to pursue. We'll be looking to consolidate our existing expertise and undoubtedly increase the physical capacities of our own equipment as many components that customers are using are constantly increasing in size."
Swinton Electro-Plating Ltd
Services: Hard Chrome and electroless nickel plating (metal finishing)